A case study on safer cars In India
Are safer cars still a luxury in India?
As we navigate through life, we rely on various modes of transportation to get us from point A to point B. Cars, in particular, have become a staple in our daily routine, whether it be commuting to work, running errands, or taking a road trip. But as we climb behind the wheel, have we ever stopped to consider the importance of car safety?
Daily, we trust our vehicles to transport us safely to our destinations. But with the ever-present threat of accidents and collisions, it's crucial to consider the measures in place to protect our loved ones and us while on the road, especially in nations such as India, where road accidents and car crash news have been a regular topic.
Despite India ranking among the top 20 nations in terms of deaths due to road accidents in 2016 and a death toll of 16.6 per 100000 people, safer cars are still not the priority of Indian Consumers.
Contrary to what most of you might have guessed, it is not because safety features add to the cost of the car, and people cannot afford safety features. It is undoubtedly a large contributor, but it is not the most significant reason. In this article, we will discuss the condition of road safety in India and why safer cars are not a priority for Indian Consumers.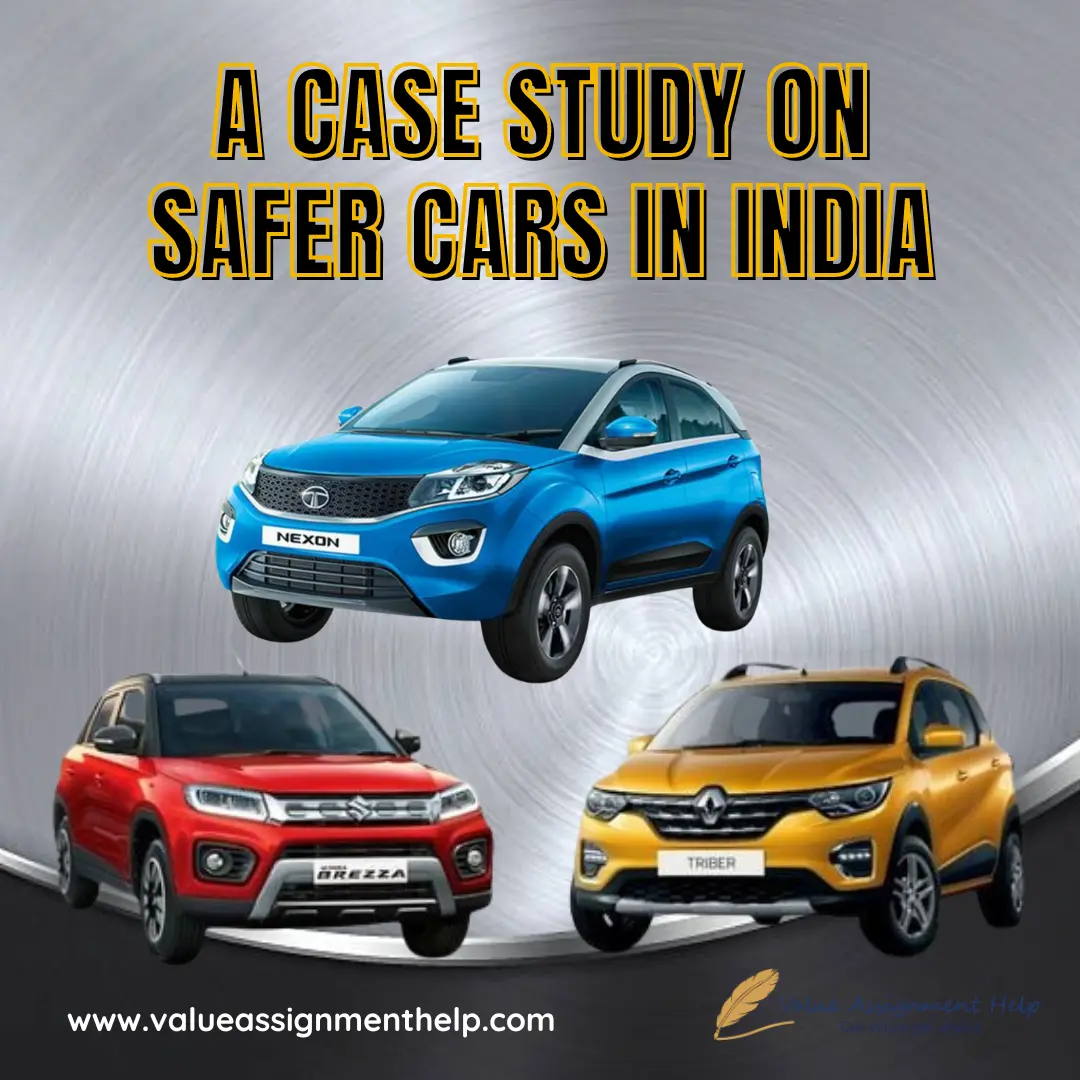 ( Value assignment provides assignment help online for all subjects through experts guidance)
Several accidents in India:
Recently, famous Indian Cricketer Rishabh Pant was caught in a major accident with his Mercedes-Benz GLC coupe crashing straight into the divider. The incident has gathered quite a lot of attention from the media. However, this is not it. In India, the figures published by the Ministry of Road Transport and highways in India are even more desolating.
In India, a total of 153972 people encountered road accidents. It claimed their lives in 2021 alone, equivalent to 16.6 people dying in road accidents per 100000 inhabitants in the country.
As per WHO, more than 1.3 million people yearly lose their lives to road-related fatalities. In comparison, In the United States, more than 45,000 die each year, equivalent to 12 people per 100000 inhabitants.
In African nations, the situation is even worse, with the average ratio as high as 26.6 people dying due to road fatalities per 100000 people.
How many cars are sold in India?
As per the data compiled by Statista, more than 17 million automobiles are sold in India. In FY'22 alone, around 13 million two-wheelers and 3 million passenger vehicles were sold. Almost 16% of household families own a car. That is equivalent to 59 families with cars in respect to 1000 families.
However, to put that into perspective, in the year 2021, 3.34 million vehicles were sold in the United States and around 2 million in the United Kingdom in the same year, which have comparatively much smaller populations. In India, only 8% of households own a car.
With China excelling in the chart with more than 21 million passenger cars sold in 2021 alone, it is also the country where the most cars are manufactured globally, according to Wikipedia data cited.
Are Indian cars equipped with safety features?
Any vehicle manufactured later than 2019 must be equipped with safety features and aligned with international crash test protocols. Since 2019, the government has taken the matter of vehicle safety a little seriously and mandated the following features in addition to airbags:
ABS (Anti-lock braking system)
EBD (Electronic Brakeforce distribution)
ESC (Electronic Stability Control)
TMPS (Type Pressure Monitoring System)
Speed warning indicator
Parking sensors
ISOFIX (seat for child below the age of 12)
While driver airbag was mandated just in July 2019 and front seat passenger airbag in 2021, India is progressing slightly slower. The government of India has stricken the car safety rules in India for the past few years. As a result, India's Ministry of Transport and road safety mandated six airbags in 8-seater passenger cars in October 2021.
Other than that, emphasis on cleaner engines under BS-4 and BS-6 categories have been put by governmental bodies of India.
( For good grades, Value assignment help services are the key )
Have the sales increased after adding safety features?
With India still being a developing nation, safety attributes were long seen as "unnecessary cost-adding features". However, frequent car crash news and general awareness among citizens seem to break this stereotype to some extent. So, while in 2019, the sales of vehicles dipped due to a rise in costs, gradually, people have begun to adopt the idea of safer cars, and the following figures show the same.
As per the data compiled by JATO, an automotive sector research firm, in 2020, after airbags were made mandatory for drivers, there was an 8% rise in the sales of dual airbag cars than in 2019. More than 70% of cars sold in the same year were equipped with dual-air bag features.
Other safety features, such as seat-belt indicators and rear-parking sensors, also mandated in 2021, witnessed a higher demand in the market.
Is car safety a priority for Indian Consumers?
Buying a car is one of the most crucial financial decisions in India. Although people are becoming slightly aware of the importance of car safety features, it is still not the top priority in car-choosing decisions. We have studies that favour our argument.
According to the study conducted by Alpana Vaidya and her team in 2021, the car's comfort was the most preferred feature for car buyers in India. In her research paper, published by JETIR, Mileage was the second priority, followed by safety and music connectivity features.
Per the "GoMechanic" blog from 2020, price, fuel efficiency and maintenance cost are the customers' top priorities when considering buying a new car, while safety features were the most neglected category, scoring the last position.
In comparison to back in 2016, a global survey conducted by Ford concluded that 6 out of 10 car buyers in India preferred fuel efficiency, and more than 70% were looking to save money. Figures are similar in other Asian nations such as Pakistan, Afghanistan and Bangladesh.
In African nations, the situation is also similar. South Africa is declared 'the most dangerous country to drive" by Zutobi, an international driver education company. The nation has the highest road fatality rate in the world. But, despite the title, as per a research paper published by Khan, M.; Sinclair, M. in 2016, car safety trailed behind cost, reliability and comfort for most of the consumers in the survey.
While we look at global preference, in the united states, 3rd nation with encounters highest number of accidents in the world, safety features in the car were almost the top priority for customers. As per the research paper published by Brenda Vrkljan and Dana Anlaby in 2021, in Canada, too, car safety and reliability of the car is the top priority for Canadian Citizens.
Why is car safety not a priority?
As per the survey of "BHP.com", the most common reason for Indian customers not prioritizing safety features is the lack of awareness about the safety features. So, as more and more safety features are included in cars, conveying the same information to consumers becomes imperative.
Final thoughts:
We understand that the concept of road safety and safety features is comparatively new for many. However, at the same time, during our research, we found that the most preferred reason people are not aware of safety features Is that dealerships hide these details from the consumers, as per a research paper published by Khan, M.; Sinclair, M. in 2016.
Understanding the needs of customers and their interests, car dealers are the prime source of information for most consumers when choosing a car in India. Furthermore, as per the study conducted by Alpana Vaidya and her team in 2021, they also concluded that consumers were willing to exceed the budget if offered better options and features.
As we spend more and more time behind the wheel, it's essential to prioritize our safety on the road. And while no car can ever be completely safe, modern vehicles are equipped with various features designed to protect us in an accident or emergency. From airbags to stability control, these technologies have the potential to save lives and reduce injuries. Hence, it shall be accepted with open arms and not just consumers but car manufacturers and dealers too shall make it a point to convey most information about safer vehicles and their necessity.
( VAH online assignment help is one of the best assignment wing offering assignment help at affordable rates)