An article on Educators life ahead in India
Educators face a difficult time ahead in India
In the past, India has been the home of supreme education for centuries. From the citing of Gurukuls in Indian Spiritual Books to the invention of modern mathematics and science, India has enjoyed remarkable development in education.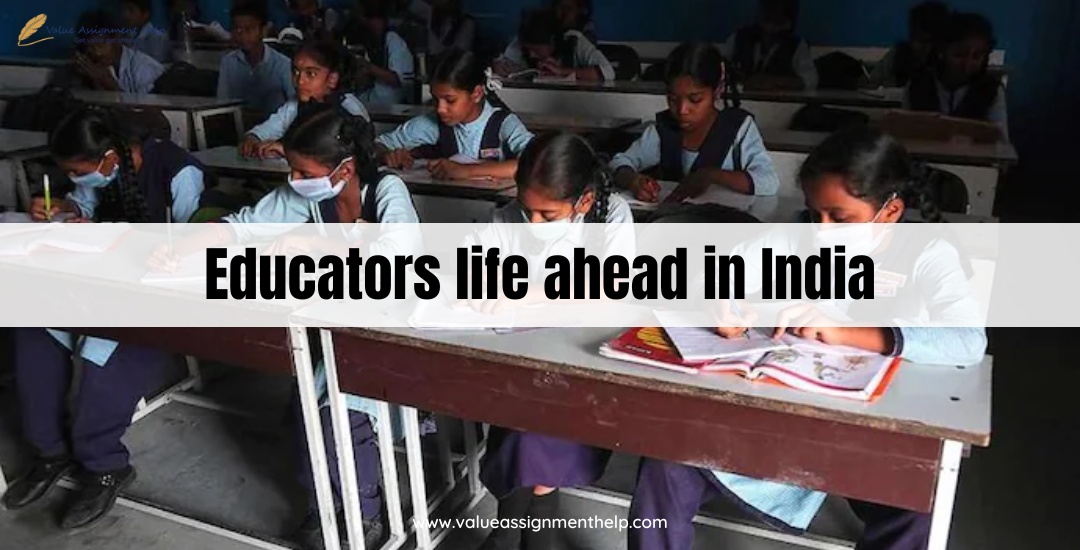 The education system of India was so superior back in the days when William Adam visited India from England; he was astonished that in the time when England's education system was developing in the 1800s, every village in India had a school, and the educational practices adopted were far more superior to England or any other nation in that comparison. In his book, he referred to Indian educators as more knowledgeable and skilled who believed in practical knowledge.
The decline in education in India was witnessed after the colonization of the British Empire. By the time India was freed from British rein, the education system was trembling with little to no funds to support the expenses of building and running the education system and building the economy since the nation's economy is highly dependent on the education of youth.
The education condition has changed drastically since then. With infrastructure, food facilities and concessional fees, schooling in India have come a long way. However, teachers were left behind in between building the school infrastructure and providing students with first-class knowledge.
( Brief discussion highlight from the experts of value assignment help demonstrating the methods to draft an assignment for class homework.)
While we might believe that Teaching is easy, handsomely paid, and comparatively less hectic, let us take you through the reality. This article has been drafted to highlight the condition of educators in India.
As they say, Teaching is one of the most critical and complex jobs. It is not easy to be a teacher. A teacher is constantly scrutinised by fellow teachers, higher authorities, parents and even students. Educators these days face challenging times ahead.
Burnout:
Education is a challenging profession that sometimes pushes teachers to burnout. As per the research published by Tripta Trivedi and Anil Shukla, almost half (44%) of Indian teachers suffer from burnout. Overburden, stress, anxiety, and emotional and physical fatigue are the common causes of burnout among staff. Even under the condition of short-staffing, teachers are expected to take up merged or extra classes, eventually leading to burnout and no learning in the class. This brings us to our next point, which is short-staffed institutes.
Lack of Appreciation:
Education is a challenging profession which requires constant evolution with evolving times. The education sector is demanding with constantly acquiring new knowledge and polishing your skills. But that is the good part. The bad part is the appreciation for the job. The role is demanding, with little to no appreciation. We all know some fantastic teachers whose efforts go unnoticed.
In our opinion, education is the most Nobel profession of all. Therefore, it must celebrate teachers on teacher's day and all year around. They deserve the much-needed appreciation and applause.
Wages:
Image: (India ranks 72 in average monthly salary, standing at 3.2 Lakh per annum)
The wages for government teachers, as per the ambition box, is around 3.8 LPA, but this number falls drastically when we look at the wages given to private teachers. With a salary average of a mere 1.2 LPA.
On referring to the same platform, the starting salary for an engineering graduate taught by the same staff receives an annual package of 4.1 LPA in India.
This shows the wage gap in the education field.
Short-staffed institutes:
According to UNESCO 2021 report, more than 1 Lakh schools are run with a single teacher. 19% of teaching seats are vacant all over India, of which 69% are in rural areas. As per the data of UDISE+, government schools comprise 64% of the total schools in the nation but sadly run with 50.1% of teachers. The report was published in 2019-2020, indicating that schools are understaffed. The total number of teachers is 14,16,299, out of which about 57.8% are male teachers and 42.2% are female teachers. At the All-India level, there are 73 female teachers per 100 male teachers, AISHE 2018-19 report concluded.
Assaults, attacks and harassment:
Daily, incidents covering assaults and crimes against teachers are published in newspapers. We read them daily but refrain from taking any action. For instance, recently, in India, a pregnant history teacher was attacked by the students when she informed them about students' poor grades to their parents. The incident occurred in Jawahar Lal Navodya Vidyalaya (JNV) Dibrugarh, in the eastern state of Assam. The incident so threatens the teacher that she refrains from lodging an official complaint with the police department.
In another incident, a male school teacher was assaulted for asking a student not to sleep in class. The incident occurred in a trip tour district in Tamil Nadu when a botany teacher interrogated a student about sleeping in class, the student attacked the teacher, and the video went viral on social media. The student was later detailed, but that does not justify his dirty deed.
These two instances are just minor examples. Parents frequently harass teachers for scolding children on the premises and whatnot! Thinking about these instances brings pain to our hearts.
In the face of development and "modernization", we have somehow left our etiquette and morals behind. We as a generation have failed if we fail to respect our guiding spirits and refrain them from doing their duties.
This is the harsh reality of society today. It is saddening that the educators shaping the future are treated with such brutality. It is a shame that the education system has been rotted to its roots. Students don't respect their teachers, teachers are committing heinous crimes against students, and the level of education imparted is deteriorating with every passing day.
Where are we heading as a nation if the very building block of society is not treated with respect and dignity? Time for all the stakeholders to sit down and take serious note of the issue and chalk out a strategy for resolving the issues.
( A sample article written by VAH experts for class assignments)