An article on silent ozone heroes
Silent Ozone Heroes
Not thousands, but millions of us are responsible for healing the ozone. While some have gained the spotlight, others continue to make silent changes. We salute you all. This piece is written to express heartfelt gratitude to those who don't make it to the front page headline but continue to do their part. And hence, we bring some of the lesser-known change makers from around the world, who are trendsetters in their unique way, setting the example of how to contribute to the healing of the ozone layer.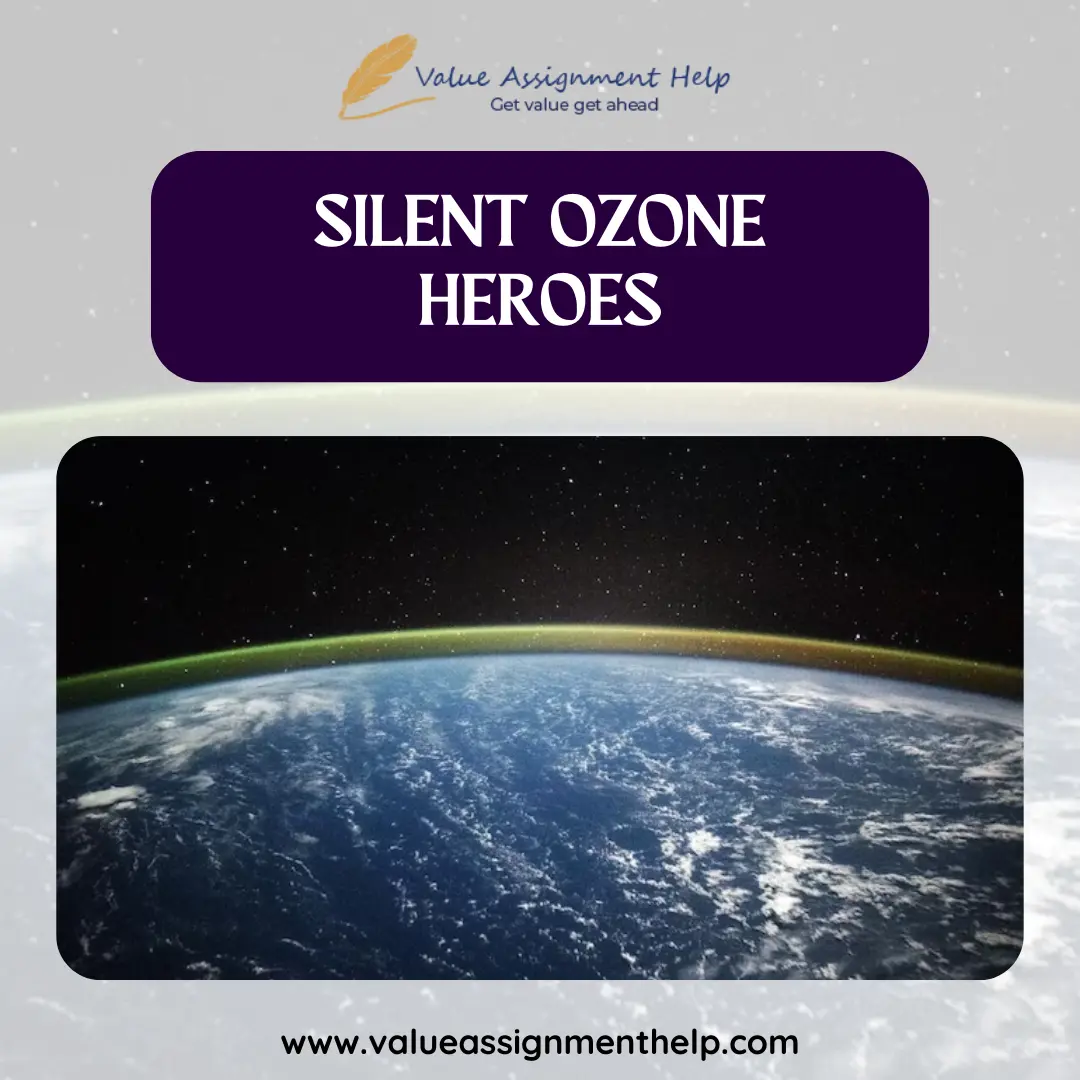 In 1985, a widening hole in the ozone layer over Antarctica was detected, which made humans directly in charge of reversing self-caused damage.
This was imperative since the ozone layer is a mere 3 mm thick, an invisible, gaseous warrior in the atmosphere (for science geeks, its stratosphere), which shields us from dangerous UV rays, a component of sunlight. Ozone imprisons UV rays, whose short-term exposure causes sunburns, and prolonged exposure could result in premature ageing and even skin cancer.
So, two years after the hole was detected, an international treaty called the Montreal Protocol was signed. The protocol was about banning a class of dangerous chemicals that were then known to cause alarming depletion of this fragile blanket, such as CFCs in refrigeration and halons in fire extinguishers.
One was that day, and one is today. We are on the right track to reverse the damage.
As per the latest reports of the United Nations, the hole over Antarctica is slimmer than it was at the beginning of the century. Refer images.
Although the hole is all set to heal by 2066, it is just a small milestone that we have accomplished. We still have a long way to go.
The report presented last Monday at the American Meteorological Society convention in Denver stated that the thickness of ozone will not be back to pre-thinning levels anytime before 2040 to 2050. However, it is still a significant victory for scientists and humankind.
However, do you know how we got here? What is it that people did that reverses one of the most prominent dangers to humankind after climate change?
Apart from one of the most successful international treaties ever implemented, as stated by Kofi Annan in 2003, who was then UN secretary-general, all this has been possible with the amalgam of willingness and determination to "be the change".
In this article, we aim to highlight the efforts of lesser-known warriors, who have played their part in reverting the damage of the Ozone layer, and how we can imitate their efforts to heal the hole.
( Value assignment help is the only solution for all your assignment needs)
Tabi Joda: "One billion trees for Africa":
Air-cleaning qualities of trees are no new to anyone. But did you know that trees also help in keeping carbon underground?
They absorb carbon from the air and naturally stash it away underneath the soil, where it is supposed to be! Hence, afforestation is one of the most efficient methods of healing ozone.
Delivering on the same dream, we have a story of a Young boy who was born and brought up in a small village in Africa but has now successfully planted more than 3 million trees.
Living in the Sahel, the biological realm of transition between the Sahara Desert and the Sudanian tropical belt, he is a youth ambassador for creating a wall between these two realms, protecting desertification and draughts. The initiative is called "the great green wall initiative." refer to Image.
Since he was a kid, he was fond of trees and would climb up on them with their friends, but as he grew up, trees became sparse, and the greenery around him was disbursed.
So, in 2010, he bought a piece of land from his family and set up his own agro-forestry business called "one million trees for Africa".
From self-planting initial thousands of trees to creating over 77 forest landscape restoration (FLR) in 10 years, Tabi Joda is now eight times global award winner ecosystem revivalist, who has restored over 80 hectares of land and planted more than 3 million trees.
In addition, Joda was also an ambassador of the African Forest Landscape Restoration Initiative (AFR100) in 2018.
By 2020, he had planted over 7000 cashew trees in 18 communities in central and west Africa, all profitable and generating income for locals.
How to connect with Toba:
Twitter: @TabiJoda1
A trendsetter in Africa:
While, in one part of Africa, Toba is busy playing his part in saving the ozone, another company, tucked in one of the poorest nations of the world, has transformed refrigeration and air-cooling.
Eswatini experiences wet-hot summers. Hence, the refrigeration business has flourished in the nation in recent years, and now relatively more companies are investing in green cooling technology that eliminates ozone-damaging chemicals.
However, there was not much investment in this arena for a decade. Nor were refrigerators affordable for all. Nevertheless, despite the adversities, one company dared to adopt green cooling technology in the late 2000s and became the trendsetter for the entire Sub-Saharan region of Africa.
Formally known as "Palfridge", "The Fridge factory" is located in Eswatini. The company is the first to introduce natural coolant in refrigeration in the entire sub-Saharian region from 2009 to 2011 under the umbrella of UNDP. Furthermore, all ozone-depleting HCFCs were replaced by Cyclopentane by the end of 2012, marking the initiation of new-age refrigeration in Africa.
Currently, 100% of the refrigerators produced are 100 per cent ODS-free and have low global warming potential.
By 2017, the country was using "100% HCFCs free" refrigeration and manufacturing products and was also awarded the Montreal Protocol 30th Anniversary award for its entire work on the HCFC phase-out.
Anil Mahadev Dave:
Anil Mahadev Dave was an Indian environmentalist, writer, former cabinet minister and the founder of Narmada Samagra. Considering his remarkable contribution to deriving the ozone policy drafting and implementation in India, he was awarded the "Ozone award" posthumously in 2017.
Over his entire life, he has been actively involved in conserving rivers and the environment. However, only a selected few know about this hidden gem.
While we articulated a few stories that laid the foundation of change-making in the past, how can we ensure change-making in the future?
Earth rangers: the next-gen of environmentalists:
While the steps to protect the environment ask for immediate attention, the need to train the coming generation of environmentalists can also not be bailed.
Since they will be future change leaders, they must be equipped with the proper resources, knowledge, tools and, most importantly, the right mindset to lead the change for generations to come.
And that is where our next ranger comes into the spotlight.
An Earth ranger is a Canada-based charity service that trains next-gen environmentalists.
Founded in 2004 by Robert Schad and Peter Kendall, earth rangers started as a local charity service but has outgrown to be one of the most extensive kid-based charity services globally, bagging more than 30 awards and accolades.
The cool thing about the earth rangers is its interactive interface. Through its digital software and online mobile application called the earth rangers app, kids are expected to complete simple eco-friendly tasks, such as taking stairs instead of elevators or taking a walk in place of a bicycle. Kids, post-completion, can avail of rewards, further unlocking additional features in the app.
Other than an interactive app, earth rangers have two podcasts, The Earth Rangers Podcast and The Big Melt and one blog called wild wire blog.
Thus inculcating sensitivity in kids and raising awareness towards their small actions leave a significant footprint on the environment.
Concluding thought:
In conclusion, while many famous environmentalists such as Greta Thunberg and Al Gore may dominate the headlines, countless lesser-known individuals are working tirelessly to protect our planet. From community activists to scientists, these unsung heroes are making a significant impact in their ways. Their dedication and perseverance serve as a reminder that every individual has the power to make a difference in the fight against ozone rejuvenation and climate change. Let us take inspiration from these lesser-known environmentalists and strive to make our own positive impact on the world.