An Assignment report on the recent earthquake in Turkey
They say animals have a "sixth sense", which gives them heads up about upcoming events, and that is what was happening in Turkey on the dawn of Monday 6th February.
Shrieking birds and frantic dogs- every animal behaved differently as if they were alarmed about something terrible to the world, something terrible in the making. A video surfacing online gives a glimpse of the wild birds flying mid-air, running away from something, and just a few seconds later-boom! An earthquake of 7.8 rictor scales roared into the city, shivering buildings and trees like dry clothes shivering on a rope on windy days. Humongous structures turned into rumbles, falling on the ground with ear-deafening sounds. Roads drifted apart, leaving behind cavities as big as an entire building.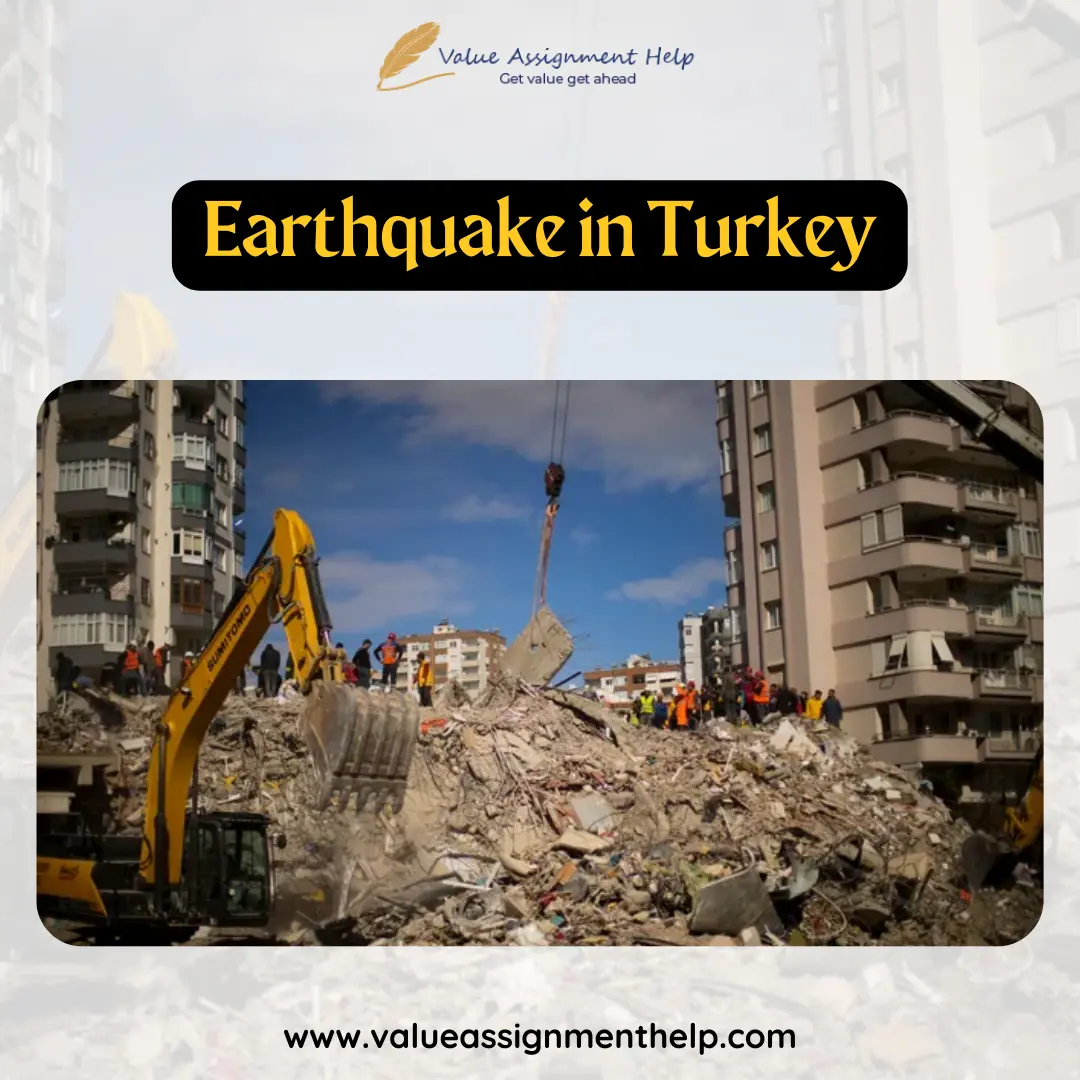 When turkey and its adjacent country Syria were beginning to soak it all in, more than fifty shockwaves breached the century-long history of Turkey of not experiencing earthquakes of this magnitude. Its epicentre was the city of Gaziantep in south-central Turkey, but shock waves could be felt as far as Cyprus (456 km away), Lebanon (874 km), Israel (1,381 km) and even Egypt (1,411 km).
What followed was a pure ruckus. In 12 hours, more than 2 million people experienced the wrath of the deadly earthquake at the epicentre. The streets turned into a massive trampoline, shaking buildings and tossing people around. Transport services came to a standstill with roads filled with cavities. Some fortunate folks took to the streets for refuge, while others were not so lucky.
As of Tuesday afternoon, we have lost over 5,000 innocent people to the deadly quake. Countless sank in the ocean of debris, struck, struggling between life and death, still waiting to be found. As per Turkish officials, over 3381 people are feared injured. Imagine being smitten between a considerable chunk of construction rubble heavy enough to hold massive buildings together, shivering with fear and cold, just longing to be rescued, hoping someone would notice you underneath heaps of rubble-even the thought of it all runs chill through the body.
Well, Twitter is flooded with such videos of helpless and weak souls. In one video, a helpless father advises his struck son to recite a prayer, while in another video, a little kid is seen crawling on his knees, moving towards the rescue team.
Another image shows a brave young girl protecting her younger brother underneath a giant piece of rubble.
Per Turkish officials, this is the worst quake Turkey has experienced in over a century.
( Value assignment research paper combines the original content and updates on recent news and article that is causing a lot of commotion )
Early predictions:
While birds and animals tried giving people a heads up about upcoming catastrophe, a Dutch expert predicted an earthquake in Turkey and Syria three days before D-day. Frank Hoogerbeets, a researcher at Solar System geometry Survey (SSGEOS), tweeted on 3rd February that an earthquake of as high as 7.5 magnitudes might hit South-central Turkey, Jordan, Syria and Lebanon region, and that is what happened three days later.
Before the earthquake, no one took notice of the matter, but after his prediction turned true, his tweet went viral, expressing concern among the netizens about ignoring potential warnings.
Helping hands:
Turkey has announced a level-4 emergency, requesting the world for aid in any form, and many nations have come forward to help Turkey in any way possible.
India has dispatched Indian Air force C-17 to Turkey, boarding NDRF (National Disaster Rescue Force), search and rescue team, and dog squad. In addition, a team of paramedics and doctors with medical supplies have been dispatched. As per multiple media reports, the aircraft is part of the more extensive rescue operation program that is in the making. The country's Prime Minister, Narender Modi, said he was deep "hu"t" b" the disaster in Turkey.
Israel has no diplomatic relations with Syria and has come front-footed to aid amid chaos. Prime Minister Benjamin Netanyahu said he had approved the request on a humanitarian basis. In the image, the Israeli team is seen ready to board the flight to Turkey, housing all the essential search and rescue equipment. Israel is helping both Syria and Turkey in the face of tragedy.
European Union is also on its way to dispatch aid from Bulgaria, Croatia, the Czech Republic, France, the Netherlands, Poland and Romania, facilitating Turkey with a satellite facility to map shockwaves and conduct rescue operations more efficiently.
Ukraine, which has been at war with Russia for about a year now, is also at TurTurkey'ssposal, ready to aid. The coucountry'sreign minister, Dmytro Kuleba, said that the country is ready to send special rescue teams to Turkey, setting an example for the world.
UkrUkraine'sval, Russia, has 100 staff members and two aeroplanes in the wings to assist Syria. In Britain, a team of 76 special officers accompanied by supporting equipment and rescue dogs is headed towards Turkey, said James Cleverly, foreign minister of Britain.
United States has deployed 81 personnel, six K9 teams, and three structural engineers. (image on the left)
Helping hands have also been extended by small nations, such as Malta, whose rescue team departed last night to Turkey. That is the true sign of determination to help. Per TurTurkey'sesident Recep Tayyip Erdogan, forty-five nations have extended help after his international call of distress.
( Value assignment help is the only online platform that students can trust with their hard-earned money for original and plagiarism-free content )
The Summary:
However, detrimental damage to the only three airports in the country has posed further difficulties in receiving aid in Turkey.
Heavy machinery worked throughout the night on the streets, making its way through heavy concrete slabs. Light rainfall and scrap piles are testing the rescue teams' skills and patients. "Th" rescue operation is excruciating and time-consuming, " "n officer told the media. But, just as rescue teams go through the time-consuming digging process, the chances of finding dead bodies are increased compared to finding survivors. But, as they dig deeper, the chances of finding a struck survivor also increase, which is the gamble rescue teams, are ready to play.