Billionaires who made it big inspite of all odds
The first jobs of billionaires
(A compilation by the experts of Value assignment help )
Do you think that your job is frugal? Think again. From sweeping floors to selling newspapers, the world's billionaires started from some of the most humbling jobs. The road to financial success is rarely a straight path, and for some of the world's wealthiest individuals, it started with humble beginnings. This article looks closely at the first jobs of five of the world's most successful entrepreneurs and business tycoons - Mukesh Ambani, Elon Musk, Mark Zuckerberg, Jack Ma, and Steve Jobs.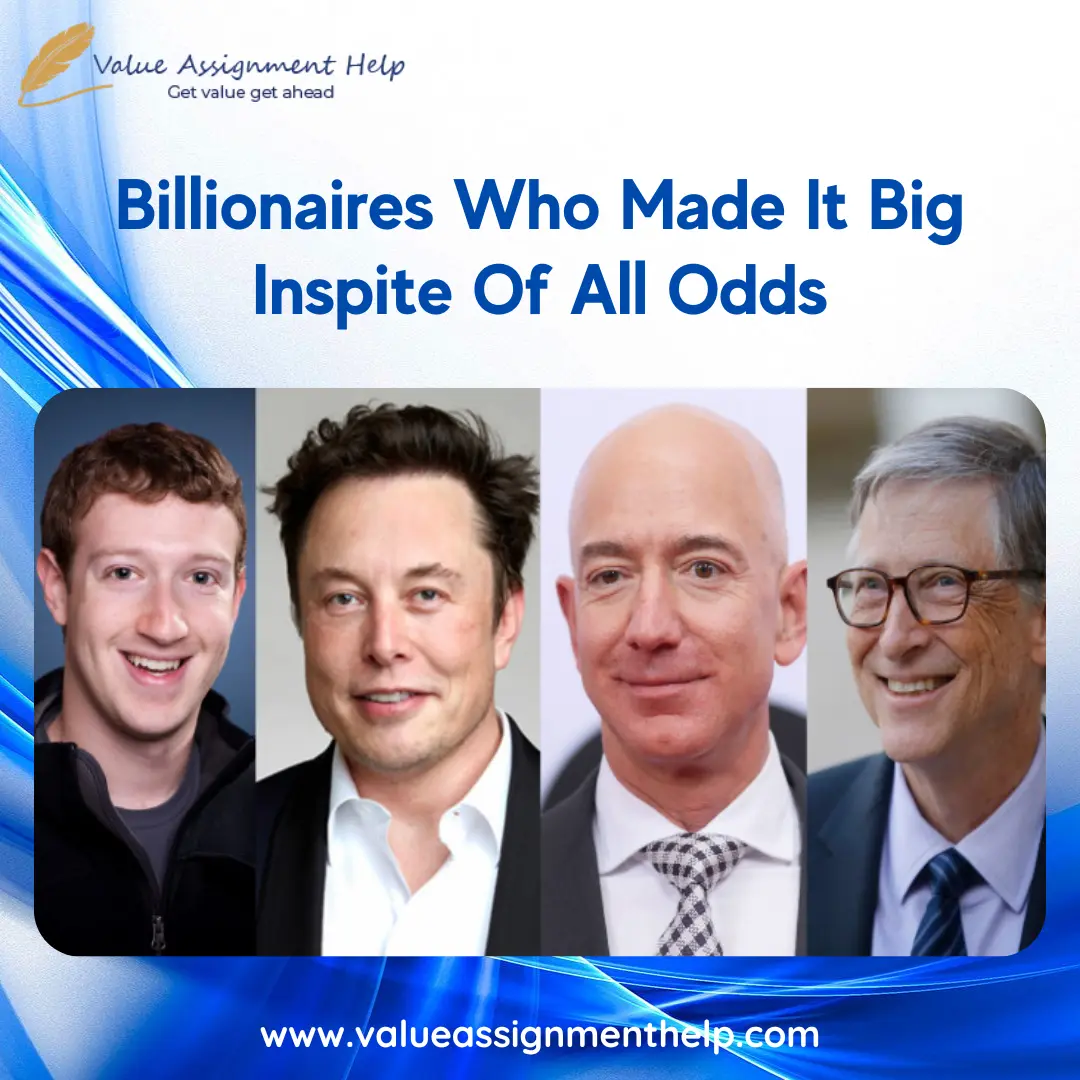 Mukesh Ambani, the chairman of Reliance Industries and the wealthiest person in India, started his career as a gas station attendant. Despite his family's wealth and business background, Ambani chose to work his way up from the bottom, learning the ins and outs of the industry. Today, Reliance Industries is one of the most prominent players in the Indian market, with a diverse portfolio that spans petrochemicals, telecommunication, retailing, refining, oil, and gas exploration.
Elon Musk, the CEO of Tesla and SpaceX, started as a salesman. Musk was 12 years old when he started selling computer games he had created to his classmates. This early foray into entrepreneurship set the stage for Musk's future success. Today, he is one of our most innovative business leaders, known for his vision of creating a sustainable future through electric cars and reusable rockets.
Mark Zuckerberg, the co-founder and CEO of Facebook, was a programmer from a young age. His first job was as a software developer for Synapse, which created music recommendation software. Zuckerberg's love of technology and passion for innovation led him to launch Facebook while still in college. This social media platform has since grown into one of the largest companies in the world.
Jack Ma, the founder of Alibaba, was once an English teacher. Ma's passion for teaching and desire to connect people led him to start a company that would eventually become one of the largest e-commerce platforms in the world. Today, Alibaba is a powerhouse in the retail industry, with a presence in more than 200 countries.
Finally, Steve Jobs, the co-founder of Apple, started his career as a technician for a video game company. However, jobs were always fascinated by technology and were determined to create products that would change the world. He eventually co-founded Apple and revolutionized the personal computing industry, introducing products like the Macintosh computer and the iPhone.
These five individuals are just a few examples of the diverse backgrounds and experiences that have shaped some of the world's most successful entrepreneurs. Despite starting with jobs far removed from their eventual careers, they all shared a passion for innovation and a drive to succeed.
So the next time you feel discouraged about your current job, remember that the road to financial success is rarely a straight path and that the experience you gain today could be the foundation for your future success.