Canada Vs Australia which is better for study
Studying abroad is a dream we all have at some point in our lives. But which country to go to is not just a matter of choice, but a decision that requires a lot of struggle and constant research before actually zeroing on your goal. Over the years, countries such as Germany, Canada and New Zealand have emerged as accessible alternatives to countries with a highly competitive environment. Suppose you have explored Canada and Australia and have gone through various comparisons. In that case, it is worth noting that both countries are respected for their global educational infrastructure and are ranked as favourites owing to their relaxed policies.
Recently Canada has scored higher than its competition countries owing to more liberal policies, ease of obtaining PR, and a balanced education budget that is friendly to all students.
Apart from the mentioned reasons, Canada is a favourite among students owing to its easier academic scoring policies rather than the grilling grade system where students find themselves engrossed with multiple assignments.
Canada and Australia are among the top 3 destinations to study abroad, attracting millions of Indian candidates annually. However, choosing between Canada and Australia is difficult for international students. Both these study abroad destinations are highly regarded and are centres of excellence, making it more difficult for students to choose one. In addition, both Canada and Australia excel in research, security, diversity, infrastructure and flexible immigration policies. So, if you are confused about whether to study in Canada or Australia, here is a guide to help you choose the best option.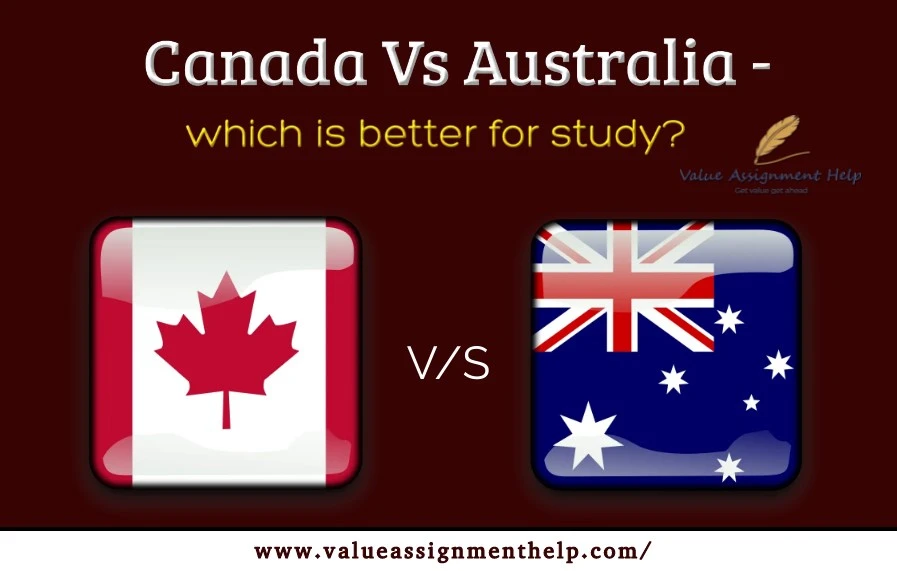 A brief on the education system in Canada vs Australia
Before diving deeper into the comparison between Australia and Canada for international students, let's understand the differences between their education systems:
Canada's education system is governed by provinces and has four levels starting with pre-primary, primary or primary, secondary and post-secondary. Colleges in Canada mainly offer certificates, diplomas and vocational training programs, while universities offer degree programs such as bachelor's, master's or doctorate.
Australia has a three-tier education system with courses classified into primary, secondary and tertiary levels. Australian education follows the standards set by the Australian Qualifications Framework (AQF). There are ten levels under AQF. Levels 1-4 are certificate courses, Level 5 represents Diploma programs, Level 6 corresponds to Advanced Diploma and Associate degrees, Level 7 denotes Bachelor's degree, Level 8 is Graduate Honors degree, Graduate Certificate and Diploma, Level 9 represents the master's degree and the final level. 10 represents a doctoral degree.
Australia vs Canada Job Opportunities
It's no secret that the Canadian and Australian economies are booming—which, in turn, has increased the number of job opportunities for those looking for work in the new country. As a result, both Australia and Canada offer many job opportunities for skilled immigrants and have some of the lowest unemployment rates globally. But with Canada's recent economic growth, how does it compare to Australia as an alternative to international jobs?
The answer is not simple. Like many comparisons, it depends on your preferences and what you want from a career abroad. However, if you are still confused, then check the job opportunities given below:
Here are some things to consider when comparing job opportunities in both countries:
Engineering and telecommunications are immigrants' major paying jobs in both countries.
For example, some job opportunities are better in Canada than in Australia. Canadian nurses, for instance, have more options than Australian nurses.
Canada has a more developed manufacturing sector than Australia. Nevertheless, Australia is primarily known for its US IT industries and head offices.
Canada pays better blue-collar wages than Australia, where white-collar wages are paid more.
Canada vs Australia for Indian Aspirants
Employment opportunities
Both countries depend on natural resources and mining and offer the highest paying jobs for immigrants in various sectors. However, some jobs are better in one country than in another. For example, nursing opportunities are better in Canada than in Australia. Canada is a slightly larger centre for manufacturing than Australia, although the latter is prevalent for its IT (information technology) sector and other work areas. According to several reports, blue-collar wages are better in Canada, while white-collar wages are higher in Australia.
Cost of living
The cost of living in Australia is slightly higher than in Canada due to taxes on housing. Housing is slightly more affordable in Canada than in Australia. Food and rent are expensive in Australia compared to Canada, especially in the larger cities. This should be a significant factor in influencing Indian students. However, with the right program, you can save on costs while pursuing your educational dreams in Australia or Canada.
Diversity
In terms of diversity, both Canada and Australia have vast and highly diverse populations, although ethnicity factors vary. For example, Canada has significant populations from India, China, Sri Lanka and the Middle East. In contrast, Australia has people from Lebanon, Thailand and Indonesia, as well as smaller South American or Central American communities.
PR
Obtaining permanent residency in Canada or Australia is based on various eligibility criteria and aspects affecting the prospects of immigrants within the country of future residence, including work experience, field/area of ​​expertise, relationships in the country and context.
Lifestyle
Canada and Australia both have very similar lifestyles. Both are diverse and safe countries. Australia is a peaceful and relaxing country and is quite welcoming, while Canada is also welcoming and easy-going for immigrants. The job opportunities in these two countries are also quite similar. Canada is more community and family-oriented in its lifestyle, whereas Australia is more competitive.
Social security benefits
You'll have to wait a few years to receive Social Security benefits in Australia, while Canada offers instant access to this much-needed feature.
Employment rate
Australia has a high employment rate due to the high rate of participation for migrants. High migrant participation rates are linked to high unemployment rates in Canada.
Canada vs Australia: Why Study in Australia?
Australia is one of the world's most popular destinations for higher education. Several top-ranked universities and accredited programs are located there.
Lack of language barriers, excellent curriculum and unparalleled expertise and the chance to experience student life in the mesmerising island country are some advantages of studying in Australia.
Australia excels in research, and many universities actively engage in ongoing research initiatives.
Australia offers a post-study visa for students who wish to experience a diverse workplace and learn directly from the Australian work ethic.