Case study on Moonlighting
Moonlighting: You can ride two boats parallelly but not simultaneously.
Case Study Subject: A new term, Moonlight, gained quite a spotlight when major IT firm Wipro, earlier last month, fired 300 of its employees for moonlighting with their critical rivals. In contrast, Swiggy openly allowed its employees to Moonlight. Conflict of interest, right? Read the article to know how moonlighting has the potential to become the new normal and how it should be done ethically.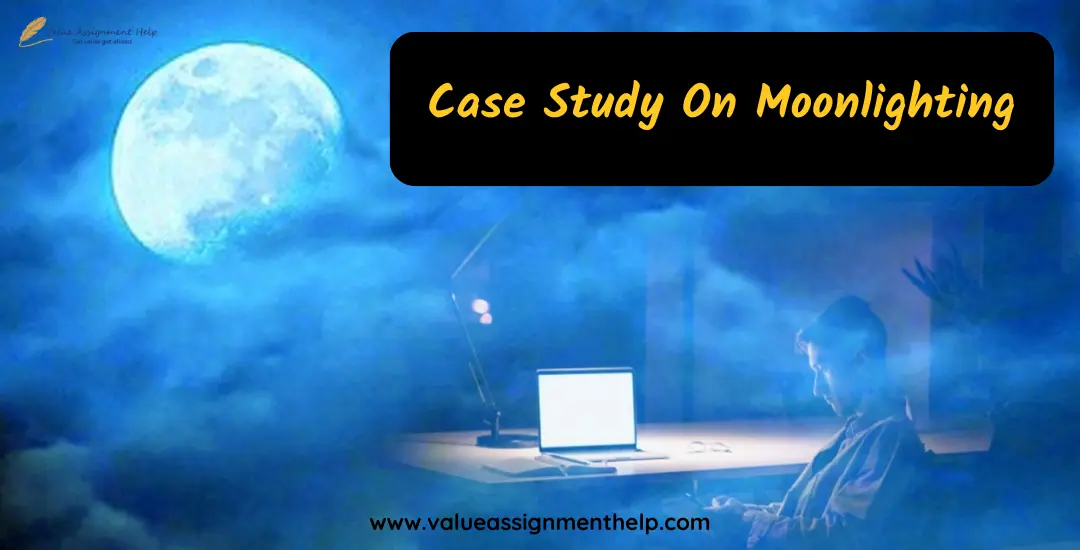 What is moonlighting:
Moonlighting is taking up a second job in addition to the primary job.
A professional Process engineer by day can work as a creative director by night, or a lawyer can also work as a consultant in their free time. Anything one wishes to do other than their primary job would be considered moonlighting.
It differs from freelancing in that in freelancing, you are not hired by any employer, and you work independently for various clients. In contrast, in moonlighting, you take up different job/ assignment/project that pays you other than your daily 9-5 job. Therefore, it has multiple sources of income.
Moonlighters (People who Moonlight) can belong to any field. However, IT professionals from around the nation are in the limelight nowadays after the shocking news of the firing of 300 employees by Wipro came out.
Moreover, people around the globe have been doing it long before it came into the picture. Harpreet Singh Saluja, President of Nascent Information Technology Employees Senate (NITES), an organization representing IT workers, says, "Going back to history, moonlighting is not a new thing. Infosys founder Narayan Murthy worked with Patni Computer Systems when he founded Infosys. At the same time, if you'll go with startups, Flipkart was founded by Sachin and Binny Bansal while they were working for Amazon. Freshdesk, which got listed on Nasdaq last year, was found by Girish Mathrubootham while he was working for Zoho Corporation."
Indian IT major Infosys and now IBM have reportedly warned employees that moonlighting could lead to termination of services. In contrast, Giant Food Chain Swiggy announced an "industry first" policy allowing its employees to Moonlight. "Any project or activity that is taken up outside office hours or on the weekend, without affecting productivity, and does not have a conflict of interest, can be picked up by the employees," Swiggy said.
Dual Aspect: Favor and against the trend:
Some companies like Wipro, Infosys and IBM are against the trend of opting for an additional source of income other than their primary job.
Wipro Chairman Rishad Premji flagged the issue, saying it is "cheating", While Tech Mahindra CEO C P Gurnani said, "I welcome disruption in the ways we work."
Has the pandemic fanned the trend?
COVID shook the entire world with being one of the most significant pandemics in the history of humanity. It also forced employees and employers to think of different ways to work, and hence Working from home started becoming popular among organizations. With almost every organization providing remote options and flexible working hours, moonlighting became popular. With COVID shutting down most of the market and loosening the burden of work on employees, people started taking up side gigs and following their passion in their free time. However, it was not openly discussed with the employers.
During a pandemic, many employees were paid reduced wages, and many were even laid off. Under such circumstances, people began opting for additional sources of income to cope with the increasing inflation and troubled economy of many nations. It is one of the significant reasons why moonlighting started trending among working people.
COVID significantly impacted the world economy, and people could barely take care of their expenses due to inflation and product scarcity; it was only regular for people to look for alternative ways.
Why do employees do it?
When big companies like Netflix, Better.com and unacademy have been laying off hundreds of employees for over a year and organizations like Microsoft and Amazon are freezing hiring of new candidates, it is only wise of people to prepare for the worn addition, working dual king jobs might provide people with additional support in such difficult times.
Earning money might not always be the reason for taking up a second job, but a little extra cash hurt nobody. Having multiple sources of income in difficult times helps financially and provides aid in a career change. People also tend to do it for better security of their future. It is like insurance.
Besides that, through moonlighting, people can pursue their passions without worrying about losing their primary source of support. Of course, many people do it for a smooth job change or to kill free time, but whatever may be the reason, the bottom line is that is it even legal to Moonlight and is it ethical?
What does the law say?
While many people recently lost their jobs to Moonlighting, there is no mention of "Moonlighting" in the Indian Constitution. However, according to the Indian Factory Act of 1948, a worker working in a factory can not take up dual employment. However, this law only talks about factory workers and is not general, so the only crucial document one can rely on is their employment contract. Therefore, employees should look for mainly two clauses: Non-Competing Clause and the Single employment clause, which prevents employees from taking up extra work other than their full-time job. If an employment contract does not have these two clauses, then you can legally moonlight in India.
In USA and UK, too, if people are paying taxes for earned money, they can take up as many side jobs as they wish.
What are employers' concerns?
While many employers think it is not ethical and is cheating, others think that it is a new way of working. Many traditional employers think of moonlighting as a lack of employee interest and not being committed to the organization's goal. In addition, many employers have raised their share of concerns about the employees' health and poor work-life balance caused by Moonlight. There is also a risk of a data breach, misuse of organizations' resources and reduced productivity of the employees due to taking up loads of work.
One of moonlighting's highest potential costs is to the person's leisure time and relationships. Individuals' health or relationships may suffer if they work round-the-clock. Take on small assignments with quick turnaround times to maximize profit as well as enjoyment, but whatever their take, it is evident that employers cannot brush it under the carpet. It is high time they acknowledge the concept and reforms their policies to achieve better employee satisfaction and job retention.
Here are a few things to keep in mind if you wish to moonlight:
First, you must be transparent with the management about your second job, even if it does not raise a conflict of interest. Your organization must allow you to Moonlight. Many employees in the past have had to bear the fruits of hiding it from their employers. It is always good to be on the safe side.
Always ensure that moonlighting does not affect your work productivity in your primary job.
Never access Moonlight-related emails or calls during your primary job. Instead, always keep both jobs separate. It will save you from criminal matters and help you achieve balance and better productivity at both jobs.
Maintain a professional-personal life balance. Do not take extra work if you think it might impact your leisure time. It is essential to spend time with your loved ones to maintain sanity.
Take on small assignments with quick turnaround times to maximize profit and enjoyment.
Try to avoid working for your competitor organizations. Still, even if you choose to do so (with due consent of your employer), it is always advisable to never share confidential information among the organizations.
Do not use resources like a Laptop or Internet service provided by the organization for moonlighting.
You are always moonlighting in "off-hours" since it is unethical and unfair for the organization that is so heavily invested in you. Besides, do not compromise your expected amount of workload.
Conclusion:
Employers should become more open to the idea of dual employment and moonlighting, considering the variable work-life demands of the employees. In the era when remote working and work-from-home have become the new norm for people, it is about time that employers also revise their working terms and conditions. They should become flexible and open to the idea of flexible working conditions. That being said, employers should be free to choose the working conditions for the job, and employees should have the liberty to accept or deny the terms.
Employers should be free to choose the kind of employee they want to hire and on what terms. If it interferes with the primary job, Moonlighting is unethical and unfair to the employer. These organizations provide job security, status and financial support to their employees. Employees should have the basic decency to keep the job separate from each other and should not compromise their efforts and inputs in the job employers should not be rigid and should be open to new ways of working.
Working conditions should not be imposed on the employee. At the same time, the employee should have the integrity not to disclose confidential information and data to other resources even if he moonlights.
People also need to understand that they can not have it both ways. They can ride two boats parallelly but not simultaneously.
Employees are bound to face the Repercussion as it is primarily not ethical to take up two jobs simultaneously without the facts being put on the table. It is bound to impact performance with a lack of work-life balance.