Case study on Winners of the pandemic-2022
War, viruses, disasters, and economic slowdown- 2022 has scrapped everyone of something. Some were left homeless, some lost families, and many lost jobs. While many were looking for ways to "exist, "some "masterminds" out there minted money even in crises. Some businesses and opportunists gained massively from the pandemic, some ethically, some by fraud. While most of us were sitting helplessly in our homes, these business sectors saw exponential growth in the market.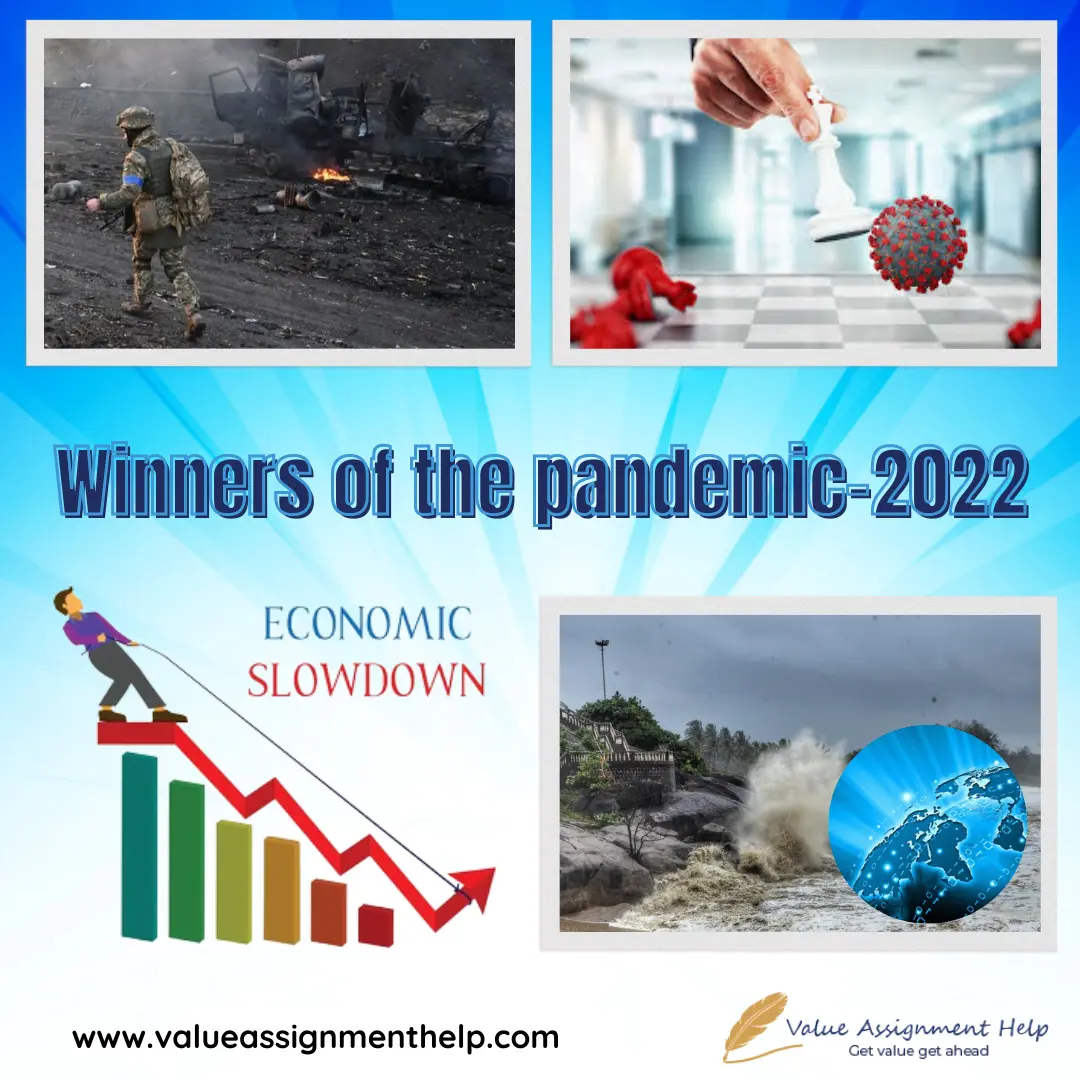 This article has been framed in the light of a list of "Billionaires" who were scrapped off a few million of wealth in 2022, which got us thinking this can not be the case; there are others who benefitted amid crises and hence the thought for the article was born.
(A sample case study by VAH experts on online assignment help)
What are we talking about?
As per the annual report published by Forbes Magazine, 2022 was a challenging year not only for the poor but this time for a few billionaires too. However, we beg to differ. There are 2668 billionaires worldwide, which falls 87 shorter than the previous year's list with a collective worth of nearly 12.7 Trillion dollars, 400 billion less than in 2021. Elon Musk topped the list with a net worth of 219 billion dollars.
If we go country-wise, America ranks on the top with the highest number of billionaires (735) and also the nation to lose maximum wealth (660 billion dollars), followed by China, which lost 27% of its wealth, amounting to 620 billion dollars, in comparison to last year. (Refer to Image)
However, it is interesting that a thousand of these featured billionaires are "richer" and "wealthier" than they were a year ago.
According to Altrata's Billionaire Census 2022, based on Wealth-X's data, a company that tracks the wealth and assets of the Ultra-rich, Billionaires hold just a per cent of the population in the "Super-rich" arena. Still, they comprise at least 27% of the combined wealth. That is right. There is the description of a widening disparity between the rich and poor.
Who gained what?
324 new billionaires: 1000 more with fuller pockets:
During the pandemic, in 2021 alone, about 500 new billionaires made it to the list's three-comma figure; in 2022, 1000 featured millionaires gained more than they could spend. Three hundred twenty-four new millionaires were added to the list this year. While most billionaires are self-made, a few have inherited the wealth to top the list.
Now let us look at which sectors saw massive growth from the pandemic.
Covid Crises: A Look on the brighter side:
While the global economy was trembling and finances were shaking, many opportunists made their fortune amidst global crises. From manufacturing masks and sanitisers to providing frontline support to covid warriors, 40 billionaires made their fortune reaping benefits from COVID-19, and if we breakdown that even further, at least 9 of them made a fortune from COVID Vaccine, among Indian firms Pfizer, BioNTech are minting a profit of a thousand dollar per second. However, capping intellectual rights on their inventions has alarmed the "People Vaccine Alliance", which sees this as a hindrance to further research and invention. Yet, despite the backlash and negative media, these companies continue to grow and why not? These people are the saviours who came front—footed to help and serve people.
Zhong Shanshan, the CEO of Beijing "Wantai Biological Pharmacy", a maker of Covid-19 tests, was able to top off in the list of top 10 billionaires in China last year with a net worth of $65.7 BILLION.
Plastic companies: Molding its way through the pandemic:
A San Diego-based small business called "ePlastics" deals in plastic manufacturing. The Company was founded in 1914 under "Rench Co." Family-owned small businesses saw a surge in orders when the pandemic struck the United States. As a result, the small business was flooded with phone calls to manufacture face shields and guards. That was the time, and today, the small business has been ranked in 5th position in the list of best places to work for suppliers by Plastic news.
Charity: Booming other industries:
While we understand that NGOs are non-profitable and keep very little to no earnings for themselves, the world saw a rise in global charity during hard times. For example, the indirect benefit earned through charity skyrocketed during a pandemic and economic hardships.
The logistics, internet infrastructure, financial services and community-related charity firms gained massive profits.
For example, S.FS.F.ldings Co., owned by Wang Wei, a Chinese billionaire, is an automotive and logistics company based in China. In its recent report released for the 3rd quarter of 2022, the Company saw a more massive 88% growth than the previous year.
Similarly, the banks that receive these generous amounts of online charity have benefitted from the pandemic. As per the annual Economic Association meeting report, banks that donate money gain customer sympathy and trust, resulting in higher revenues. The trick has been adopted by almost every major banking firm in the United States. J.P. Morgan Chase & Co and WELLS FARGO & CO. are two honourable mentions.
Red Meat: Shine your fortune:
While more and more people gain consciousness of saving animals, even more people are turning towards meat to meet the essential nutrients for the body. However, the rise in animal breeding and cruelty threatens the meat industry. But few environmentalists and food expect to have the solution. "Green Meat" or "Veg-Meat" is made from plant protein and is 100% vegetarian but tastes exactly like the real thing; at least, that is what reviews say.
And this trend is evident by the forecast's pf CAGR, which has estimated growth of 14.7% in the next five years. The steady growth rate of this hidden market product makes it a perfect investment option for the future.
Cloud computing: Canva excelling:
The online tech industry, telecommunication, internet service providers and digital media have reaped the benefits of the global pandemic and economic slowdown. However, we all know about that.
Most of you might not know that one field, cloud computing, lays a foundation for other tech industry tools. In particular, one app, Amazon web services (AWS) and the Canva app have been the most profitable business in the pandemic.
Even so, recently, the founder and owner of Canva, 34-year-old Melanie Perkins, was valued at a whopping 40 Billion last year. In addition, Canva, which is an online digital content-creating and editing platform itself, scored 3rd rank in the list of Forbes list of "Cloud 100", which ranks the top 100 cloud computing platforms based on market leadership (35%), estimated valuation (30%), operating metrics (20%), and people & culture (15%).
OOT platforms rise: The show must go on:
As per our research, online platforms saw a massive rise in profits and sales. Mainstream cinema is shutting down, and people are turning to online platforms for entertainment; private businesses such as Amazon Prime and Netflix have snowballed their way into the primary stream media entertainment industry.
Since 2020, Netflix shares had risen until recently, when it had to fire some employees over losing a subscriber in a decade. Another firm, Disney+, which is the leading streaming platform in the UK, U.K.ould see exponential consumer growth from 1.4 million subscribers to an estimated 6 million subscribers by the end of 2023, UK-based research firm Ampere Analysis claims.
E-commerce: Let's shop online:
Latin America's online marketplace Mercado Libre, an online platform in America, saw double sales in the same quarter compared to last year. In addition, the African e-commerce platform Jumia reported a 50% jump in transactions during the first six months of 2020.
China's online share of retail sales rose from 19.4% to 24.6% between August 2019 and August 2020. In Kazakhstan, the online share of retail sales increased from 5% in 2019 to 9.4% in 2020.
The unexplainable Invasion of Ukraine boosted the energy and food sector:
In the pre-war scenario, Russia and Ukraine were the leading producers of electricity and food products such as rice. However, Russia's game-changing move to leverage its dominance in the European energy and food sector pushed most of the dependent nations (Germany, France, US) into reserve mode. As a result, souring relations between Russia and its neighbours opened the doors for other big players to dominate the energy and food sector.
Qatar came front-footed to supply oil and gas amid war. India benefitted from exporting agricultural goods and bolstering fuel imports from Russia.
While most European nations are experiencing power shortages and a rise in food prices, the renewable sector boomed last year. McKinsey & Company, a renewable sector company, estimates the growth will be more than 80% in the present decade compared to 2020.
Other honourable mentions include:
Other fields that you already might know about are:
Pharmaceutical companies
Tech Industry
Social media and digital media
Hygiene and sanitization services
Online food delivery services, UberEATS, Domino
Telecommunication and internet service providers
Concluding thoughts:
Globally, the pandemic took a lot more than we could ever gain. The war scrapped people of their homes, families and jobs. The condition is so worse that the world has lost count of lost souls, and what remains behind is their pleasant memories. However, looking on the brighter side, it can be easy to feel overwhelmed and defeated in times of crisis. But if we shift our perspective and look for opportunities, we can turn these challenges into something positive.
Crises can often bring about innovation and creativity as we search for new solutions to problems. They can also be a chance for personal growth as we learn to adapt and overcome obstacles. So next time you find yourself in a crisis, try a step back and see what opportunities may be lurking beneath the surface. With creativity and determination, you may find that you can turn a crisis into a chance for success, just like these businesses did!