Commercial cookery assignments in Australia
Do you consider yourself a little foodie, love to cook for others or get creative with food? Have you considered a career in hospitality?
Australia's hospitality scene is also multicultural and competitive, with a strong reputation for original cafes and bars, making it desirable for aspiring cafe owners and chefs.
An appetite for great food and competitiveness means that Australians are constantly surprised and delighted with what is served on their plate, from new food fusions, latte variations, exotic dishes, or lining up to the latest restaurant that doesn't take bookings!
Unsurprisingly, hospitality is a growing industry projected to grow 12% over the next five years, employing an additional 91,000 people.
Employees in hospitality in Australia earn a decent salary even in an entry-level position, and employees can move up the career ladder quickly. However, a kitchen or restaurant is a fast-paced environment that requires workers to think on their feet and work well together, so working in this dynamic environment requires good communication and interpersonal skills.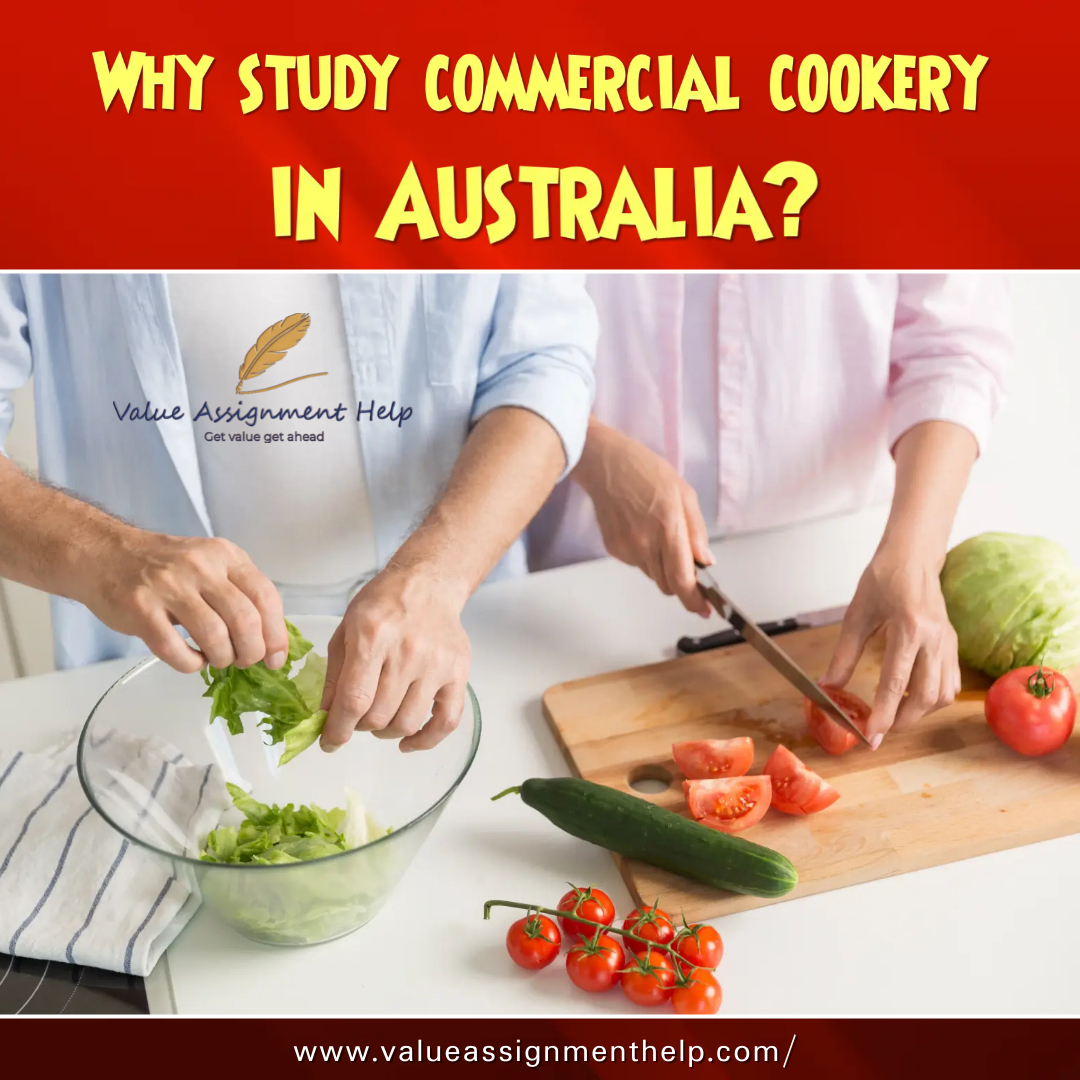 What is a Commercial Cookery course about?
The Commercial Cooking course covers topics designed to make everyone learn about modern cooking skills essential to chefs.
Topics covered include planning, arranging, preparing and presenting meals such as starters, broths, meat, seafood and poultry, desserts, and cakes, following health and safety procedures, maintaining kitchen facilities, and Developing knowledge of the hospitality industry, which involves cost-effective development—menu, and food preparation according to dietary and cultural requirements. You will be introduced to the secrets of every cuisine, with a particular emphasis on regional and traditional cuisine.
Students receive theoretical and practical training - on-the-job training is essential and integral to assessing this competency. The program enables you to work as a trainee cook in restaurants, hotels, clubs, pubs, cafes, canteens and cafes.
You learn how to run a restaurant effectively and prepare and serve various dishes from different cuisines worldwide. You learn to organize professional dishes. In addition, you will learn about the chemical composition of food products and the principles of human nutrition.
What Types of Cooking Courses Does Australia Offer?
Certificate III in Commercial Cookery
It is 40 or 58 weeks (depending on the college) that prepares you to work as a cook in bars, dining places, lodges and more. This program may prove helpful when you haven't analyzed your cooking and know the primary strategies for various foods, including seafood, beef and sweets. In addition, you'll find components relevant to crew organization, food safety or coordinating under pressure.
Certificate IV in Commercial Cookery
This course is 76 weeks. It has the same units as the previous study course; it can be done even without cooking experience; however, it is different as it prepares you to join a team coordinator, i.e. get more accountability. In addition, they have terrifyingly attractive units, just like the one that explains the best way to obtain and deal with a particular raw components stock.
Diploma in Hospitality Management
This course is also 76 weeks but is very focused on organization. So, if you're looking to start a business or already have enough experience as a chief cook and want to gain more management knowledge, this may be the best practice for you.
Along with the compulsory subjects related to management, you can also review the optional subjects available for preparing many types of food.
What Are the Benefits of Studying a Professional Cookery Course?
You will benefit greatly from attending one of the courses for chefs at any Australian college. Firstly, you can sharpen your cooking skills. You will learn basic theoretical knowledge and practical experience in an academic structure. Most importantly, the cooking industry is one of Australia's largest growing employable industries. In this fast-paced world, people find it challenging to cook for themselves. Hence, the demand for cooked and prepared food is high. Opening cafe chains mainly among youth is also in trend. So, as time goes by, the market will pick up. Finally, you may open your restaurant someday.
What is the current work environment in the Australian commercial cookery sector?
Generally, a very relaxed and laid-back mood prevails in the Australian workplace. Working here as a business cook, you will find a casual job environment full of ordinary coworkers who call each other and even their bosses by their first names.
No matter your position, you will always find ample space to express yourself. As there is almost no hierarchy in the workplace, there will be hardly any dominance of managers. Australians are generally very friendly and like to socialize in the workplace. But at the same time, they do not show any interest in a person's personal space.
Every workplace must follow health and safety regulations to maintain a safe and healthy environment. The government frequently updates the labour industry. Therefore an Australian boss cannot simply dismiss an employee. Apart from this, you will get a good salary, a sufficient number of holidays in a year and other benefits.
Is Commercial Cookery a Good Career?
If you love cooking, have an innate enthusiasm for and genuine interest in nutrition, and are ready to test the long work hours. A profession in commercial cooking could be the possibility of turning your hobby into a career.
No matter what direction your career takes you, you need to have many qualities – without an artistic or aesthetic sense, you will not be spectacularly successful. The sense of taste is also fundamental; this will allow you to mix different ingredients and create your dishes. In addition, you'll need determination and discipline, the ability to deal with stress, the ability to work in a group, and, if necessary, the talent to lead your team of employees.
Following the development of the hospitality sector, there is a high demand for professionals in the commercial culinary arts who can manage, manage and train staff in a kitchen.
Potential career paths and salaries:
Sous Chef – A$70,000 per year
Head Chef – A$74,000 per year
Executive Chef – A$92,849 per year
Restaurant Manager – A$64,398 per year
Banquet Manager – A$65,000 per year
Food & Beverage Manager – A$80,000 per year
Catering Manager – A$66,519 per year