Cost-of living Crises in UK: History of protests
Cost-of living Crises in UK: History of protests
In the United Kingdom, strikes have long been a means for workers to protest and advocate for their rights and interests. One issue that has frequently sparked industrial action in the UK is inflation, a measure of the average price level of goods and services in an economy over a specific period. In this article, we will shed some light on how inflation in UK has fueled the Cost-of-living crises and strikes serving the purpose.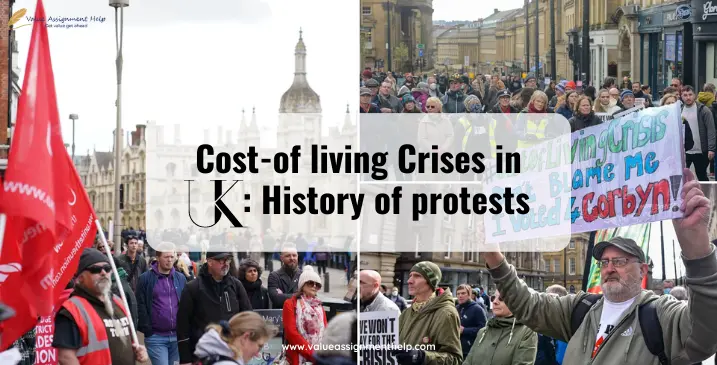 Introduction:
Nurses in UK underwent a strike for the first time in the history of UK nursing union on the 15th of December this year, which according to Reuters, witnessed more than 1 00,000 nurses refusing to work.
The impact of the first strike was so massive that more than 70,000 appointments were cancelled nationwide in more than 70 hospitals, routers stated.
The event is now followed by train and construction workers' strikes nationwide. In addition, Healthcare, education, aviation, and transportation sectors are facing crises due to growing strikes in the nation.
People have been unable to travel to and fro, not even to work. Amid the holiday season, travel plans of many UK citizens have been delayed or even disrupted. The nation is facing country-wide strikes and workers refusing to work.
The reason for the staff taking on the streets is their mere wages. Workers claim that their wages shall be increased in accordance with inflation.
Why people in UK are undergoing strikes?
Nurses and other workers are undergoing strikes because rise in inflation and hike in the workers' wages are not aligned. As per media reports and newspapers, workers demand higher salaries in accordance with rise in living costs, hence the living crises.
Drivers of Inflation:
The main drivers of inflation in the UK have been rising prices for goods and services, such as food, housing, and transportation. However, in recent years, Brexit-related uncertainty and the COVID-19 pandemic have also impacted inflation.
Impact of Inflation on Wages and Purchasing power parity:
Inflation can significantly impact consumers' purchasing power, as it reduces the value of money over time. When the price of goods and services increases faster than wages, consumers may find it more challenging to afford the same items that they could previously.
However, what is also important to note is that inflation can vary across different regions and sectors of economy and can impact different groups of people differently. For example, the cost of living may be higher in urban areas than in rural areas. Certain goods and services, such as healthcare and education, may experience higher inflation levels, as seen in this case.
To put above data in common terms, if the CPI (consumer price index) increases by 2% per year and wages do not keep pace, a worker earning 25,000 pounds per year in 2010 would have purchasing power equivalent to 23,480 pounds in 2020, as per the data of Paw research Centre, after adjusting for inflation. This means that the same amount of money would buy fewer goods and services in 2020 than in 2010.
What does the data say about inflation in UK?
According to data from the Office for National Statistics (ONS), the Consumer Prices Index (CPI) in the United Kingdom has increased by an average of 2.0% per year over the past decade. Inflation peaked at 5.2% in September 2011, and reached its lowest point of 0.5% in June 2016. However, what is interesting is the latest inflation rate data that shows a 41-year record of even above 11%, which explains the anger and discontent among the working class in UK.
Overall, the data shows that inflation in the UK has been relatively moderate over the past decade. Still, escalating inflation has significantly impacted the purchasing power of wages and the cost of living.
Is this the first strike in UK?
No, UK has also faced similar strikes in the past that hover around the same topic of pay, pensions and inflation.
Looking back at strikes in the past decade, the following major strikes have occurred in just 10 years:
2020: In 2019 and 2020, there were strikes by staff in higher education institutions, including universities, overpay, pensions, and workload.
2019: Thousands of workers at British Airways (BA) went on strike over pay and conditions, leading to the cancellation of hundreds of flights.
2018: In 2018, there were several strikes by public sector workers, including teachers, healthcare workers, and civil servants, over pay, pensions, and working conditions. Postal workers at Royal Mail went on strike over pay and pensions, leading to delays in mail delivery.
2017: Members of the National Union of Teachers (NUT) and the National Association of Schoolmasters Union of Women Teachers (NASUWT) went on strike over pay, pensions, and working conditions.
2016: Junior doctors in England went on strike over pay and conditions, leading to the cancellation of thousands of appointments and surgeries. Deliveroo riders also strike over pay and working conditions.
2013: Public sector workers, including teachers, nurses, and civil servants, went on strike over pay, pensions, and working conditions.
Are strikes right way to protest:
Legally speaking, yes. The right to strike is recognized as a fundamental human right in many countries, including the United Kingdom. Moreover, according to the International Labor Organization (ILO), the right to strike is protected by international conventions and is an essential element of freedom of association.
Even in the United Kingdom, the right to strike is protected by law, and workers can take industrial action to resolve disputes with their employers.
However, morally speaking, strikes might not be the best way to resolve conflicts. Apart from the government, common citizens face the dire consequences of the strikes. People have been unable to go to work, which for some might mean sleeping on an empty stomach.
Nurses going on strike led to cancelling more than 70,000 appointments in a single day, out of which some patients might not be able to wait another day. Who is responsible for the safety of those patients?
The concluding words:
Nurses and doctors have served us in our difficult times, and it should be our responsibility to return the favour. But unfortunately, the medical industry, transport, and other industries have been struck by inflation.
Sunaik-led government, although they promised that people could be vocal about their issues and himself stated that nurses are given 3% raise during a pandemic, even when the economy was dipping to its lowest. But, rest assured, the government is also fearful that accepting the terms of one particular industry might lead to similar demands from other sectors, which would create chaos in the nation.
(Need Help To Get Your Assignment Done? Order professional assignment writing service in Australia)