Don't Let Being at Home Stop You from Celebrating the New Year
Don't Let Being at Home Stop You from Celebrating the New Year
As the calendar turns to a new year, people worldwide come together to celebrate the start of a fresh, untarnished chapter in life. There are countless ways to ring in the New Year, from vibrant parties filled with music, dancing, and laughter to intimate gatherings with loved ones. For some, the start of a new year marks the perfect opportunity to reflect on the past and set ambitious goals for the future; whether you're pledging to hit the gym more, eat healthier, or travel to exotic new destinations, the new year is the perfect time to set your sights on the future and chase your dreams.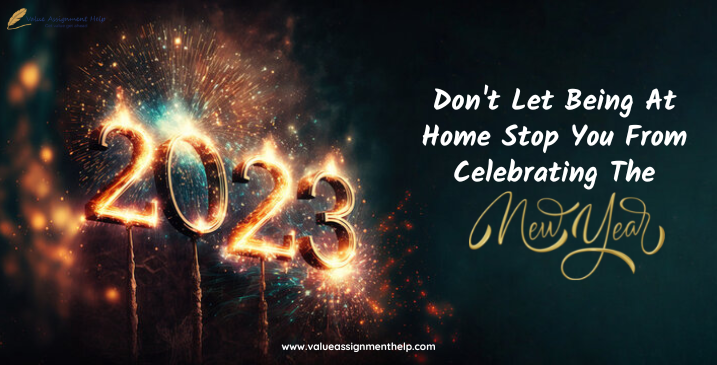 As the final days of the old year draws to a close, it's time to start thinking about how you'll ring in the new year with style. So if you're feeling a little disappointed about not being able to travel to your dream destination for the new year, don't despair! While travelling to exotic locales can be a fun and exciting way to celebrate, there are plenty of other ways to make the most of the new year, even if you're stuck at home. That's where this article comes in - we've got a bunch of creative and fun ideas for celebrating the new year in style, no matter where you are.
So, if you're looking for inspiration to make the most of the new year without leaving your home, this article is for you. From festive parties and thoughtful resolutions to cozy gatherings with loved ones, we've got plenty of ideas to help you celebrate the start of a fresh year. So let's get started!
Throw a party:
Throwing a new year's party at home is the perfect way to say goodbye to the old year and hello to the new one! Whether inviting a small group of close friends or hosting a larger bash, there are plenty of ways to make your party memorable and festive. Here are a few tips to help you plan the ultimate new year's party at home:
Start by setting the mood with some festive decorations. Hang streamers and balloons, add some sparkly confetti, and light some scented candles to make your home warm and welcoming. Don't forget about party poppers to blast right at midnight.
Next, it's time to plan the menu. Consider serving a variety of appetizers, snacks, and drinks to keep your guests satisfied throughout the night. However, we advise you to ask your guests about food allergies before the party. Also, include some non-alcoholic options for those who prefer not to drink.
Consider setting up a photo booth area with some fun props and backdrops. This is a great way for your guests to capture memorable moments from the party, and funky props never hurt anybody, so don't shy away from using plenty of them.
Have some fun games and activities planned to keep your guests entertained? This could be simple as a board game night or a karaoke session. Our top picks include:
Never Have I Ever: Players take turns making statements starting with "Never have I ever..." and finishing with something they have never done. If someone else at the party has done that thing, they must take a drink.
Truth or Dare: a classic party game in which players choose between answering a question truthfully or completing a dare.
Cards Against Humanity: A party game in which players fill in the blank on a sentence with the funniest or most outrageous card in their hand.
Scavenger Hunt: A game in which players are given a list of items to find or tasks to complete within a specific time limit.
Charades: A classic party game where players act out words or phrases without speaking while the other players try to guess what they are acting out.
Don't forget to have some music on hand to get everyone in the party mood. Create a playlist in advance, or consider hiring a DJ to keep the party going all night long.
With some planning and creativity, you can throw a new year's party at home that your guests can never forget. So go ahead and start planning - and don't forget to have fun!
Secluded celebration with your loved ones:
If you are not a party person, we understand. But instead of throwing a full-fledged party, you can choose a secluded celebration with your loved ones. Here are a few ideas for how to have a cozy new year's celebration with your loved ones:
Have a movie marathon: Choose a few of your favourite movies or TV shows and spend the day or evening cuddled up on the couch together.
Host a game night: Invite a few friends or family members to play fun, family-friendly board games or card games.
Make a special meal: Plan a special new year's menu and cook a delicious meal together. Don't forget to have some sparkling wine or champagne to toast the new year!
Have a spa night: Set up a spa at home with scented candles, a bubble bath, and relaxation music, and spend the evening pampering yourselves.
Write letters: Spend quality time together writing letters or cards to loved ones, expressing your hopes and wishes for the New Year.
Bond over food: Prepare Themed food/snacks:
Another fun way to bond over food is through organizing fun-themed food sessions. Choose a theme and ask your family members to cook food with the same theme and enjoy a variety of cuisines.
What do we recommend?
Color theme: Prepare dishes with varying colour schemes
Region theme: Cook Food from different regions. Italian and Chinese options are limitless.
Mood theme: From spicy to dessert, this theme will surely cover a range of delicacies.
Ring in the New Year with a Virtual Celebration:
If you are not with your family this New Year, don't worry. There are still plenty of ways to celebrate and make the most of the occasion. Consider adopting these options:
Host a virtual celebration: Invite friends and loved ones to join a video call or streaming service to ring in the New Year together.
Plan a solo celebration: Take some time to reflect on the past year and set intentions for the new one. Consider doing something special for yourself, like cooking a fancy meal or relaxing bath.
Reach out to distant loved ones: If you can't be with them in person, consider sending them a heartfelt message or calling them to wish them a happy new year.
Join a virtual event: Many virtual events are happening online that you can join, such as concerts, parties, or trivia nights.
Spend time with pets: If you have pets, spend some extra time with them. Consider giving them a special treat or taking them on an extra-long walk to celebrate the new year.
Host a virtual dance party: Put on your dancing shoes and invite friends and family to join a virtual dance party. Choose a playlist of your favourite songs and let the music take over.
Play virtual games: There are many online games that you can play with friends and family, such as online escape rooms, trivia games, or virtual scavenger hunts.
Have a virtual talent show: Invite friends and family to share their talents online. You could have a variety of shows with singing, dancing, comedy, or magic acts.
Set up a virtual karaoke night: Invite friends and family to join a virtual karaoke night and sing along to your favourite songs.
Plan a virtual trivia night: Gather your friends and family for a trivia night. You could create your trivia questions or use an online trivia generator to create a custom quiz.
Last Minute party hunt:
If you have a sudden change of heart and want to join the party for the New Year, don't worry - we've got you covered. Many websites can help you find the perfect celebration, and one of them is Eventbrite.com. Simply type "new year's eve party" and your location, and you'll be presented with various options. Pick the one that suits you best and enjoy ringing in the New Year!"
Conclusion:
But no matter how you celebrate, the New Year is a time of hope, renewal, and possibility. It is a chance to let go of the past and embrace the unknown with the confidence that anything is possible with hard work and determination. So let's toast the New Year and all its promises. Happy New Year!
(Get the best assignment writing service with us at great discounts. The fundamental advantage of choosing us is the precious time that you save with our online assignment help)