Essay writing article on Metaverse
Metaverse: Apollo of Internet
Imagine a world where everything you wish could be done from the comfort of your home. Now you might think that is what we have been doing on the Internet. We have access to all the sources available on the Internet at our fingertips. Anything you wish to know can be found on the Internet. But what if I tell you that there is a way beyond this, a world that could mimic the physical world, and anything you wish to do in the physical world could also be done there at your convivence? Interesting Right? All this is possible with a new technology called Metaverse.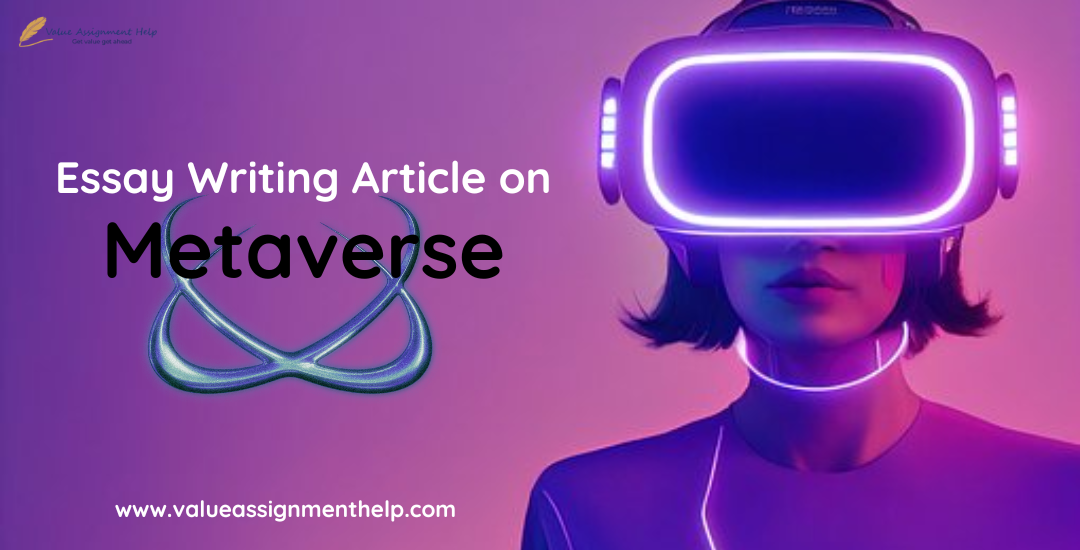 According to research, only 14% of people in America know about Metaverse, and this figure is even lower for other countries but doesn't worry. We have researched and gathered all the information you need about Metaverse. So let us go through this article to discover the future of the Internet- Metaverse.
Metaverse is an advanced level to the Internet. Via Metaverse, people can travel to the virtual place of their choice with the help of Augmented reality (AR), Virtual reality (VR), Artificial Intelligence (AI) and digital media. Metaverse is rightly described as the "Universe of Virtual Worlds" by Chris Madson-Senior manager at Engage, because of its endless opportunities.
It can take up many forms. From gaming to shopping, all could be done in Metaverse. Still a little confused? Let us understand it this way, if you were to buy something today, you have two ways: either you go to the store and buy physically, or you go on the Internet and buy online. Physical shopping allows you to try and see the item physically, but you have to go, whereas in online shopping, you do not have to go anywhere, but you can surely not know the fit and feel of the item. These scenarios have pros and cons. Metaverse is built on the concept of only enhancing the pros of both these choices. In Metaverse, you can virtually try on clothes and shop for them online, which will then be delivered to your home. This could be done by creating a virtual "Avatar" of your resemblance in Metaverse.
This concept of virtual shopping has already been adopted by Gucci (via The Sandbox), Ralph Lauren and Nike (via Roblox) and Balenciaga and Moncler (via Fortnite). Although these are not fully functional stores, the goal is to provide a seamless shopping experience to its customers.
Where did the name come from?
Metaverse was first used in the Novel "Snow Crash" in 1992. This is a science-fiction novel written by American writer Neal Stephenson.
Meta in Greek means "beyond".
The concept of Metaverse is not new. This has been imagined in movies and books. The 2010 movies, Matrix, second life (2003) were somewhat based on the same concept. At that time, it was fascinating to imagine it in real life, but years later, here we are. Metaverse is possible and entirely accurate.
However, it is notable that Metaverse was at the same stage as the Internet in the 1990s-Under development.
How to access Metaverse:
Since you know about the Metaverse concept, you might wonder how to use it.
Like the Internet, you need hardware and software to access Metaverse. Hardware might comprise a computer/laptop, VR goggles, headsets, gloves, and 3D screens, whereas software might include games, applications, and programs. The choice will vary depending on your requirement.
HoloLens by Microsoft will cost you around 3500$, whereas a cardboard VR lens could be bought for as low as 2-3$.
Why is it trending?
Metaverse, as we know of today, was bought to life by Mark Zuckerberg, founder of Facebook, in oct-2021 when he renamed Facebook to Meta.
Since then, Metaverse has gained quite an audience, with over 470 million using it monthly. The global metaverse market stood at an estimated $38.85 billion in 2021 and is expected to grow to $47.48 billion in 2022.
According to XRToday, around 160 companies are working towards making Metaverse our new reality.
Interestingly, a single company or organization does not own Metal. Ratherther, it is available to everyone.
Latest developments in Metaverse:
Just like there is no limit to one's imagination, there is no limit to what can and can not be done via Metaverse. Ideally, everything possible in real life can be done in Metaverseando much more! From education to meetings, from gaming to dating, everything is possible on Metaverse. How? Lets us go through a collective list of areas where Metaverse has already expanded and what the possibilities are.
Gaming:
The gaming industry has seen this technology's most extensive and massive use. For example, Roblox, a gaming company established in 2004, has over 200 million active users per month on metaverse world, making it the largest virtual world in 2022.
The gaming world is booming because it is the best setting to experiment with our limits and push further boundaries of what can be achieved.
Other developers like Juego Studios, Epic Games and The sandbox are also coming up with innovative developments in the Gaming industry.
Education:
The most recent blend of virtual reality with the natural world could be seen in Japan. In the Toda city of Saitama, Japan, schools have used Metaverse to facilitate students to virtually visit the campus, attend classes, and meet with friends. It is just a small example of how the future of education can be transformed.
According to the data published by NCRB of India, there has been an increase in crime against children by 16.2% in 2021. Combined with Metaverse and government efforts, a new way of educating children,n could be thought of. Studying from home without sacrificing the quality of education could protect children from crimes, which could be Metaverse's revolutionary benefit.
Business Meetings:
Are you someone who enjoys virtual meetings on teams over physical meetings? Then what we are about to share with you will surely amaze you. Microsoft has integrated Metaverse with teams, so attending meetings virtually will be more fun. This combination of Metaverse with teams is called "Microsoft Mesh", which was released publicly in April 2021.
Microsoft mesh enables its users to interact with colleagues as virtual avatars. This takes attending meetings to another level. Synonym to Teleportation, Microsoft is calling this "Holoportation".
Shopping:
Shopping in the Metaverse is more fun than you think. Hyper-realistic Shopping experience offered in the Metaverse tops the list for me. For all shopping enthusiasts, this is a game-changer. The only dream of a shopping enthusiast is to shop endlessly without fatigue, and boom, the Metaverse is their ticket to experience the luxury of Virtual Shopping.
Obsess is one brand that helps companies build their metaverse shopping platform for their customers.
Health care
The Healthcare industry can be transformed immensely in MetaverFor example; students can learn anatomy in virtual live demonstrative classes without shedding a drop of real blood. Patients can consult their doctors online, and doctors can monitor their patients. The possibilities are endless.
Mining is the first hospital launched on Decentraland MetaverIn addition; Latus Healthcare is working on creating a "virtual hospital" for its patients that would allow physiotherapy-based treatments and other available facilities.
Travel:
Metaverse is the defining moment for the travel Industry. Envision navigating your favourite tourist destinations on your terms with an endless time limit. We feel intrigued to even think about it and then imagine being able to do it. It would be a travel delight. It could also benefit those who cannot travel physically and further open the door for aviation and hospitality businesses.
M social Decentraland is the first hotel in Metaverse opened by Millennium Hotels and resorts, and Emirates is launching "signature metaverse experiences" for its customers.
Summary
Metaverse covers everything from customers to service providers, retailers to producers, gamers to educators; Mithas the potential to transform reality as we know it. Metaverse is undoubtedly a boon to humanity. However, it comes with its shortcomings.
The Internet, being the parent of the Metaverse, has become the breeding ground for Cyber Crimes. With almost 80% of companies at the threat of cyber breaches worldwide, it is agonizing to even think about what could go wrong in Metaverse. Unfortunately, with all the available data on the platform, Metaverhas has become the top target for hackers and cyber-criminals.