Free Sample For Prepare seafood dishes - SITHCCC013
Value Assignment Help is a team of passionate, qualified professionals who are highly qualified and are gems in their field of expertise. Being a creative core mind of problem solvers, our experts enthusiastically accept the challenges of multifaceted assignments and projects across universities and ensure top results. Professionalism is a prime trait in every individual, and their main focus is to serve a better learning experience through the digital web. The solutions formed by our specialists ensure to meet all the requirements of your university assignments, and up gradations in the assessments subsequently lead us towards a loyal client base.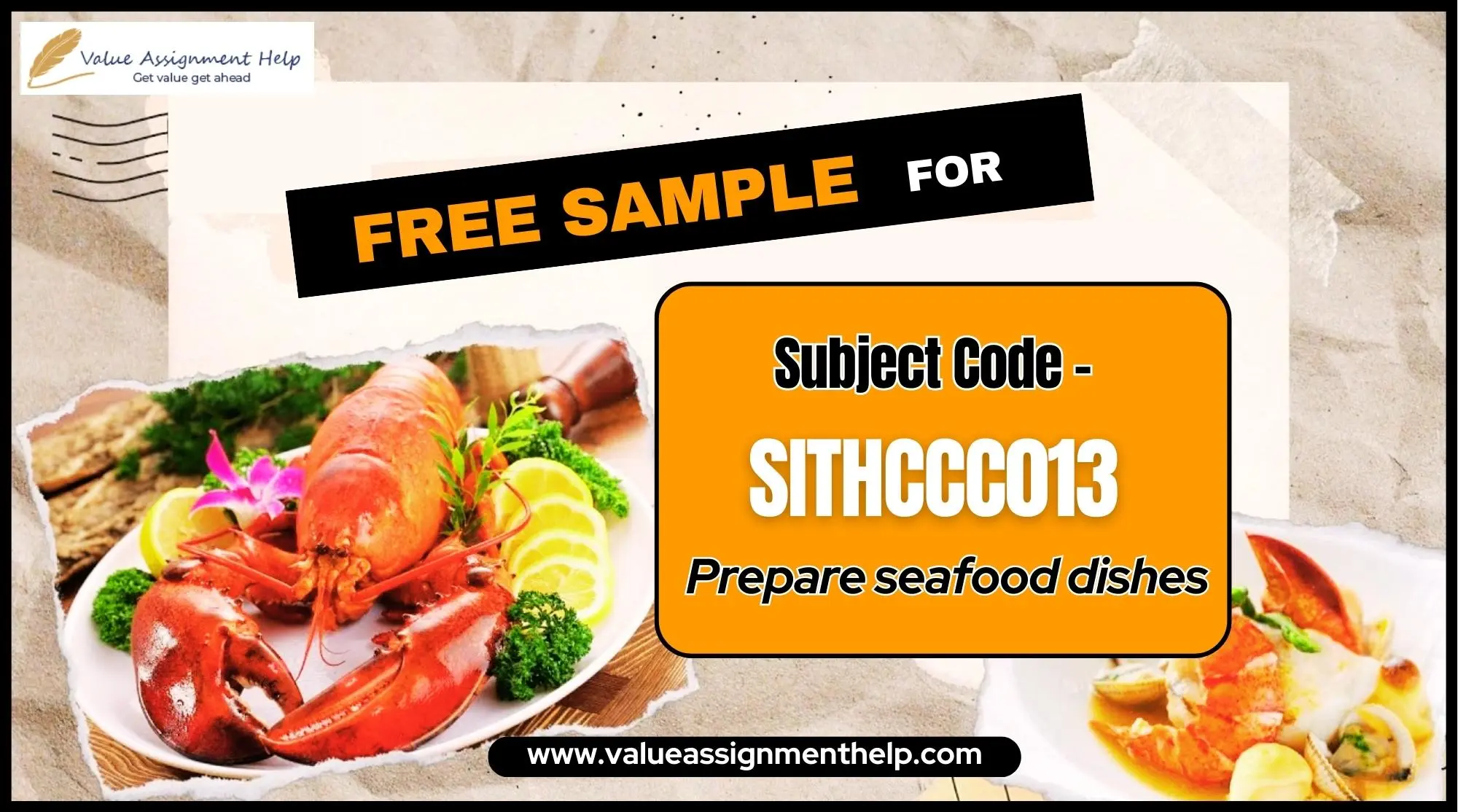 Review our free assignment sample for "SITHCCC013 - Prepare seafood dishes" below – to check the quality before ordering your assignment.
Q1. What is a standard recipe? What five steps are used for food preparation and standard recipes according to food production requirements?
Ans A standard recipe is a set of written instructions for producing a specific quality and quantity of food. The objective of a standard recipe is to produce a consistent taste and quantity every time the recipe is made.
Food preparation steps for standard recipes according to food production requirements:
Confirm food production requirements: Food production requirements can be confirmed from the food preparation list. Check deadlines and special customer requests.
Get ingredients: Select and buy the ingredients needed to make the dish.
Prepare equipment: Clean and sanitize equipment needed to prepare dishes. Then, preheat the oven and securely assemble all equipment according to the instructions.
Prepare the ingredients: Cut the ingredients according to the instructions given in the recipe.
Cooking Dishes: Follow the steps and methods of cooking a dish.
Q2. What are the factors to be considered when cleaning and maintaining equipment?
Ans
Detachable grease filters.
Easy to access and remove duct panels
Smooth surfaces that have curved edges.
Nozzles and faucets that can be easily separated
Adequate space between the wall and mounting shelves to prevent food from becoming trapped.
"No more sleepless nights because our homework help provides the best and most comprehensive online guidance for all your writing assignments!"
Q3. Explain the basic application of the following knives in (1) or (2) sentences.
Chef's knife
Boning knife
Paring knife
Ans
Chef's Knife: They are the versatile children of kitchen knives used for cutting, chopping and slicing vegetables, fruits and meats.
Boning Knife: Boning knife removes the bones of poultry, meat and fish.
Paring knife: The paired knife is used for peeling apples and potatoes.
Q4. How should frozen seafood be thawed? Give two (2) methods.
Ans
Frozen seafood should be thawed:
• in the microwave
• in the refrigerator
Q5. List a few advantages of sorting and assembling ingredients before food production begins.
Ans
This will help in saving time.
It will help in saving money.
Contents can be placed in sequence.
This will help to organize everything nicely.
Q6. Discuss the different methods used to weigh and measure ingredients for a recipe.
Ans
Liquid Measuring Cup: Liquid measuring cup has a pour spout and handle, which helps mix liquid ingredients with other ingredients. Measurement markings are below the rim, which helps prevent spillage. There are fluid ounces per cup.
Dry Measuring Cups: Dry measuring cups are made of metal or plastic. Dip the cup into the dry ingredients and flatten with the straight edge of a knife. This method of measurement is called dip and sweep.
Q7. What does portioning of food mean?
Ans. Portioning of food is the process of dividing a large quantity of food into specific serving sizes or portions.
Q8. List five seafood preparation techniques
Ans
Battering
Stuffing
Marinating
Seasoning
Shelling
"Hire our College Assignment Helpers to complete your Assignments."
Q9. Mention any Five cookery methods for various types of seafood dishes.
Ans
Sautéing
Poaching
Steaming
Grilling
Roasting
Q10. Name and explain any four (4) cuts of seafood.
Ans
Fillet Cut: A fillet is a meat cut from the sides of a fish. There are three types of fillets: whole, V-cut and J-cut.
Lion Cuts: Lion cuts come from the back of the fish. We can also cut the lions into small pieces called medallions.
Steak Cuts: Steak cuts come from meat across the fish's body rather than from the sides.
Tail Cuts: Tail cuts refer to the meat portion on the head's opposite end. This results in a softer cut in the middle of the fish than crisper tail pieces.
Q11. What are some common seafood accompaniments, sauces and garnishes?
Ans
Accompaniments: salad, pasta, potato chips
Sauces: mayonnaise, white wine sauce, hollandaise
Garnishes: edible flowers, cucumber, stuffed tomatoes
Q12. List five tips to reduce waste to increase the profitability of food produced
Ans
Don't overcook or undercook.
Store foods in the proper environment.
Cover the food adequately and store it in the refrigerator.
Use the correct method for cutting and slicing ingredients.
Order the exact amount of ingredients needed to prepare the dish.
Q13. List Five steps for disposing of or storing reusable by-products using organizational procedures and environmental considerations to ensure food safety.
Ans
It may be disposed of in permitted landfills willing to accept waste products.
Organic waste can be used to make compost.
Cover the waste product tightly in a garbage bag before disposing of it.
Store surplus food by-products in the fridge or freezer.
Store in covered containers.
Q14. What are the six steps to safely clean kitchen equipment and premises as per food safety standards?
Ans
Clean the spilt area with soapy water.
Clean your fridge daily.
Clean out your trashcan daily.
Clean and disinfect shelves and counters.
Wash and mop the floor daily.
Clean all utensils and cutlery.
Q15. Explain the importance and requirements of a mise en place for making seafood dishes.
Ans
Mise en place is a French term for measuring, cutting, peeling, and slicing your ingredients before cooking. To save time and organize your workstation, it's essential to prep seafood dishes in the kitchen before cooking. This will help eliminate unnecessary steps in the kitchen.
"Getting academic assistance from VAH is a simple process. With just a few clicks, you can easily take our help online."