Free Sample For Subject Code SUS401
Are you struggling with your assignments and seeking some guidance? Look no further! We at Value Assignment Help offer a Free Assignment sample for Subject Code - SUS401; implement and monitor environmentally sustainable work practices to help you excel in your academic journey.
Our free assignment samples are practical learning tools to enhance your understanding of key concepts, formatting styles, research methods, and writing techniques. They provide a valuable opportunity to learn from the best and improve your assignments.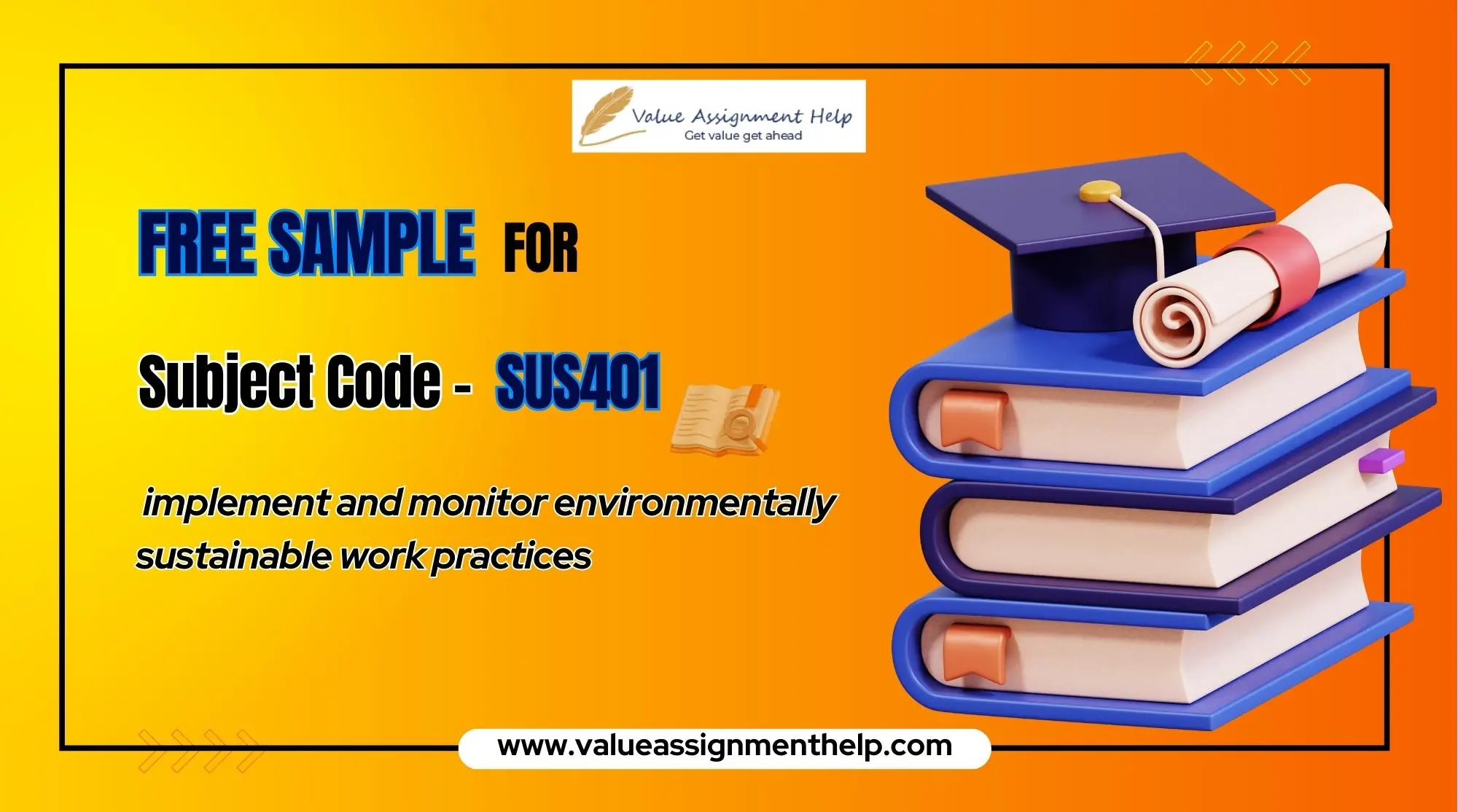 Review our free assignment sample for "Subject Code - SUS401; implement and monitor environmentally sustainable work practices" below – to check the quality before ordering your assignment.
Q1. Determine any resources and initiatives in place or available in your state to help businesses reduce their waste and use resources more efficiently.
Ans
The resources or initiatives are-
Banning of plastic in the NSW-
Recycling and reusing process is set in each restaurant to reduce waste.
Implementing mandatory environmental safety laws.
Penalties and fines are set if the organisation does not follow laws and regulations
Installations of wastage trackers are installed in different areas and organisations.
Struggling with your assignments? Let us help you out!
Q2. Examine the type of lighting used and determine the KW/H (1000 Watt = 1 KWH) used in that department based on typical or given workplace practices during operation.
Ans

Q3. Identify the environmental regulations that apply in your local government area relevant to your work activities and provide details of what these regulations and by-laws cover.
Ans
ENVIRONMENTAL PROTECTION ACT OF 1991 –
It covers the objective to protect and restore the quality of the environment of NSW.
SOIL AND LAND CONSERVATION ACT 1938 –
It protects the soil and land by decreasing soil erosion and the overall environment of the area.
Q4. List one initiative applicable to your sector within the Tourism, Hospitality and Events Industry and list all resources available through these initiative(s). Outline how these would be used.
Ans
One initiative relevant to the hospitality industry is-
Reducing the use of plastics.
The resources available are-
Ban plastics
Separate the disposable and non-disposable items using different bins.
Packing of food in disposable containers and packets.
Serving water in glass rather than serving water in plastic bottles.
Install instant disposal machines in the restaurant.
These recourses will help to reduce plastic and other waste in the surrounding and will reduce environmental harm.
Q5. Check the provisions for recycling.
Ans

Q6. List the purchasing strategies currently in place, including environmentally sustainable approaches; carbon footprint considerations (for example, use local supplies from growers etc.)
Ans
The purchase strategies are-
Local suppliers can be used to obtain fresh products.
Increase the use of solar panels rather than using electricity.
Recycle products to reduce carbon omission.
Use and buy organic food products or materials.
Q7. Identify any workplace environmental and occupational hazards you may encounter during your resource analysis.
Ans
Burn during cooking
Cuts when cutting items.
Fall or slip due to the floor or obstacles
Q8. Identify any breaches or potential breaches for environmental practices you have experienced in the audited area during your project and outline the issues.
Ans
Mixing of disposable and non-disposable materials.
No disposing of waste materials on time.
Storing cooked and non-cooked food items together.
Cooking using unwashed hands
Q9. The provisions for communication to periodically discuss and network with colleagues to make adjustments and identify progress;
Ans
The provisions can include the following-
Meetings- conduct meetings to ensure the progress is made and identified.
Consultation- weekly consultation must be kept so that areas of progress are set and discussed.
Informal group discussion- daily discussion in group can create more impact towards progress if done positively.

Q10. A spreadsheet or set of tools which can be used to record and monitor periodic results from readings and invoices/ statements for utilities;
Ans
Daily monitoring
One-on-one discussion
Individual meetings
Q11. Examples of how you will assesss trategies and adjust the improvement plan.
Ans
Meetings and brainstorming sessions can be taken to evaluate strategies.
Feedback sessions can be taken to make changes in plans.
Q12. Measure the flow rate for water of various taps using the formula "Flow rate = Volume/Time (L/min)"
Ans

Don't let deadlines stress you out. Get expert assignment help today!