How to write PESTLE analysis
Because of internationalisation and globalisation, almost any company can operate in any country. However, certain conditions must be considered before opening a branch at a new location. You may have heard a few variations of the name analysis: PESTEL, PESTLE and PEST. PESTEL or PESTLE is the same, and this analysis deals with political, economic, social, technological, legal and environmental aspects. A pest analysis includes all the abovementioned factors and the legal and environmental aspects. Our VAH article contains a comprehensive guide on pestle analysis, which is fundamental to understanding entrepreneurship possibilities in a country.
Whenever you conduct a PESTEL analysis for a business, you automatically become familiar with the peculiarities of the chosen niche. If top managers research in advance, they may face serious consequences such as low profits or the inability to work under certain circumstances.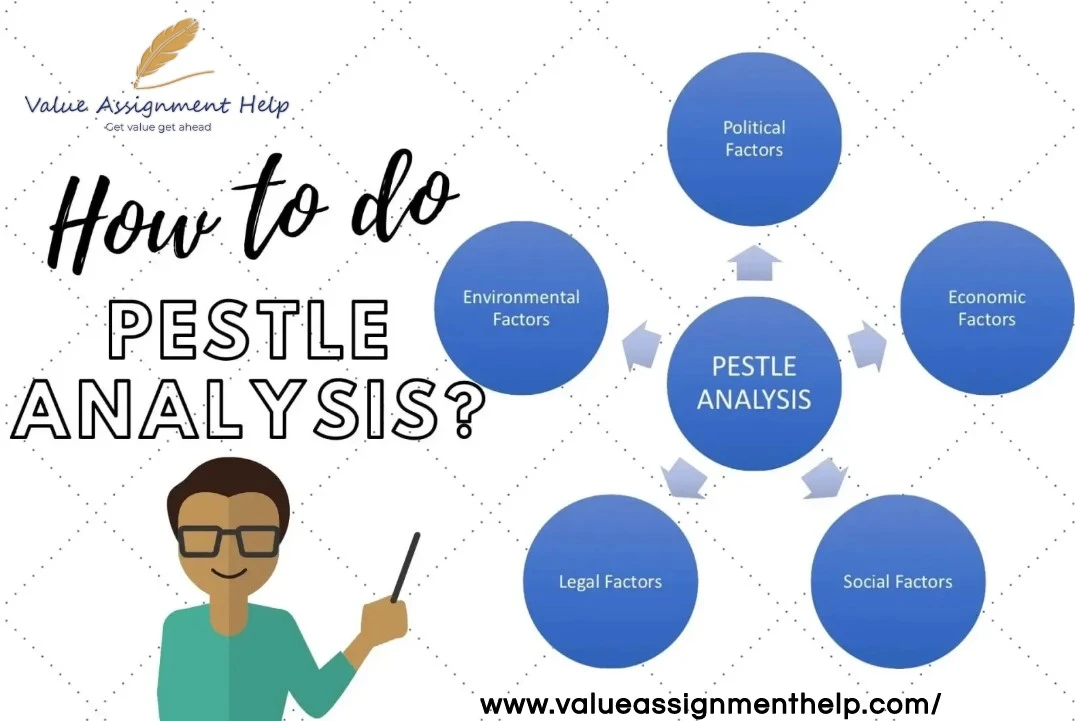 What is PESTLE Analysis?
PESTLE analysis, sometimes referred to as PEST analysis, is a concept in marketing theories. Organizations use this concept to keep track of external factors affecting the organisation. PESTLE is a mnemonic that, in its expanded form, denotes P for political, E for Economic, S for Social, T for Technical, L for Legal, and E for Environmental. Depending on the organization, it may be reduced to pests, or additional areas may be added (e.g. ethical).
PESTLE analysis forms a more comprehensive version of SWOT analysis. This form of analysis compares the company's internal strengths and weaknesses through SWOT analysis. It helps determine the future scope of action and develop strategic management measures.
6 Factors on Which PESTLE Analysis Depends
The basic concept of PESTLE analysis focuses on six elements, so let's discuss each.
"P" stands for Political Factors:
The government negotiates in a particular organization or industry as a political factor. It shows the impact of government policies on your company. Political factors include political stability or instability, trade, tax policies, trade barriers, etc.
"E" stands for Economic Factors:
Economic factors determine the financial position of an organization or a particular industry. Since these factors play an essential role in deciding the supply-demand model in the economy, it has a lasting impact on the company, either directly or indirectly. Economic factors include economic growth, inflation, currency, interest rates, etc.
"S" stands for Social Factors:
These factors help marketers better understand the needs of their customers. It also emphasizes the local workforce and their permanent working conditions. Social factors include population growth, distribution of income, attitude towards lifestyle and much more.
"T" stands for Technical Factors:
Technology has been essential in every business organisation's health since the Industrial Revolution's inception. Technological innovations can have favourable and adverse effects on industrial and market operations, so analysing and monitoring these factors are essential. In addition, these factors contribute significantly to specific decision-making scenarios, including whether or not it is an excellent decision to enter a particular industry. Technical factors include R&D, automation, technical awareness, etc.
"L" stands for Legal Factors:
Businesses today need to understand the legal premises for their efficient operation. While some of these factors may overlap with political factors, legal factors generally include more specific laws and policies such as copyright laws, discrimination laws, etc.
"E" stands for environmental factors:
With increasing environmental awareness, enterprises cannot completely remove the related factors. In addition, carbon footprint targets, raw material reduction and emissions targets make environmental factors even more important for the proper functioning of an organization. Environmental factors include climate and weather, ecological compensation, etc.
Get PESTLE analysis help on every topic.
PESTLE stands for political, economic, social, technological, legal and environmental factors that affect the functioning of a particular union. This system surveys or researches whether a particular process, idea or product will perform well in its market. The topic-wise analysis of PESTLE analysis includes:
Political Analysis: The dynamic political patterns of a country or state say a lot. Political decisions are influenced by various factors such as taxation, duties, costs, labor, and trade policies. For your assignment, you need to study the political factors in depth to know their impact on your product or idea.
Economic analysis: Economic factors are an essential factor to study. Factors such as inflation, changing exchange rates and various other economic factors affect the functioning and future functioning of an organization's idea, process or product.
Social Analysis: Under this analysis, socio-cultural factors and social trends are studied. Factors such as age, population and gender are topics covered under this analysis that will affect an organisation's product, service or idea.
Technical analysis: Technology and changing trends in the use of services and goods are intertwined. With the advancement in technology, there is better distribution, better production and distribution, better marketing and overall better sales. Therefore, technical changes and trends analysis is essential to any PESTLE analysis job.
Legal Analysis: Legal factors affect an organisation's internal and external functioning. Any amendment in the legal policies of labour, marketing, production, financing etc. can change various factors in the functioning and profit of an organization's product or service.
Environmental analysis: Environmental factors are routinely depicted in PESTLE analysis works as those that substantially alter the use or sale of a product or service. For example, if an organization sells air purifiers, the product will be sold only in cities with high air pollution levels.
How to do PESTEL analysis?
There are a few steps involved in doing PESTEL analysis which we have mentioned below:
Identify the scope of the research. It should include present and future scenarios. This should apply to those areas of the business world where the particular organization operates.
Build a good team and assign responsibilities accordingly. Involving diverse people helps in gathering content-rich data.
Identify suitable sources of information. These may include those who seek professional help regarding an issue or change/update an existing policy.
Gather and collect information. Build a better template as a basis for recording the information.
An important step is the analysis of the collected information.
Make a sequence of issues to be addressed. Try to solve the problem as soon as possible, which can significantly impact.
Identify business-specific options for solving problems.
Create a well-informed document for all stakeholders
Disseminate and discuss findings with stakeholders and decision-makers
Decide on actions to be taken and trends that need to be monitored on an ongoing basis.
Organizations must conduct PESTEL analysis on an ongoing or regular basis to be effective. As a result, organisations enjoy a competitive advantage because they see trends ahead of others.
Why Pest Analysis is Useful for Business
Assuming company owners think about expansion, they have to consider everything. In such situations, Pestel analysis for trading is a great way to study unknown markets. The framework includes every detail that could potentially promote or impede business activity. In contrast, superficial analysis is ineffective because it often misses economic, cultural, or legal specifics. In addition, changes can happen overnight, so Pestel analysis should be recurring.
A major goal of the market examination is to reduce threats to a company. Therefore, analysing the present situation of a country with its past experiences indicates future events. However, some situations, such as natural disasters or international conflicts, are impossible to predict. So management should have a backup plan just in case.
Finally, any Pestel analysis template gives companies recommendations about their overseas strategy. Plus, the study is thorough, so you can get help from our professional assignment writing service that always gets the job done on time. Finally, the preparation gives a clear view of the best direction for a company in a world of endless possibilities.