India Embraces Apple
From launching official retail stores in the country to specifically incorporating Indian elements in its stores, Apple has spellbound India; and India loves it!
Why it is important:
Apple has the maximum global mobile phone industry share, and China was its largest investment.
However, in recent developments, Apple has had difficulty accommodating China amid the rise in protests and controversies.
At the same time, India is marking exponential growth, leaving even developed nations behind. And, India having similar market demographics as China poses an attractive investment for foreign companies. Apple is one such company, which has recently unveiled its first retail store in the country.
The move has created a sensation in the tech market, gathering media attention. So, through this article, we will analyze why and how India embraced the onset of Apple in the country.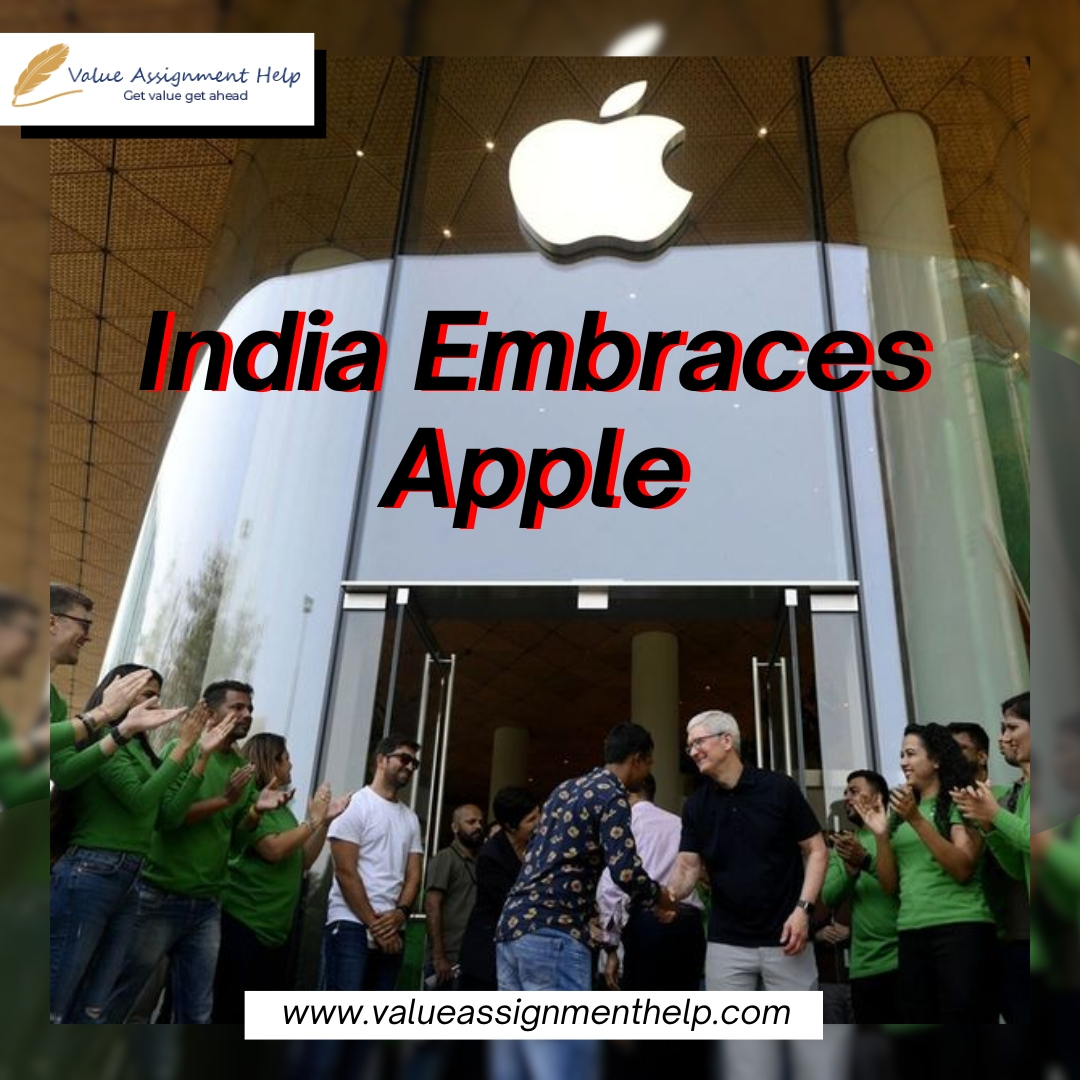 "Get the key to your success by opting for our assignment help."
Introduction:
You might have come across memes suggesting selling a kidney to afford Apple. For a very long time, Apple has been linked to luxury and trust. And the urge to buy and own an Apple device is predominant in Asian markets, especially in India.
In India, Apple equals luxury. The brand is so deeply imbibed in Indian society that this American brand practically needs no introduction.
In India, Apple is operating for more than 25 years, but only through a chain of trusted sellers and third-party-owned stores.
And it is only after 25 years since India is getting its first official store. And India is excited to be on the list of its official outlets.
How Apple spell bounded India:
When it comes to persuasion with charm, nothing beats Apple. The company is globally renowned for its creative and sensational marketing tactics. And the brand's official entrance in one of its biggest future markets can't be anything less. And Apple has successfully created and maintained buzz in the Indian market since last year when the news of Apple opening its first retail store in India surfaced in the media.
India gets country's first official Apple store in Mumbai:
Mumbai's excitement knew no bounds as the country's first official Apple retail store opened last Tuesday at the nation's financial hub- Mumbai.
The store marks the initiation of the new beginnings of Apple in India. At the official store, customers can explore Apple products and services, enjoy customer service, and learn how to get the most out of their devices through "Today at Apple" services.
Giving India two new stores in two days:
The first official Apple store in the country- Apple BKC, is opened at JG1-G2, Jio World Drive, Bandra Kurla Complex in Mumbai. The second store is set to open in the capital city of New Delhi on Thursday.
The two stores are located in two of the country's most populous and wealthiest cities.
And opening two stores in three days is just beyond imagination for all the tech enthusiasts who could not hold their horses and gathered at the launch event. As per media reports, thousands of people attended the event, including reporters, social media influencers, and Apple fans.
Tim Cook himself unveiled the store:
Tim Cook, the CEO of Apple, opened the store gates to the public after visiting the country for the past seven years. And Tim Cook's unveiling of the store is a massive marketing opportunity for the brand. However, the presence of the CEO of the company himself for a store opening showcases the importance of India and its customers for Apple, building a stronger bond with its customers.
Think sustainable, be sustainable:
India houses some of the most populated cities in the world. Hence, the last thing India needs is for foreign industries to enlarge the Indian Carbon footprint. Apple understands this and aims to neutralize its carbon footprint.
But why settle for sustainability when you can create a fusion of Sustainability with Indian culture? And as per the official sources, India's first retail store features a beautiful amalgamation of Indian culture and sustainability.
As per Apple, Mumbai BKC is one of the most energy-efficient Apple stores in the world.
The store operates at a 100% renewable energy capacity, exclusively powered by an array of solar panels installed on the premises. Throughout its operational lifespan, the store will maintain a carbon-neutral footprint, leaving no mark on the already populous city in which it stands. Its stunning design has been expertly crafted to enhance natural airflow, creating an optimal internal environment.
Embracing Indian culture:
The store's ceiling, which is nothing short of breathtaking, has been meticulously constructed using timber. Each tile comprising the ceiling features small triangular grooves and has been assembled from a remarkable 408 pieces of timber. This sustainable material has been chosen for its strength and durability and its superior soundproofing and insulation capabilities. With over 1,000 such tiles sourced from Delhi, the entire ceiling of this Apple Store is a true work of art.
Adding to its unique charm, the store also features Kota stone sourced from Kota, seamlessly blending the Indian aesthetic with the American design. While Architectural Digest, an American magazine, may recognize the American influence in the interior trees and design of the store, the use of locally sourced timber tiles from Delhi and Kota stone gives it an unmistakable Indian touch. This establishment truly stands out as a testament to exceptional design and sustainability.
Additionally, celebrating Indian culture at its first-ever Apple store in the country is a good start to lure Indian customers.
"Today at Apple" fascinates Indian customers
As per the official sources, from the store's opening date on 18th April through all summer, the newly opened store will feature an exclusive yet free "Today at Apple" series.
The series featuring Apple products and services will include "Mumbai Rising" sessions, which will bring local artists and customers together through activities. As stated by Apple, the designed activities are shown in the picture below.
What does India think about the grand entry of Apple?
Although Apple has been operating in India for more than 25 years, it is only after 25 years that India got the attention it deserves. And people's excitement is evident from their warm welcome to Tim Cook and the Apple team. Thousands of people attended the launch event. Numerous were just excited to see the 62-year-old CEO of Apple in person. And judging by the images, Cook was equally shocked.
On Google, the store launched just yesterday has over a hundred positive reviews and an overall rating of 4.7 stars. Social networks are filled with countless news articles, blogs, videos, images, and even memes about Apple entering India, giving us more ways to celebrate the onset of Apple in the country.
The last words:
Over the years, Apple has built a relationship of trust and quality with Indian customers. Today, Apple simply translates to luxury and trust. And the grand entry of Apple in the country has shot up the hopes of Indian customers. So, going forward, we hope Apple only rises on the expectation ladder.
"Getting high scores in assignments is no more a flight of fancy. You are just one click away from your desired grades. "