Indian pharma industry breeding toxins
India is the third largest voluminous producer of medicines in the world. Last year, the country proudly boasted of being the 'pharmacy of the world'. In reality, it is nothing but. Recent investigations by the World Health Organization (WHO) targeted 15 medicine manufacturers in India and Indonesia, uncovering alarming findings. Seven of the 15 companies probed were based in India, specifically in the northern regions of Punjab, Uttar Pradesh, and Haryana. Despite assurances from health ministers regarding control over the situation, it is evident that the issue has spiralled out of control.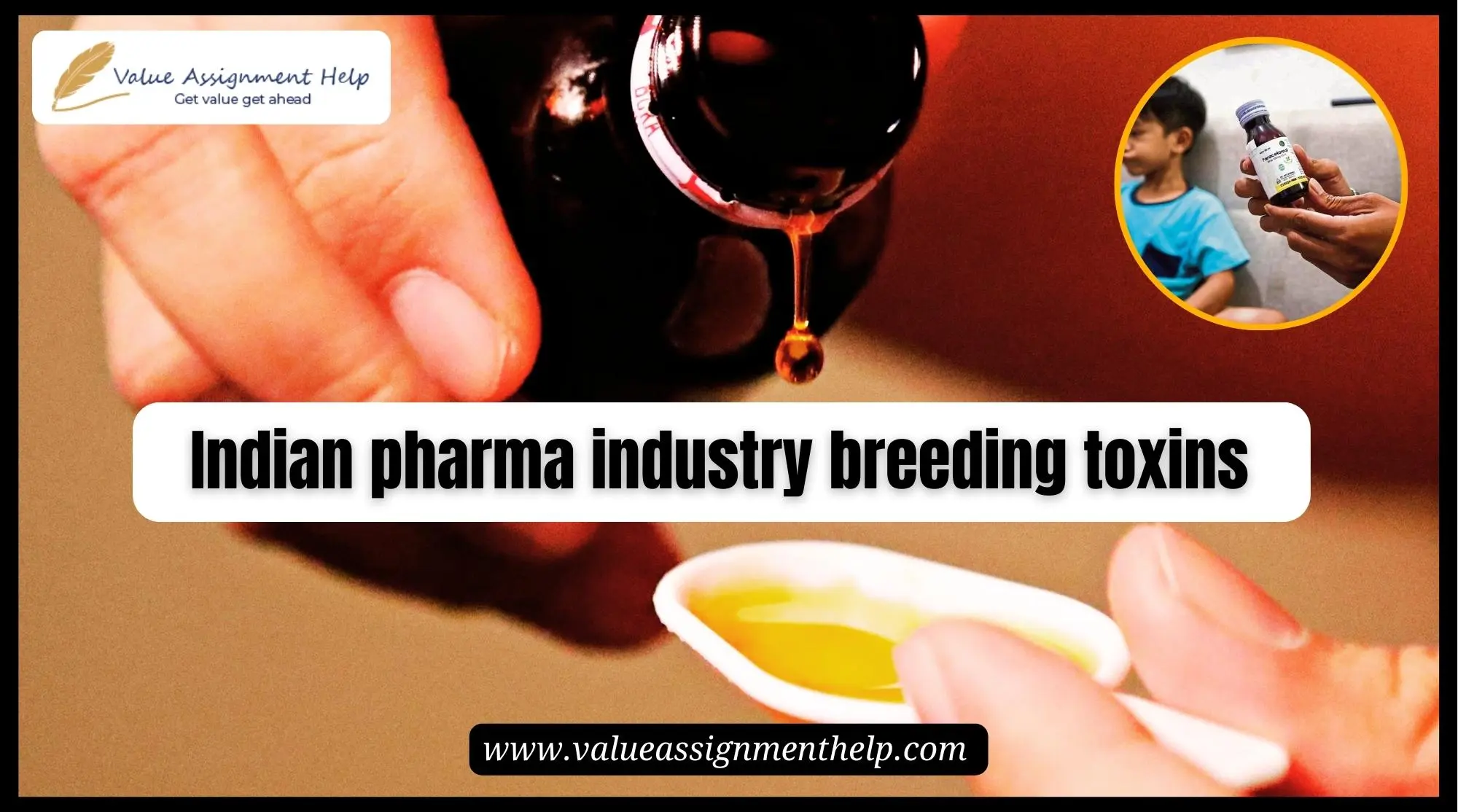 This article aims to shed light on the problem of low-quality and counterfeit medicines in India, severely tarnishing the country's reputation as the 'pharmacy of the world.'
The highlights of recent issue:
The prevalence of low-quality and completely fake medicines is a pressing issue. The WHO recently flagged 20 contaminated medical products, including cough syrups, paracetamol, and vitamins, from 15 manufacturers. Seven of these companies were Indian, while the rest were Indonesian, as highlighted by The Indian Express.
As a result, the Indian government plans to test every batch of cough syrups before exporting it.
"Say goodbye to stress and hello to top grades with our reliable online assignment writing services!"
Instances of counterfeit medicines in India:
Counterfeit medicines pose a serious problem in India, with an estimated 20% of the drug market comprising counterfeit drugs. Deloitte emphasizes that while India is the world's third-largest pharmaceutical market in volume, it is also one of the major producers and consumers of spurious and counterfeit drugs.
Several instances highlight the damages caused by counterfeit medicines in India. A research publication 2015 drew attention to the fact that in 2014, 15 women died after receiving counterfeit drugs at a sterilization camp in Chhattisgarh.
According to a WHO report in 2017, 10.5% of medicines sold in low and middle-income countries, including India, were substandard and falsified, posing a significant threat to patient safety. Such drugs can lead to dangerous side effects and other health complications.
India Times emphasizes that in low and middle-income countries, one in ten medical products is either substandard or falsified, which not only fails to treat or prevent diseases but also has the potential to cause severe illnesses or even fatalities.
The pandemic fanned the production of sub-standard medicines in the country:
While counterfeit medicines have plagued India for decades, it has been exacerbated during and after the pandemic. The COVID-19 pandemic has triggered a concerning rise in the circulation of sub-standard and falsified medical products. Recent data from the Authentication Solutions Providers' Association (ASPA) reveals a significant increase of nearly 47% in incidents involving such compromised medical products from 2020 to 2021.
In 2022, the World Health Organization issued warnings against two cough medicines manufactured in India after the Uzbekistan Health Ministry linked the syrup to the deaths of at least 18 children.
Additionally, in the same year, 70 children in Gambia were suspected to have died from contaminated cough syrups in India. Furthermore, the WHO issued a new warning regarding Indian cough syrup after 18 more child deaths in Uzbekistan were found to be related to Indian medicines.
Counterfeit drugs pose health risks and inflict reputational damage upon India, a major exporter of pharmaceutical products to over 150 countries. The existence of counterfeit products can result in a loss of market share and business opportunities for manufacturers of genuine pharmaceuticals.
A dent in Indian reputation:
Renowned as one of the world's leading pharmaceutical players, India holds a significant role in supplying essential drugs to numerous countries, particularly in the developing world. India is estimated to provide 60 percent of the world's vaccines, solidifying its reputation as a key contributor to global healthcare. As recently as December 2022, Finance Minister Nirmala Sitharaman referred to India as the "pharmacy of the world," a sentiment that Prime Minister Narendra Modi echoed. However, incidents such as the ones mentioned earlier can deal a blow to this reputation and erode trust in Indian-made medicines.
The issue is not just limited to India:
It is important to note that this issue extends beyond India and is prevalent in other low and middle-income countries. Counterfeiting of medicines exists significantly in these regions, accounting for 10 to 30 percent of medicines, while the rate in high-income countries is merely 1 percent.
Several factors contribute to the lower prevalence of counterfeit medicines in high-income countries. One possible reason is the presence of more robust regulatory systems and stronger enforcement measures, which serve as deterrents against the sale of counterfeit drugs. Additionally, high-income countries generally have better access to healthcare and legitimate medicines, reducing the demand for counterfeit products.
Consider the following points to identify counterfeit medicines:
Inspect packaging: Check if the packaging is intact and hasn't been tampered with. Look for any spelling errors or inconsistencies on the label.
Verify medicine: Some countries provide systems to verify medicines. Look for unique codes on the packaging that can be checked online or through a mobile app.
Check expiration date: Ensure the medicine hasn't expired. Expiry dates are typically printed on the packaging.
Watch for unusual side effects: If you experience uncommon side effects after taking the medicine, it could indicate counterfeiting.
Conclusion:
The prevalence of counterfeit medicines in India is a concerning issue that tarnishes the country's reputation as the 'pharmacy of the world.' Recent investigations have revealed alarming findings, with Indian manufacturers being flagged for producing contaminated medical products. This poses serious risks to patient safety and undermines India's role as a major exporter of pharmaceuticals. It is crucial to strengthen regulations, enhance enforcement, and promote consumer awareness to combat this problem and protect public health.
"Struggling with your case study assignment? Let us take the burden off your shoulders. Our professional writers will deliver a high-quality, plagiarism-free case study assignment help that will exceed your expectations."