Plight of students from Punjab and Haryana looking to study abroad
Attending a convocation ceremony that sums up four years of gruelling hard work is an experience like none other. College is a golden era for every student, and watching their kid live through the golden era is every parent's dream. And what better than attending college in a foreign land- that fantasy has a different fan base, especially in developing Asian nations like India.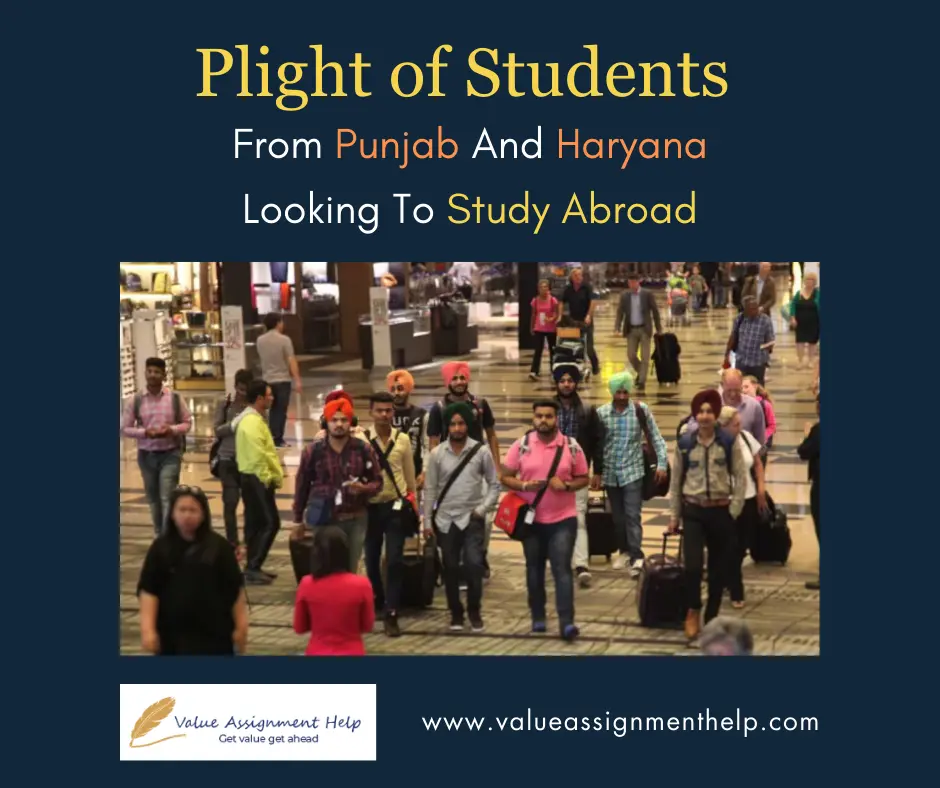 But to live through the fantasy, parents bear hefty expenses.
They do everything they can to send their wards to the most reputed universities with access to a world-class education. Overlooking their needs, most Indian and other international students' parents pour their lifelong savings into their child's foreign education. But not everyone has a pile of savings, so many seek loans and even sell their precious piece of land to see their kids study in prestigious universities.
College assignments are important for your grades. Value assignment help offers an online platform to connect you with your subject expert and draft your original assignment before the deadline.
In the past decade, Indian foreign education loans rose 215%. The alarming numbers were brought forward by the finance ministry in the parliament recently, career 360 reported.
The numbers not only bring forth the rising trend of foreign education among youth but also demonstrate the desperation of Asian families for that prestigious college degree.
But the harsh reality is- this desperation exposes middle-class and low-income families to a whole new "world of immigration scams and frauds", amply exploited by scammers in recent years.
In this article, we will shed light on one such scam that surfaced in the media, highlighting its ripple effects and aftereffects on students.
What happened?
Recently, over 700 Indian students might face deportation due to alleged immigration scams in Canada. As per the federal government, more than 700 students applying for Permanent Residency (PR) in Canada used fake documents to enter the country years ago. The students who entered Canada in 2018-19 are accused of submitting forged admission letters to obtain Study Visas to enter Canada.
However, the catch is that the students were unaware of the authenticity of the documents. They were allegedly duped by the same Indian immigration agency- Education Migration Services, in Jalandhar.
Run by Brijesh Mishra, the agency allegedly provided the admission letter that overlooked the students' entire admission process, the Indian Express reported.
How did it happen?
In Punjab, India, students in contact with an alleged sham agency were given fake admission letters to Canadian universities. Parents paid more than 15 lakh INR as requisite admission fees. The agency paid the fees and applied for the visa on the student's behalf.
Since the admission letter belonged to prestigious universities, visa approval was easy, and students travelled abroad without hassle.
However, on admission to Canada, the agent informed students about their admission cancellation in a pre-selected university and referred them to other universities instead.
Students went on to complete their education at the new university.
Everything was going smoothly, and the scam was only uncovered when the students applied for permanent residency in Canada.
But the Canadian government is not buying the story. As per the Canadian government, students are held accountable since it is their due diligence to confirm the admission status and overlook the documentation process.
Who is at fault?
Eliminating alleged scammers from the list, Students are at fault for blindly trusting the agency and not cross-checking the viability of the documents.
Additionally, during the visa approval process, it is the responsibility of the Canadian Embassy to filter forged documents. However, that did not happen either. So, apart from the scammed students and the alleged fraudulent immigration agency, the embassy bears the scam's blame.
What comes next?
The absolute horror is that the scam was uncovered only because students applied for permanent residency. As a result, the chances of other students walking around the streets of Canada with the same fraudulent documents are pretty high.
The ripple effects:
On the one hand, students face deportation in Canada, and the horrors of the scam have spooked other nations as well.
Australia has declined student visa applications from northern India over fears of fraudulent documents and a poor inflow of students from these areas.
But why should eligible students suffer?
Oversees education programs aid students and cater to cross-border relations, enhancing industrialization efforts (Roopa Desai Trilokekar and Zainab Kizilbash, 2013).
International hosts lure multifold income in tuition fees, ranging from three to five times the in-state tuition fees in public universities (Z. S. RITTER AND K. R. ROTH, 2021). The trail of boon international students bring to the table is not just limited to Canada but also blesses American, Australian and English economies.
Eighty-one universities in the UK draw almost 10% of their revenue from the same source (Simon Marginson, 2014). In Canada, the tuition fees are almost five times the average government college fees. The numbers are similar in Australia and US, which depend heavily on international students (Margaret Kumar and Purushottama Bilimoria).
Other than that, in most cases, international students enhance the quality of the workforce. Again, American Silicon valley presents a perfect example, nurturing 38.7% of the total foreign population (Silicon Valley Indicators, 2021, and funding 52% of the startups to fuel the Californian economy (Becker and Lee LLP).
Also, in Australia, Chinese students prepare, present and publish more research papers than native Australians. Indians comprise more than 30% of the total workforce at NASA, proving their mettle.
One bad apple spoils the whole bunch:
But as they say, one bad apple spoils the whole bunch; something similar is happening with the reputation of international students. Despite most students bringing pride to their host countries, slight negligence jeopardizes the international student community's reputation and future.
Tip of the iceberg:
Immigration scams are just the tip of the iceberg. If you delve closely, students face a plethora of scams. From trusting fraudulent job offers overseas to admitting to a sham college, the racket is more significant than all of us.
Many such scams have previously been uncovered before us, snippets of some of which are shown below.
It is hard enough to be a student, let alone a student in a foreign land. But unfortunately, our research put forth many such scams, which forced us to think- what is the actual cost of that prestigious degree?
The degree forces parents down the rabbit hole of never-ending debts. Students board a one-way ticket down the vicious cycle of labour and exploitation, evidently demonstrated by Canada last year when it lifted the "20-hour-per-week" working hour cap for its international students to compensate for the declining workforce in the service sector (The Economic Times, 2022). Is the degree worth the trouble?
The answer depends on who you ask, but this poses a serious question- what is the need to go to foreign land altogether?
Striving for self-sufficiency:
As per research findings of Margaret Kumar and Purushottama Bilimoria, the most prominent reason for taking up foreign education is the lack of adequate infrastructure in own nation and attractive oversea incentives for international students.
Hence, advertisements on the back of rickshaws to stickers on an electricity poles boast better opportunities for students in a foreign land.
The government must understand and break this stereotype and strive for self-sufficiency. So that students feel compelled to study and settle in their homeland.
The race to pursue overseas study and earn in dollars is imbibed in more than half the youth from Punjab and Haryana.
The students are made to adapt to all means, good or bad, to migrate. The immigration agents are only interested to capitalise on the trend to maximise individual profit at the expense of these individuals. Despite having well-off economic status, why the youth of Punjab is so obsessed with going abroad has been a reason for speculation and debate for a long time. The craze of going abroad has risen to an extreme level in Punjab.
Although not employed at good posts, most students work in hotels, petrol pumps, and as taxi drivers. Punjabi makes up about 2% of Canada's population. It seems like Canada is a mini Punjab. According to THE TRIBUNE, from Punjab state, 1.25 lakh students chose Canada for education, while only 25,000 picked Australia, New Zealand, the US and the UK in 2018. Ministry of external affairs revealed that 7.2 lacks Punjabi flew out of Punjab between 2016 and 2021; on average, 405 persons left the state daily during these five years.
Reasons identified why Punjabis are shifting to Canada:
Lack of role models/motivation to earn in Punjab: in Punjab, there are no stories to motivate them to go for entrepreneurship or any startups. So, they end up going abroad to work as labourers.
More accessible approach: the students in Punjab find it challenging to crack any government exams here and go for the more straightforward approach. 30% of the Punjabi students working abroad are those who initially tried their luck in government exams in India.
Following the crowd: most people watch their neighbours, friends, and relatives already abroad. Then, they get inspired by them and decide to go abroad.
Quality of education: instead of practical knowledge, the education system here focuses on theoretical knowledge only. Government should focus on more practical knowledge by opening up various industries that will ensure training with employment opportunities. Employment opportunities have been reduced in Punjab due to the massive e number of private colleges and institutes offering programs without placements. More focus should be given to placement-oriented programs.
More number of IELTS institutes rather than civil services coaching institutes: there are numerous IELTS coaching institutes in Punjab which provide coaching at much cheaper rates. While if we go for UPSC coaching institutes, they demand higher fees from students, and there are fewer institutes in Punjab. Government should focus on promoting allied services coaching institutes. They should initiate the program of free coaching institutes for brilliant students so that they can try their luck in civil services exams.
Mostly, Punjabi people want to go abroad for better employment. They use mostly a method of acquiring student visas. They use the study as a stepping stone to acquiring permanent residency in western countries.
Immigration agencies destroying the future of students for the sake of running their business:
Most students who decide to go abroad are from farming-based families. When the researcher went to the IELTS institutes, he found that all students had different economic conditions. Some were from landlord families, and others were not. It was found that those who were financially weak and financially high had less interest in going abroad for higher education. The students who showed higher interest in going abroad were financially in between. He also found that 70% of students prefer Canada to other countries for educational purposes. They used to sell their lands to fulfil their dream of going abroad.
Students take help from immigration agencies to get their visas. What students expect from these mid-way helpers is that they organize a trouble-free platform for their journey. Unfortunately, the students and their parents blindly trust these immigration agencies. Some agencies follow the concept of payment after visa, mainly to run their business. As a result, they used to commit fraud against the people who trusted them blindly. In such frauds, various factors are involved, from getting forged offer letters from colleges to providing forged fee payment receipts to students. Things become more complicated when the victim of such fraud gets to know about this fraud on foreign lands when they are not left with any option because such victims have already invested their time and money.
DHA has recently detected approximately 600 fraud cases, mainly from Punjab and Haryana. These consultants run their firms without any registration. Chandigarh police also had booked about 70 immigration consultants across the city who had not to get themselves registered.
Recently there was news of the deportation of 700 students from Canada who had completed their studies in Canada and were going to apply for permanent residency (PR). The issue was highlighted after the Canadian border security agency stated that admission offer letters from education institutions provided by the migration agent to these students were found to be fake. After this case, many countries have banned students from Punjab and Haryana. They refused to give them student visas. Around 12 universities in Australia refused to take Punjab and Haryana students. Good students are suffering due to such fraud consultants.
The root cause behind this decision of Australia: due to the increasing number of fake admission letters, fake documents of students, and fake fee receipts, Australia's immigration department became aware of fraudulent student visa applications submitted via agents from some regions Punjab and Haryana.
According to the post by a tribune, Mohali is at the top of the list regarding immigration fraud and fake visas. Under the Emigration Act of 1983, 88 cases were registered in Mohali, almost half of the total 180 recorded in the state, as was registered under Section 420 (cheating) of the IPC in Mohali.
How to protect yourself from becoming the victim of such fraud:
As the number of such fraud cases is increasing, it is necessary to stay alert while going to any immigration consultancy.
Check the immigration consultant's background: applicants need to verify whether the immigration documentation consultancy is registered with the immigration regulatory body of the country or not.
When any consultancy ensures you that they will manage your application and immigration formalities, no matter if you are eligible or not. This is the warning sign. It would help if you thought about it.
If you decide to hire an immigration consultant, insist on having a written contract. The contract should list what the consultant will do, the fees you expect to pay, and other costs.
Many people get fake emails and messages regarding job offers from Canadian employers. In addition, they create fake immigration websites that look like the IRCC portal and put on fake ads to drive internet traffic to the website.
Necessary actions that should be taken against such fraud agencies:
Unfortunately, if someone becomes a victim of such fraudsters, they should take legal action against the immigration consultancy. They can file a police complaint against immigration consultancy for criminal breach of trust and cheating under sections 406 and 420 of IPC. If the police refuse to take the case, they may file a private complaint before the magistrate court.
Conclusion:
Government should take strict action against such fraudsters. They should ban unregistered immigration consultancies, as they are playing with the future of many students who have clear intentions and want to go abroad to make their future bright.
Undoubtedly, scams encircling students are on the rise. So, what can be done?
Apart from students mapping the entire admission process actively, the government should think about avoiding the need to go to foreign land altogether. Nations should strive for self-sufficiency so that no parent has to ever sacrifice his dream at the expense of their kids' dream.
References:
Anju Agnihotri Chaba, 2023. The Indian Express
At Least One Immigrant founded Becker and Lee LLP, 52% of Startups in Silicon Valley
Margaret Kumar and Purushottama Bilimoria, Indian Students in Australia
Roopa Desai Trilokekar and Zainab Kizilbash, 2013.
IMAGINE Canada as a leader in international education. How can Canada benefit from the Australian experience? Canadian Journal of Higher Education Revue canadienne d'enseignement supérieur Volume 43, No. 2, 2013, pages 1-2
Silicon Valley Survey Indicators, 2021. Percentage of the Total Population Who Are Foreign Born
Sheena Sachdeva, 2023. 215% rise in students taking education loans to study abroad since 2012; Finance ministry. Career 360.
Simon Marginson,2014. International Students: The United Kingdom Drops the Ball, INTERNATIONAL HIGHER EDUCATION, p9
The Economic Times, 2022. Canada lifts work hour limits for international students to help labour shortage