MBA in Canada without work experience
Many doors are open if you are a business graduate or a fresher looking to pursue an MBA without work experience in Canada. Students are presenting their A-game during graduation today. Many students excel in their academics, gather teamwork experiences etc. These excellent students make it possible to break the rules and open an MBA in Canada without work experience. Some essential information to do an MBA without work experience in Canada is discussed in the blog, including the best universities, qualifications and some tips to make your application stand out from the rest.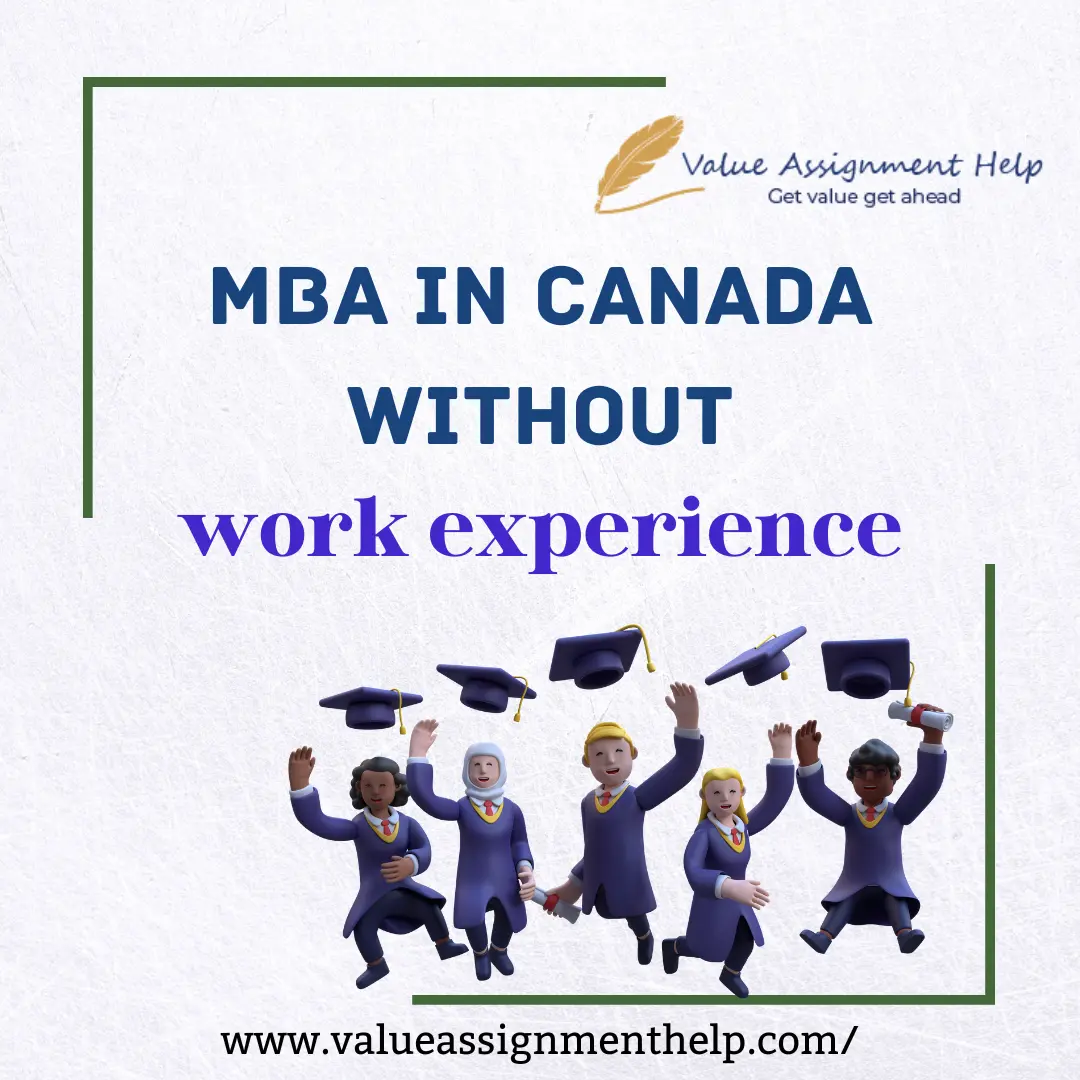 Eligibility and Requirements for MBA without Work Experience
To get admission to top MBA colleges in Canada without work experience, you must be academically excellent. In addition, you must prove your worth to be accepted by the best MBA colleges in Canada without work experience. To do this, you will need:
Bachelor marks/grades or CGPA: A high CGPA score is essential to get admission without work experience. You are expected to have a GPA of 3.0/4 at Canadian universities.
Exceptional GMAT Score: You need to score at least 100 on your GMAT to get into MBA. Conversely, some universities waive your GMAT score as well.
High IELTS Score: Try to get an overall score of 7 in IELTS without a band of less than 6.5. A higher score will make you more likely to be admitted.
Extra-curriculars: This is an added advantage if you are good at sports or any extra-curricular activity. Extra-curricular activities raise your profile and make you a strong candidate for MBA.
LORs: Letters of recommendation from professors at your university advocating for your MBA admission in Canada. A minimum of two letters of recommendation must be attached to your application.
Resume: Create a pleasant resume summarizing your achievements during your undergraduate degree.
A strong SOP: You will also need to write an effective SOP to inform your potential university about your interest in an MBA. You can justify your abilities through your SOP in an attractive way.
What are the benefits of studying MBA without work experience in Canada?
Studying MBA, with or without experience, has its advantages and disadvantages. No option is better than the other as it completely depends on the individual's preferences, interests and goals. So students must evaluate both options before taking a decision. Let's take a closer look at the benefits of an MBA in Canada without any work experience:
Students with the right networking skills are likely to advance in their careers.
The candidate will have the opportunity to gain academic and professional experience at the initial stage.
MBA graduates can acquire management and business skills without taking a break from their professional life.
Top MBA Colleges in Canada without Work Experience
Thompson Rivers University:
It is a public research institute and also a teaching university. Over 13,443 students and 400 faculty members are on campus. In 2019, the institute offered distance learning education, and more than 13,471 students participated.
New York Institute of Technology:
One of the best MBA schools in Canada without work experience. It was built in 1955 and is a private school ranked among the best 500 schools in the world. In addition, the two campuses found in Manhattan and Vancouver are on different continents.
University of Cape Breton:
It was established in 1901 with the sole objective of starting an open learning school that would act as a research-based for students within the province. The university has a 17,000 square feet campus, research laboratories, game rooms, studios, sports facilities, etc.
Brock University:
In 1964, Brock University was established as a form of public research in St. Catherine's, Ontario. Students seeking high-quality education at the local level have received overwhelming support from the school. It has two campuses with an area of ​​400 acres.
What is the process for applying to an MBA program in Canada without work experience?
The application process for MBA without work experience in Canada consists of two things, the steps involved in the admission process and the documents required in an application. Although other aspects, such as deadlines, registration fees, etc., are also covered, the former makes up for most of the application process.
MBA admission process in Canada without work experience
International students without work experience need to take the following steps to complete the admission process for MBA in Canada:
Step 1: Shortlist universities or MBA colleges in Canada to apply for admission.
Step 2: Check the eligibility criteria, application deadline and tuition fees of MBA courses from shortlisted universities and MBA colleges.
Step 3: Prepare the documents and other additional requirements as mentioned in the eligibility criteria of the shortlisted institutes. This includes attempting standardized and proficiency tests, preparing academic transcripts, writing MBA SOPs and obtaining LORs from the relevant authorities.
Step 4: Compile the application with an academic CV and fill out the application form. Apply along with the application fee.
Step 5: Wait for the admission decision, and prepare to apply for a Canadian student visa or Canada study permit.
What jobs are available in Canada after an MBA without work experience?
Graduating from any top MBA college with no work experience can help you get the best opportunities in the market. An MBA professional has access to a wide range of opportunities, including:
Marketing Manager
Manager-Sales and Marketing
Marketing Coordinator
Marketing Analyst
Senior Human Resources Manager
Business Management Consultant
Operations Officer-Administration
Without work experience, it may not be a straightforward answer to present an overall decision about studying MBA in Canada. Furthermore, as a student, your preferences of exposure, expected package, specialization etc., are subjective. Therefore, there isn't one good answer for everyone.
However, if you are interested in completing your education after graduation, pursuing MBA in Canada directly is a good move. The bonus is that you will study for your master's in Canada.