Meta-unveiled 'Threads' Lure Twitter users
Meta, the company behind Facebook, has unveiled Threads, an innovative app that redefines how we engage in online conversations. To compete directly with Twitter, Threads offers users a dedicated space for real-time discussions in a simple and accessible manner.
Since its launch, Threads has garnered significant attention and experienced remarkable growth. Within 18 hours, the app amassed a staggering 30 million sign-ups. Threads crossed the impressive milestone of 100 million users in just five days, marking it as one of the fastest-growing apps in history.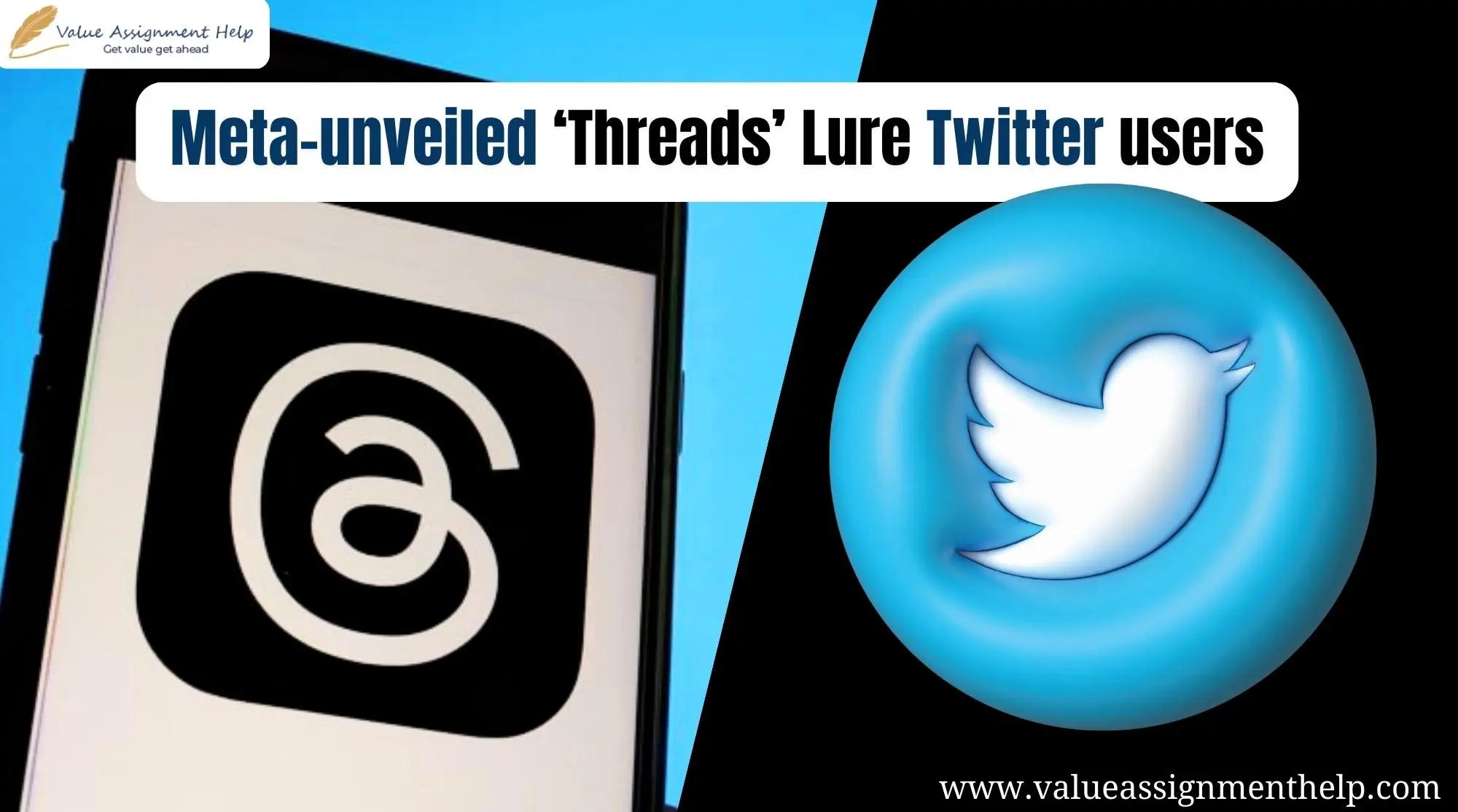 This surge in Threads' popularity has not gone unnoticed, as it has had a noticeable impact on user traffic on Twitter. Since Threads' launch, Twitter has experienced a decline in its user engagement, with more individuals gravitating towards this exciting new alternative.
"Worried about plagiarism? Our assignment help guarantees 100% original work!"
Threads- an introduction
Thread is a special app focusing on privacy, speed, and close relationships. It lets you share photos, videos, messages, and Stories exclusively with your selected friends on Instagram. You have complete control over who can contact you, and you can customize the app to match your preferences.
One of the key advantages Threads possesses is its integration with Instagram. As Meta's first app envisioned to be compatible with an open social networking protocol, Threads taps into the vast and dedicated user base of Instagram, which boasts a staggering 2.35 billion people. This association grants Threads a significant advantage and positions it as a formidable player in the social media landscape.
As a companion app to Instagram, Threads requires users to create an account using their existing Instagram credentials, making it easy for Instagram users to seamlessly transition to this new platform. Once inside Threads, users can enjoy a familiar interface, resembling Twitter in many ways. The app allows for posting text-based updates and sharing photos and videos, adding a visual element to the conversations.
However, there is a catch. Once you make a threads accounts, it is linked to Instagram, which makes it impossible to delete the thread account without deleting the parent Instagram account.
Comparison of Twitter and Threads
On the surface, the app might seem similar to Twitter, but one of the notable distinctions between Threads and Twitter is the character limit. While Twitter famously limits users to expressing their thoughts within 280 characters, Threads doubles that capacity, giving users a more generous limit of 500 characters.
Currently, Threads does not feature a direct messaging service. However, as the app evolves, Meta will likely introduce this functionality to enhance user interactions further and foster private conversations within the platform.
"Enjoy hassle-free academic life with our reliable dissertation essay writing services!"
Threads have privacy issues
While Threads has received accolades for its rapid growth and captivating user experience, there are concerns regarding Meta's past privacy violations. Threads have recently come under scrutiny due to privacy concerns raised by various news articles. According to reports, the app has the potential to collect a wide range of personal data, including health information, financial details, contact information, browsing history, search history, location data, usage patterns, and even purchase records. This extensive data collection has raised eyebrows among users and experts and prompted discussions about the privacy implications of using Threads.
Furthermore, the co-founder of Twitter, Jack Dorsey, has expressed reservations about the permissions and data access required by the Threads app. Dorsey's concerns align with the growing emphasis on data privacy and the need for transparency in how social media platforms handle personal information.
As privacy becomes increasingly important in today's digital landscape, users must be aware of the data collection practices employed by apps like Threads. It is recommended that users review the app's privacy policy and consider the potential risks associated with sharing sensitive information before engaging with the platform. Users should be cautious and mindful of their personal information while navigating the app.
Conclusion
In conclusion, Threads introduces a fresh and user-friendly approach to real-time conversations online. With its seamless integration with Instagram, expanded character limit, and rapid growth, Threads has quickly emerged as a dominant force in the social media realm.
"Don't let assignments weigh you down - avail our affordable Online Assignment Writing Service today!"