News update on Indian Prime ministers recent international visits
Indian Prime Minister Narendra Modi's recent visits to the United States and Egypt have played a crucial role in strengthening bilateral relations and expanding India's global engagement. These visits, marked by significant agreements and diplomatic exchanges, have highlighted India's emergence as a key player on the world stage. The Indian-American community sent welcome messages for Prime Minister Narendra Modi on his state visit to the US.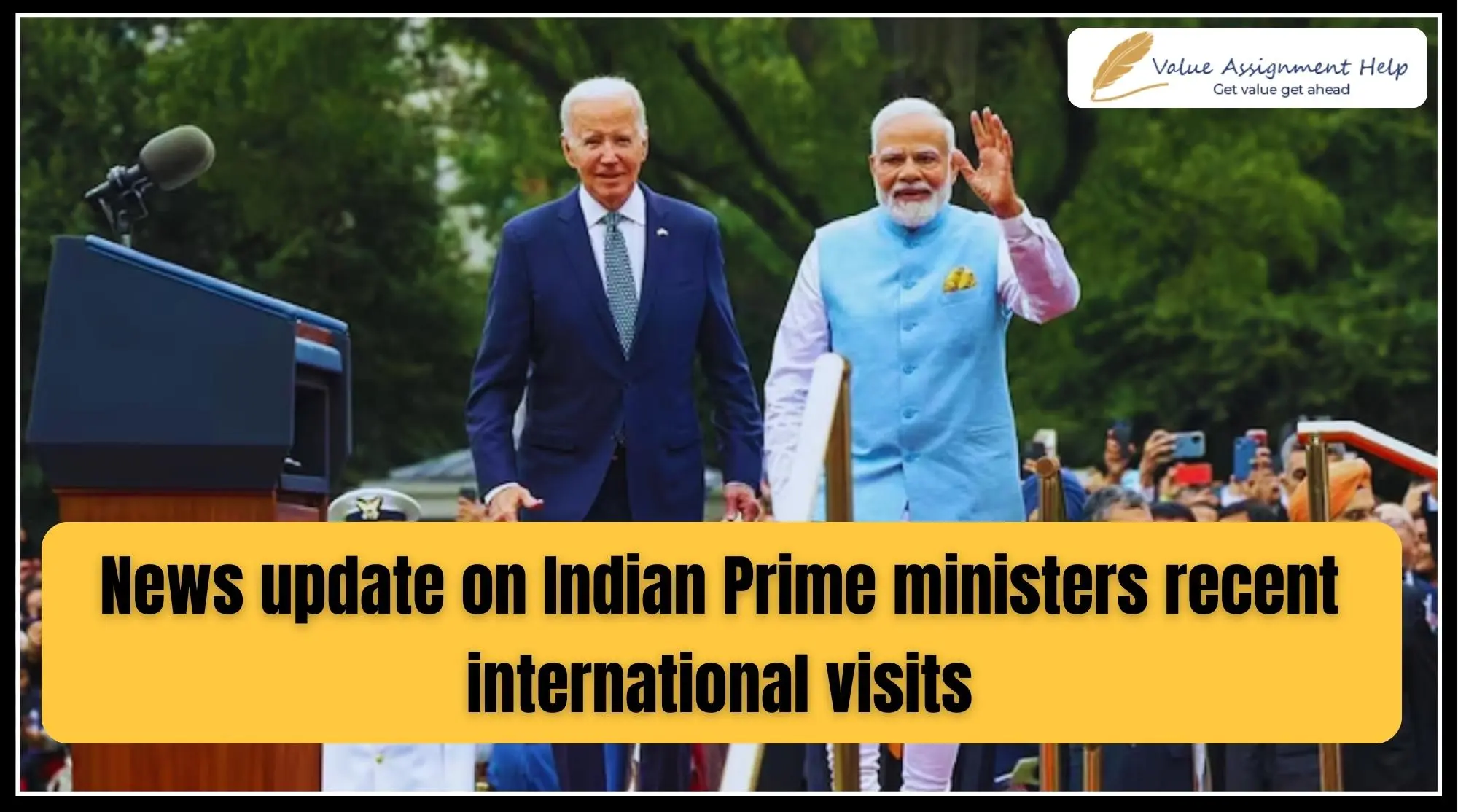 This article will explore the key outcomes and implications of PM Modi's visits, focusing on strategic alliances, economic collaborations, and pursuing a harmonious future through international cooperation. Join us as we unravel the transformative impact of these visits and their contribution to a more interconnected and prosperous world.
The dates for the visit were June 21-24 for the United States and June 24-26 for Egypt.
Boost to the semiconductor industry:
During Prime Minister Narendra Modi's state visit to the US, he invited Micron Technology and Applied Materials, prominent American chip makers, to contribute to India's semiconductor manufacturing and technological advancements. These partnerships aim to propel India's growth in the semiconductor industry, which is projected to reach USD 64 billion by 2026. By collaborating with global leaders, India seeks to establish its semiconductor manufacturing capabilities and create opportunities for technological innovation and job creation.
"Need Guidance in Homework? Meet the Proficient Online Homework Help Experts and Improve Your Score!"
Enhancing Defense Capabilities:
Apart from the moving speech and beautiful analogy of AI (America and India), one of the most notable and transformative developments during Prime Minister Modi's visit was the announcement of a groundbreaking collaboration between American company General Electric (GE) and India's state-owned Hindustan Aeronautics Ltd (HAL). This partnership aims to produce state-of-the-art fighter jet engines for the Indian Air Force (IAF), representing a significant leap forward in India's defence capabilities. The deal involves:
Transferring advanced technology and knowledge.
Emphasizing indigenous production.
Contributing to self-reliance and enhancing India's national security.
Advancing Technological Capabilities:
In a strategic move to bolster the intelligence, surveillance, and reconnaissance capabilities of the Indian armed forces, New Delhi has successfully procured 31 High Altitude Long Endurance (HALE) drones, MQ-9B, from General Atomics. These cutting-edge unmanned aerial systems (UAS) will play a pivotal role in strengthening India's defence capabilities, enabling enhanced situational awareness, border surveillance, and counterterrorism operations. The acquisition of advanced technology reinforces India's defence preparedness and demonstrates its determination to remain at the forefront of military innovation.
Strengthening Naval Cooperation:
The visit also witnessed significant progress in naval cooperation between India and the United States. As part of their commitment to maritime security and regional stability, the US Navy has finalized a Master Ship Repair Agreement (MSRA) with Larsen and Toubro Shipyard in Kattupalli (Chennai). Additionally, discussions are underway with Mazagon Dock Limited in Mumbai and Goa Shipyard (Goa). These agreements open avenues for collaborative shipbuilding, maintenance, and repair, boosting the capabilities of both nations' navies and fostering closer ties between their respective maritime industries.
Deepening Defense Cooperation:
India and the United States have taken notable strides in operationalizing tools and mechanisms to deepen defence cooperation. In a historic move, both nations have agreed to station three Indian liaison officers within US command, facilitating greater coordination, information sharing, and joint exercises. This landmark initiative enhances interoperability between the armed forces of both countries, strengthens defence collaboration, and reinforces the commitment to ensuring regional stability and security.
Promoting Defense Technology Innovation:
Prime Minister Modi and President Biden hailed the US-India Defense Acceleration Ecosystem (INDUS-X) launch, an innovative platform designed to foster defence technology innovation and collaboration. INDUS-X is a vibrant network connecting universities, startups, industry players, and think tanks from both countries. The ecosystem promotes joint research and development, facilitates technology transfers, and encourages the co-production of advanced defence technologies. This visionary initiative holds immense potential for the mutual growth of defence industries, fosters innovation, and reinforces India's position as a hub for cutting-edge defence technology.
Conclusion:
Prime Minister Narendra Modi's visits to the United States and Egypt have reinforced India's commitment to forging robust partnerships with countries across the globe. The engagements in the United States have deepened the strategic partnership between India and the US, with significant defence, trade, and technology agreements. The visit to Egypt has opened avenues for increased economic cooperation and strengthened the existing strategic ties between the two nations.
These visits highlight India's proactive approach to international relations, showcasing its commitment to promoting peace, stability, and shared prosperity. As India strengthens its partnerships with countries worldwide, it is poised to play a significant role in shaping the geopolitical landscape and contributing to global development.
The outcomes of these visits benefit India and its partner countries and contribute to the broader goal of fostering a more secure, interconnected, and prosperous world. Prime Minister Modi's diplomatic endeavours reflect India's aspirations to emerge as a global leader, guided by mutual respect, cooperation, and shared progress.
"Searching for the Best Dissertation Writing Services? Get the Premium Quality Dissertation Assignment Help Service Here!"