Report on Indian origin ceo's who run powerful companies globally
All you should know about the Indian origin ceo's who run powerful companies globally
Indians are gifted with creative and imaginative minds. From a long time Indians have prove themselves by their huge contribution in science and technology sector. We have many examples like APJ Abdul kalam; CV Raman, Vikram sarabhai and so many names are in the list. They have set examples for every Indian, mostly youth who are really innovative and creative by nature and want to do something bigger in their life. Although, most of the Indian youth have craze to go abroad for better business opportunities and to join MNC companies, but there are many Indians who worked in these MNC's as an employee and travelled a long journey to become CEO's of those MNC's. They left very influential impact on every Indian. The numbers of such Indians are increasing with time but I am going to tell you about few Indian origin ceo's who lead the most powerful companies globally: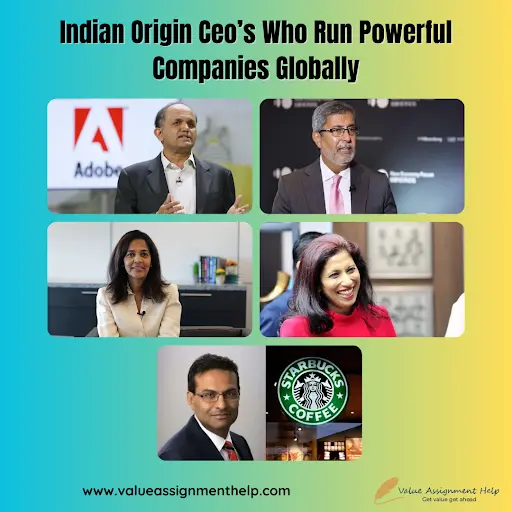 (Assignmnet help is what we do and assignment help is what we understand)
Shantanu narayen (CEO of adobe since 2007)
Shantanu narayen was born on May 27, 1963 in Hyderabad. His mother was a teacher in American literature and father owns a plastic company. His schooling was done from Hyderabad public school. After that he completed his under graduation in electronics and communication engineering from University College of engineering, Osmania University which is located in Hyderabad. In 1986, he completed his master degree in computer science from United States also he done MBA after post graduation.
Now let's talk about his career phase. Initially in 1986, he joined Silicon Valley project called measurex automation system, which was responsible for making computer control system.
After that he joined apple as a senior manager and worked there from 1989 to 1995. In 1996, he founded pictra Inc. company that introduced the concept of digitally sharing photo over the internet. This was really a greater innovation by any Indian.
After working in so many well reputed companies, finally he joined adobe in 1998 and worked there as a senior vice president. He also worked as a president and chief operating officer in 2005.
2007 was a year that changed his life because adobe announced the replacement of Bruce chizen by shantanu narayen for the position of CEO. He introduced many new features as a CEO for the growth of the company. Due to his dedication and passion towards work, company reached $100 billion in market by 2018.
Now, if we talk about the awards and achievements that narayen received for his work is also admirable. He was regarded as the "global Indian of the year" in 2018 by The Economics times of India. In fortunes' businessperson of the year list, he was on rank 12, which is really a wonderful thing for any Indian to achieve. He was also the recipient of India's padma shri awards in 2019.
Sanjay mehrotra (CEO of micron since 2017)
Sanjay mehrotra was born in Kanpur, who later moved to New Delhi because of his father's transfer. From beginning, he has deep interest in maths and science. Due to his interest in mechanical courses, he took admission in a top ranked school in New Delhi that was sardar Patel vidyalaya. He did his bachelor degree in electronics and masters in computer science from USA.
Career life:
Sanjay has a deep interest in mechanical field from childhood, so due to his passion and hard work he co-founded SANDISK, which was a memory storage company. There, he served as a CEO from 2011 to 2016. He worked in more than 6 companies, so he had an experience of 30+ years in mechanical field.
After the retirement of mark durcan's in MICRON technology, mehrotra was appointed as a new CEO in 2017. Under his mentorship, company reached at peaks.
Achievements
The number of awards which he got for his adorable work in mechanical field is also high. I will tell only few of them:
He got "CEO OF THE YEAR "award from the silicon valley foundation for his admirable work in SanDisk Company.
He got "spirit of 1868 volunteer awards", 2021 from university of California.
Chinese institute of engineers awarded him "distinguished lifetime achievement award in 2014.
Revathi Advaithi (CEO OF FLEX SINCE 2019)
Revathi advaithi is a CEO of FLEX, one of the world's largest manufacturing Solutions Company and designing products. Her name is enlisted in the America's advisory board committee lead by president. Her name is also added in fortune's most powerful women in 2019, 2020, 2021, and 2022.
From Birla institute of science and technology, she did her bachelor's in mechanical engineering and she also did MBA from thunderbird school of global management in 2005.
Career life:
From beginning, revathi had leadership qualities. So due to her leadership skills she did her first job as a floor supervisor in Oklahoma, in which she had to lead a group of 50-60 people. From that time, she got stuck with leadership skills and got how to work with team.
Advaithi joined flex as a CEO in 2019. During her leadership, she believed she would make this company of a billion dollar. So she did. Prior to covid they were engaged in making medical equipments other than ventilators. But during covid, they started making ventilators also, as we all know that ventilators were in high demand across the world. During covid she bravely managed to safely return the 50000 Chinese employees to work to fight with pandemic.
She performed her role very ambitiously and made her company net worth 25 billion. "Business today" recognised her as the most powerful woman of India in 2020. She is an independent director of board of director for uber at this time.
Achievements
Revathi advaithi was awarded with "responsible CEO of the year "award by 3BL media in 2021. This award is given to those CEO's who have excellent leadership qualities.
LEENA NAIR (CEO OF CHANEL SINCE 2021)
Leena Nair is a CEO of Chanel (French luxury fashion brand).now let's talk about the early life of this powerful women that where is she from and where she completed her education and all about her journey to become the CEO of Chanel.
Leena Nair was born in Kolhapur, Maharashtra. She completed her schooling from holy cross convent high school, Kolhapur. She did her bachelor's in electronics and telecommunication.
Career life
28 years ago, she joined unilever as a trainee. In the starting 6 years of her career she worked from a grass root. She worked as sales employee .which taught her so many things in her life like everything we do should have sense of purpose.
She became the first youngest HR officer at unilever in 2016 and also appointed as a unilever leadership executive. That was really life changing mode for her. She got so many new experiences while working in unilever.
Leena Nair was appointed as a CEO of Chanel in December 2021. That was a great achievement for her as well as for every Indian. This was all because she believed in herself without giving up.
Achievements:
She achieved many milestones in her life. I will discuss about some of them:
She was one of the Indian business leaders in UK recognized by Queen Elizabeth 2 in 2017.
Her name was added in thinkers50 list in 2019.
She was awarded with "prime women leadership awards" in 2020.
In 2021, her name was added in the fortune India's most powerful women's list.
She was awarded with role model of the year by the great British businesswoman's awards.
Laxman narasimhan (will be the next CEO of starbucks from 01-april-2023)
Laxman narasimhan is soon going to take the directorship of the starbucks –A LARGEST COFFE CHAIN from April 2023 when Howard Schultz will resign.
If we talk about his early life, he was born in pune, Maharashtra. And he completed his mechanical engineering degree from college of engineering, pune. He did his MA and MBA from university of Pennsylvania.
Career:
He worked for 19 years in McKinsey, which is a global management consulting firm. He worked there till 2012.
After that he joined PepsiCo and became its chief commercial officer in 2012.
Then he joined RECKITT Company (pharmaceutical company) in 2019. This company was launched in 1999 and narasimhan was the first outsider to take the directorship of the company.
He resigned in 2022 due to personal reasons.
Starbucks made huge announcement on September 1 ,2022 that laxman narasimhan will take the command of the company from April 2023. I think that should be a proud moment for every Indian.
Present CEO of starbucks also gave a statement about laxman narasimhan, "when I learned about laxman's desire to relocate, it became apparent that he is the right leader to take starbucks into its next chapter". I think these words are enough to know about the will power of laxman narasimhan.
Conclusion:
The list is not ended yet, there are some more Indian origin CEO's who are doing their best to make their country proud. Infact this is the proof that India is really becoming developed because it is the mother of such creative minds. The list will be increased in future for sure because all of these inspiring souls are enough to motivate the youngsters.
( Value assignment help the online assignment school helping studenst acroos the globe to score best results with experts advice at best possible rates)