Report on rumours of Musk creating a superior rival to ChatGPT
Humans have been curiously digging into the depths of artificial intelligence's potential for the longest time. We made countless notable discoveries like face detection, drug development and language processing, adding notable pages to history. But alas, most of it went above the heads of ordinary people. If you enquired about AI from people walking on the streets, most youth would jump to dramatic science fiction films or some coders rigorously beating laptop keys, writing some unimaginable codes. But, the reality is quite the opposite, and not many mouths highlight that. This is why AI remains uninhabited territory for many.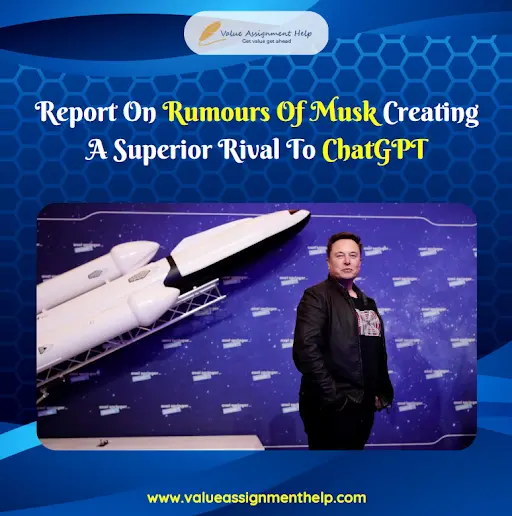 This lack of connectivity with AI has deprived the industry of "revolution" for decades.
Now, we are not undermining the groundbreaking discoveries that have been born out of countless diligent minds but are merely highlighting the lack of awareness of these discoveries among the masses that has cost far too much to the AI industry.
But the revolution is here. ChatGPT has inaugurated a chillingly perplexing revolution, which will boldly mark the onset of a turning point in human history.
This revolutionary product has been the talk of the town ever since it was launched. However, since the app has been making headlines continuously and recently, Elon Musk's interest in building a rival for ChatGPT has inspired us to draft this article.
As per a recent report published in multiple media outlets, Elon Musk is set to launch a rivalry with ChatGPT. As per the report of "The Information", in the past weeks, Elon Musk has been curiously seeking AI researchers to build a team of tech-geeks who will facilitate him in realizing his dream.
Today, we will delve into the depth of this revolutionary product. Can Elon Musk- once the founding member of ChatGPT's parent company- OpenAI- create a better AI interface than ChatGPT?
( Value assignment experts are the only online assignment help platform where you can be assured of original work and continuous feedback)
What is ChatGPT?
For the unaware, ChatGPT is like your online friend, with whom you can chat for hours; the difference is- it will not bore you and won't even run out of topics to talk about ever! The catch is that it is a robot, and no natural person is sitting on another end of the chat, making it even easier to share without fear of judgment. And, with more than 33% of the youth feeling lonely and countless people in need of professional help, like coding or problem-solving, ChatGPT poses as a saviour.
There have been reports of students employing it for writing essays, creators seeking inspiration and cod and ers seeking pre-written codes from the chatbot. While many claim it to be a boon, the haters are in equal numbers. But, no matter the side you are on, this connectivity and load sharing is the root cause of why this four-month-old robot amassed more than a million users in its first five days. Today, the platform has more than 100 million monthly active users, making it the fastest-growing application ever.
Why is ChatGPT popular?
OpenAI, an American AI research and deployment company, make ChatGPT. The bot was launched on the last day of November 2022 on a trial basis. And that was very unusual since all other robotic inventions like human-like-robots "Sophia" or "ATLAS" came to life behind the curtains and only made a few peeps out of those curtains. People only got second-hand exposure via videos or articles, making them- superficial to the masses. But, ChatGPT was launched and was an open book for the public to experience, a book that poses a sa simplistic answer to almost every query with more sensitivity than most humans pose.
Another exciting fact why ChatGPT is making it big is that it is free of cost and readily available. Had it been on trial for monetary subscription bases, it would have never made it this big. The strategy is similar to what the richest man in India- Mukesh Ambani, employed to popularize its telecom service provider company- "Jio". Initially, Jio revolutionized the Indian market with fourth-generation free internet and calling services for two straight years- not a single penny. Then later, post the incredible penetration of Jio in the market, he began monetization through the service. Today, it is the leading telecom service provider in India and holds the third rank globally.
That being said, ChatGPT is still standing on the threshold of the door that unlocks many opportunities to grow. It is still in its trial phase, making it prone to errors, just like many media reports and Twitter users claim frequently.
That being put forward, let us now look at the fraternity of ChatGPT.
The sharks in the ocean:
Bill gates owned- Microsoft is pouring copious amounts of money into ChatGPT, and its other imagined AI tool, DALLE. Recently, ChatGPT was incorporated into the "bing" search panel, a Microsoft-owned search engine. This raised significant "code red" for many of its rivals like Google, which frantically launched "Bard", a similar artificially intelligent model with similar characteristics to ChatGPT. The model was launched in February 2023, but on the day of launch, Bard produced erroneous results to one of the questions asked in the event. That one inaccurate result humiliated Google and lowered its stock prices by more than 9 per cent.
Since the event, the bard has been demoted to "close monitoring and testing" until it is seen fit for public trial.
Why is it big news?
Now, many companies are coming up with similar ideas like ChatGPT, so what is so special about Elon Musk and his visionary AI?
There are two reasons:
During the founding days of OpenAI in 2015, Elon Musk was part of the team for three straight years. This gives him a competitive advantage over OpenAI and allows him to leverage it to build an even better model. Not to mention, his unparallel edge over the tech industry makes him the perfect contender for OpenAI.
Since ChatGPT was launched, Musk did not shy away from expressing his peculiar opinions about ChatGPT. For example, in a recent slur on 7th February, Musk objected to ChatGPT's responses as "concerning". And this is not the only time. Last year too, in a debate on fossil fuel with ChatGPT, on the response of Musk Tweeted- "it could be dangerous to train an AI to lie". He also said AI bots are "scary good".
Final thoughts:
So, the final puzzle remains: Can Musk successfully produce a better rival than ChatGPT?
We think, yes, he can. With his expertise and passion for innovation, Musk can deliver a better model than ChatGPT shortly, but not today. But, that being said, for the first time in history, any AI model has penetrated so deeply and profoundly and quickly rejigged the orthodox thoughts and beliefs of how an AI should and would work. And it came into existence after years of rigorous struggle. So, even at the earliest, we cannot expect the rival to poof of thin air in the coming years. So, it will be a long halt till then.