Should Musk step down as twitter CEO
From living in jungles to houses made of bricks and cement, humans have evolved into modern-day civilisation over six million years. Over the journey, humans witnessed many kinds of administration and even more administrative styles. From Pharaohs in Egypt to Kings and Queens in Britain, every new ruler ascended the throne with a varying mindset. Those who adopted the "normal" approach are lost in history; only those who did something unique and brought their perspective to the table stood out.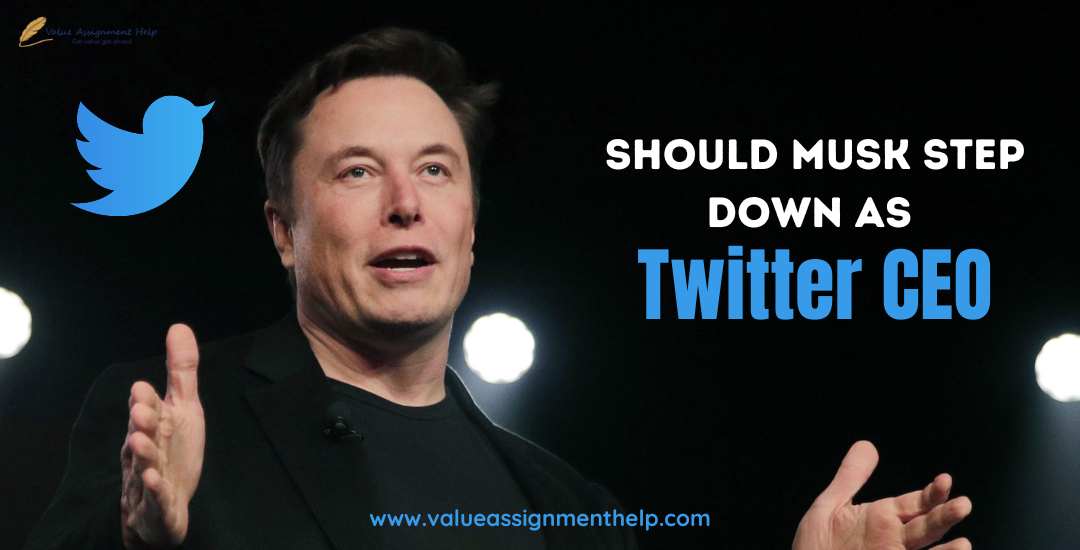 However, turning to history, how many emperors and ruling leaders do you know that drafted their decisions based on public opinion? Now you might say many, most nations around the world are democratic, and people choose their democratic leaders and make decisions on behalf of the people. However, we are talking about seeking public opinion to base the decision on the right of free speech and transparent decision-making. No hidden façade, no hidden propaganda, just stating facts to make rational decisions.
How many global leaders do you know who practice this and give the deciding power to their citizens and then are brave enough to face the music? Now you might say not many. But, while most of us prefer to do what pleases us, there is present-day context to a man who has truly transformed the way people exercised free will and perceived their leader.
We witnessed this Sunday as the specimen of the same. Twitter CEO Elon Musk put up a poll to decide his fate at Twitter. Musk posted a tweet stating that the users will decide whether he should step down as Twitter CEO, and he will abide by the decision.
The news has broken on the internet. Ever since the poll, netizens have shared a mix of emotions. Where one user suggests that only blue tick users shall be allowed to vote in polls (upper right image), Blake Masters, a recently defeated US senator for Arizona, suggests Elon Musk make him the next CEO of Twitter (image on the right).
After closing the poll, however, it was noticed that bot accounts tweaked the decision. Following one of the suggestions, Musk announced that only people with "Blue Tick" would be able to participate in future Polls.
While more than 17 million participated in the poll, 10 Million voted affirmative to him resigning the title. However, even after surrendering the title of CEO, Musk would remain the rightful owner of Twitter since he holds 100% of its shares. This also makes Twitter a private organization from its earlier status as a Publicly owned organization.
But what amazed us was the man's courage to post something of that magnitude.
It has been a journey, from firing employees and shutting down offices to bringing major policy reforms on the platform. Since he took over as CEO, Musk has been in the limelight and has made media headlines now and then. In addition, the tech billionaire, who also owns SpaceX, has brought about some major changes in how Twitter was operated under the reign of Former CEO Jack Dorsey.
Musk has always been a firm believer in Free speech and seeks consultation from its users about what policies should be changed and what reforms should be bought to the platform. As a result, he can influence and sway people. Under his reign, although it might be momentary, people felt more involved in deriving the policies of Twitter than ever. As a result, in late November, Twitter experienced "highest-ever" (more than 2 million) new sign-ups in just a week, Musk tweeted.
(At Value Assignment Help, we help countless students complete their school assignments on various subjects)
His connection with masses:
But what is admirable is that Musk showed transparency in his operation on Twitter. Since the beginning of musk's planning to own Twitter, Musk has vouched for transparency. Even so, he refused to buy Twitter on 6th June 2022 since Twitter was not transparent in the total number of spam accounts previously reported and claimed Twitter only after the doubts were put to rest. Even after owning Twitter, he based his decisions on public opinions and involved common citizens. As a result, many people felt they could connect and talk to him, and he was no longer superficial.
"Elon Musk", a billionaire, the genius mind behind constructing a Billion-dollar company- SpaceX and tesla, is just like us. His persona and simplicity have gained him a massive fan base and popularity in developing nations where young generations look up to him as their role model and aspire to be like him someday.
Firing Employees:
When we imagine a cool office and secure future, most of us cannot help but imagine working at Google, Twitter or Microsoft since they offer the utmost comfort for their employees. From financial incentives to the family in case of the sudden demise of a working employee to getting free massage and food on campus, these employers are renowned for their best employee policies worldwide.
However, if your employer is showering you with multiple benefits and cool working environment, is it not our responsibility to abide by the expectations and get work done? This is what Twitter asked its employees for. It required its employees to pull up their socks and stand firmly to face challenging times.
However, as there are two sides to each story, so are here. While more than 7 Million people wished Twitter was reforming for good and Musk should continue to revolutionize the platform, more than 10 million users thought otherwise (poll results). The masses also understand the anger, aggression, frustration and confusion. He is responsible for taking the livelihood of more than 50% of its staff, allegedly leading a sexist employee army, suspending accounts and mending policies. In addition, musk reinstated controversial previously banned accounts which feared the netizens about the ascent of hateful conduct and misinformation.
Conclusion:
What is different about Musk is the fact that he behaves very differently than the rest "Elite Group". He is relatable to the younger generation, who are willing to change but poke for rigid mindsets and are fearsome of what the future might hold. In conclusion, Musk is a Real-life "Thanos" who aspires to save the planet in his twisted way. This vision is celebrated by some and feared by the rest.
(Our team of VAH writers can handle any order, regardless of its complexity and urgency, and support students in their quest to create effects for the bullying assignments)