Sneak Peak into Earth Day Celebrations 2023
Every individual is born with citizenship of a country, but before that, we are all citizens of planet Earth. Hence, it is essential to cherish our planet. Hence, on April 22nd, people come together every year to celebrate World's Earth Day. And today, we are marking the 53rd celebration of the birth of the modern-day environmental revolution.
The first Earth Day was celebrated in 1970; since then, it has grown into a global event.
On this day, people organize events; plant trees, clean up litter, and participate in other activities to show their commitment to the planet. Many organizations, businesses, and governments also take this opportunity to announce new initiatives and policies aimed at reducing their environmental footprint.
From cleaning oceans to raising awareness, let us look at some earth day celebrations worldwide.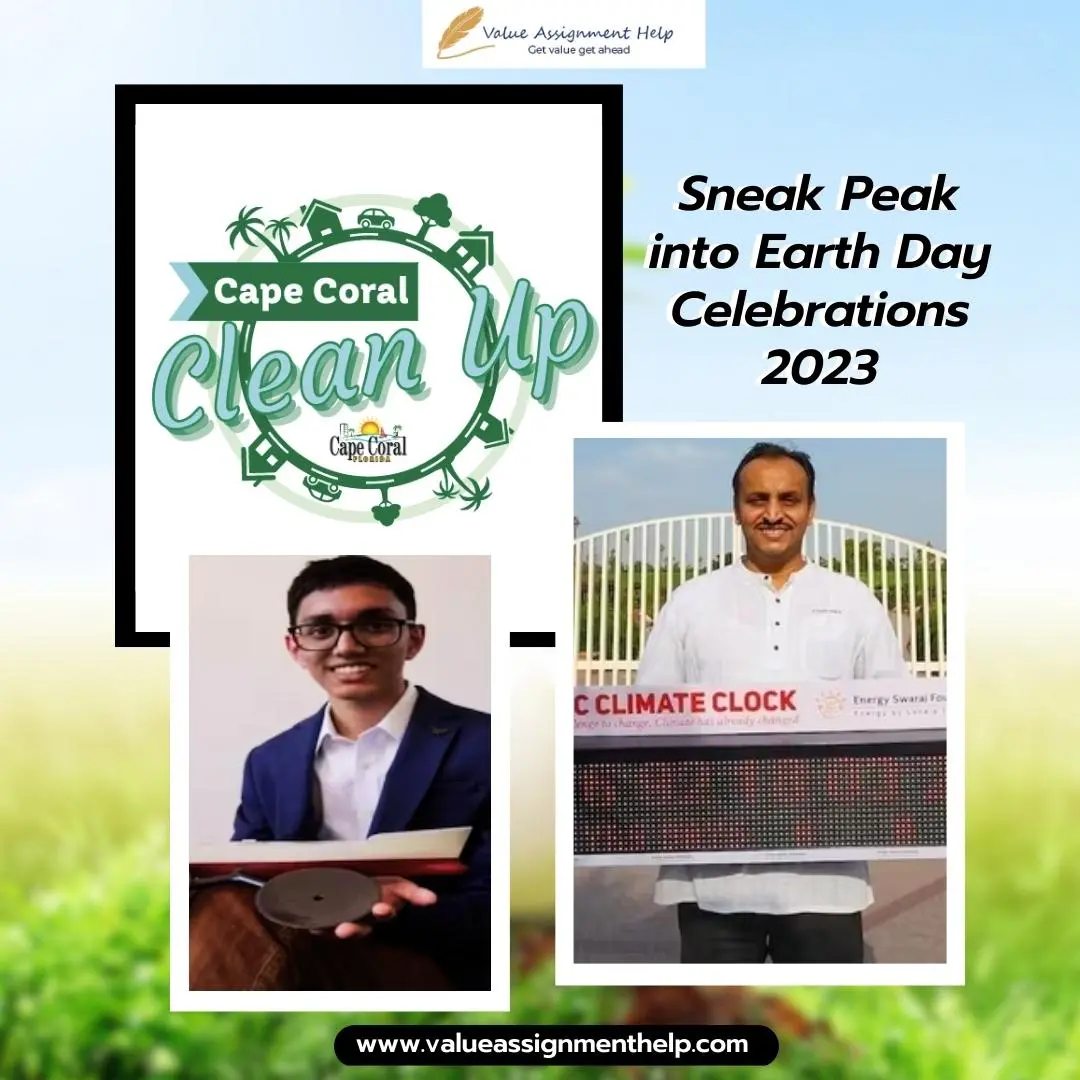 "Want to Improve Your Score in Examination? Stop Thinking and Start Availing Our Assignment Help Services."
World's largest climate clock Assembly on display in India:
This year, the theme for World Earth Day is "Invest in our Planet." And what better way than spreading awareness about climatic change? Hence, in India, the world's largest climate clock displaying the time left to reach the average global temperature rise cap of 1.5 degrees Celsius is featured.
The clock is up for display in an event titled as- World's Largest Climate Clock Assembly on Display.
The display is featured by Energy Swaraj Foundation (ESF) in collaboration with the government's Atal Innovation Mission, All India Council for Technical Education, and Council for Scientific and Industrial Research.
City cleanup in Cape Coral, Florida:
The city of Cape Coral is tucked in Florida, United States. On this earth day, the city is organizing a massive cleanup project for the entire city.
As per the local media reports, the clean-up is a much-needed step post the hurricane debris has polluted the entire city. Two months back, the city met with hurricane Ian, devastating and polluting most parts of the city. The cleaning drive is collecting as much debris as possible, Michael Ilczyszyn, Cape Coral Interim City Manager, during an interview with local media, reported.
Village for the Earth event in Italy:
Village for the Earth or Villaggio per la Terra is an Italian event celebrating Earth Day yearly. Earth Day Italy founded and organised the five-day event between the Pincio Terrace and the Villa Borghese Galoppatoio in Rome.
The Village of Earth event comprises more than 600 events in collaboration with over 200 organizations coming together to spread awareness about environmental sustainability.
A 17-year-old teen is a marine ecosystem booster working day in and day to restore marine life. The child prodigy named Haaziq Kazi has designed a life-size boat, ERVIS, to clean the waste from the oceans. And at the mere age of twelve, when most of us did not know much about physics and chemistry, Kazi created the prototype of his ship ERVIS.
The ship fully runs on hydrogen, consisting of a large whirlpool of water, which sucks in plastic waste as it moves in the water.
In 2019, Kazi even co-founded his foundation under the name ERVIS Foundation. The foundation facilitates like-minded young kids with the knowledge, resources, and guidance to build sustainable solutions to environmental issues.
How brands are celebrating World's earth day:
As the global citizens of Earth, each brand has environmental responsibility. And to act on the responsibility of environmental conservation, brands design and implement transformational policies and initiatives. Such as Bisleri, India's first bottled water brand, has launched 'Bisleri Greener Promise' to recycle plastic waste into school bags, benches, and apparel, among other items. The company has also become water positive through rainwater harvesting and optimum utilization of water resources.
Why Earth Day is important:
The goal is to encourage everyone to take action to restore the natural world around us. This could involve planting trees, cleaning up litter, reducing waste, and changing our daily habits to reduce environmental impact. We can take many small steps, such as using reusable bags, recycling, and conserving water and energy.
In addition to individual actions, there are also larger initiatives taking place around the world. For example, governments and businesses are investing in renewable energy sources, implementing more sustainable practices, and working to reduce greenhouse gas emissions. These efforts are critical to protecting the planet and ensuring a sustainable future.
Conclusion:
World Earth Day reminds us of our responsibility to protect the planet and its natural resources. It is a time to reflect on our impact and commit to making changes to ensure a sustainable future for all. Whether through individual actions or larger initiatives, we all have a role in restoring and protecting the natural world around us. So let us use this day as a call to action and commit to positively impacting the planet.
"Without any hesitation, just book your order and get reliable assignment help assistance from our assignment help experts"