The jobs of the future: Trends you need to know about
Do you know what the future jobs will look like? They all have one thing in common: the ongoing technological revolution we are witnessing!
Suppose you're just starting in your professional life. In that case, there are probably dozens of indecisions swirling through your mind, and you've realised how traditional jobs can change drastically over the years. Maybe you have doubts about going to college or investing in another career that brings you joy.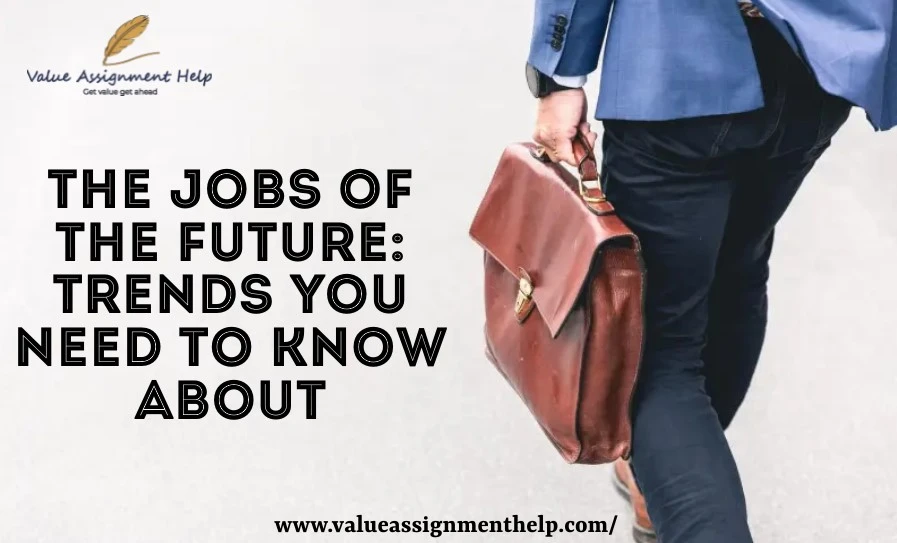 Or maybe you already have a career, but you want to know about certain changes in the job market. Again, there are many options, but keeping an eye on the most in-demand businesses in the future is essential.
According to the job market, this is a common suspicion and should be considered in the following years.
If this is your case, today we'll discuss how innovation can affect current jobs and what the future might hold, keeping the new technological wave upon us.
Professions that are and will continue to be on the rise
Although many careers will end, others will be created to meet new needs. They are:
1. Software Developer
There is no doubt that they are valuable professionals in the market, and so will be for a long time. They are part of the group that creates new systems for automating processes.
This technological age would not have been in full swing today without developers. They analyse, understand, execute and maintain the platforms and write the code that builds the business and services.
2. Creators
These professionals are already famous and will remain so over the next few years. In addition, these people create content online – also known as digital influencers.
A creator is a know-it-all on social media, especially Instagram. The success of these professionals can be explained by the fact that today people want to engage more with real people, not brands.
However, brands already know this and are increasingly looking to partner with online influencers. Pretty sweet gig, isn't it?
3. Advisor to creators
Many agencies and professionals look after the careers of digital influencers, and the trend is that more and more will be needed as new creators emerge.
Creators' advisors guide and manage career paths, helping them score partnerships with companies.
4. Digital marketing professional
Even though it is an old profession, this professional has gained a lot of space in the online world, which has led to the specialisation of this career focused on the Internet.
5. Big data analyst
It analyses all data coming from professional systems or being transmitted online. They use data science to show companies what will affect their business now and in the future.
Digital processes rely heavily on data for analysis and improvement. This is why the role of a Big Data Analyst has emerged and is in such high demand.
6. Commercial civilian drone operator
With the continued popularity of drones, the future will have drones for everything, including delivery services, forensics, and filming. In the future, commercial civilian drone operators will be in great demand. Training and experience are required in addition to a pilot's license. Over the next decade or two, it won't be unusual to see significant delivery airlines use near-pilotless aeroplanes. Amazon has already proposed the idea of ​​using drones for local deliveries.
7. Robot operator
While this is prevailing, robot operators will be needed in specific industries. Robots are slowly taking over manual labour jobs, requiring a technician to install, configure and fix issues if a hiccup or failure occurs. Robot operators will only need technical training for their specific products.
8. Innovation manager
As it sounds like a generic term, it is already possible to find companies with this job offer.
This professional will be responsible for rethinking a company's strategies to improve its business model, whether in its core business or a specific area.
Lastly, a company must innovate and think differently to stand out in the market. More and more competitors are popping up, and the role of the innovation manager is to come up with new things to keep you one step ahead of the rest.
9. E-commerce specialist
E-commerce is already a prevalent business model in people's lives. However, with so many online virtual stores competing, it will be necessary to stand out to attract customers.
10. Financial manager
This professional is and will be indispensable for many years to come so that small and large business can manage their money and keep their finances in the dark. However, as much as virtual intelligence can do maths better than humans, this situation also comes with a responsibility to make decisions that computers have not been able to do yet.
Steps to Prepare for Your Future Career
Research development trends
Knowing the projected growth trends of your desired future career can help you map out the career trajectory. Find out your career levels and what you need to achieve to climb the ladder. Research average salaries on PayScale and Salary.com to understand earning potential and help you with future interviews and salary negotiations.
Find potential employers
Find out which are the big players in your desired industry. Who is hiring and has a company culture that aligns well with your professional and personal aspirations? Who provides you with the benefits and work flexibility options you need?
Even if you're not ready to apply, check out these companies' open positions to see the requirements. Also, follow any company on LinkedIn, Twitter, and Instagram to see how the company is doing.
Professional development
Depending on the field, taking certain classes, earning a degree, or completing a certification may be helpful or necessary in learning the most up-to-date information in the industry.
Many universities and learning platforms offer online courses so that you can fit in with professional development in your spare time. This addition to your resume can show that you are serious about your new career and see the value of growing your skills.