Theology Research Paper writing assistance
Theology is the study of spiritual, divine and religious beliefs. Studied in colleges and universities, theology explores human belief and reveals what it means to see religion as a holistic, balanced view. Its purpose is to learn more about religious tradition and not just write about religious subjects.
Theology can be biblical, systematic, historical, and practical. In biblical theology, the Bible is used and interpreted. A systematic approach to theology explains theology as a whole. Historical theology examines the past to inform the future. Finally, applied theology establishes an unavoidable truth as an act of practice.
Nevertheless, theology can also be political, given how religions continue to shape political decisions. In short, theology can be many things. Therefore, this article provides various topics from practical to political theology. But before diving in, let's quickly check how to write a theological research paper.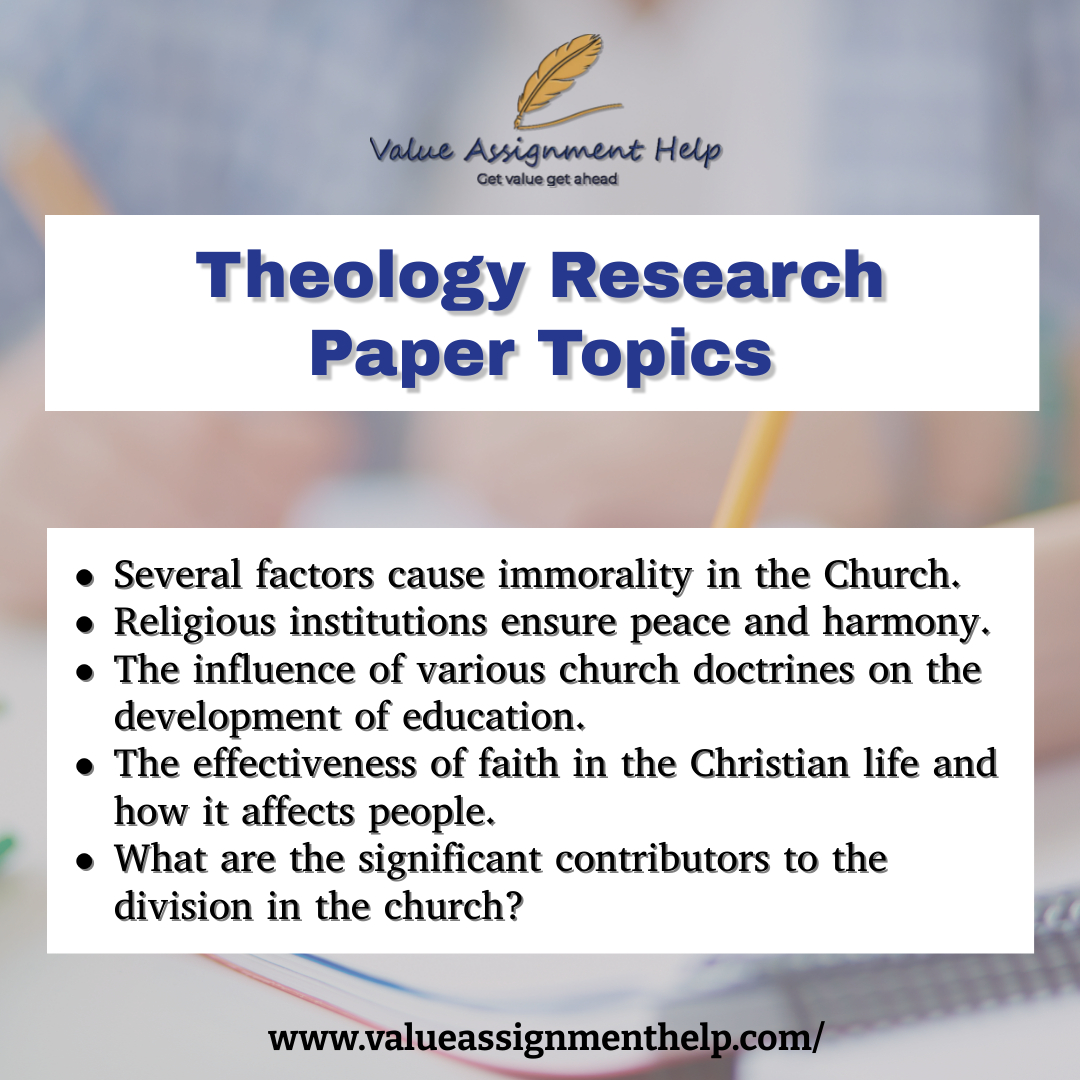 How to write a theological research paper?
Students should know many things about writing and structuring a research paper for college and university levels. For example, research papers should have an introduction, several body paragraphs and a conclusion. They should also include a bibliography where you list all the citations and resources used to support the arguments. In addition, students should take the following steps when writing assignments:
Pick a manageable topic and start researching it.
Keep things simple. Brainstorm topics that interest you and that you can manage within the assignment's parameters. Begin your research early to ensure you can find all the resources you need to answer your research questions and support your argument entirely.
Develop some thesis statements to start
List about 2 or 3 thesis statements. There is no need for them to be perfect at this time. The important thing is that you have some options that you can consider as you begin to look for information and supporting evidence, and examples.
Brainstorm Your Reasoning and Create an Outline
As you settle on a thesis statement and supporting arguments, you must create a framework to keep your ideas organised. Throughout your research, you will find many examples and evidence that can be lost without a framework.
Write the first research paper draft quickly.
Writing the first draft as quickly as possible is the most effective way. After that, you don't need to improve. Instead, jot down your thoughts on the page and follow your train of thought so you can come back later and make effective revisions.
Revise your outline and research paper
Put your research paper aside for a few days. Rethink and revise your outline and use it to guide your writing for the second draft. There is always room for improvement, and a revised research paper will ensure that you present your arguments effectively.
Finalise your work by editing, proofreading, and adding the finishing touches
Lastly, you need to edit, proofread and finalise in 3 separate exercises. To accomplish each of these, you need to adopt three different mindsets. Again, having someone help you through each step is a good idea to ensure you do it correctly.
Theology Research Paper Topics
Most of these topics are based on research paper topics on Christianity. They help you visualise more how religion and society are correlated. They are based on various values ​​and evidence behind them.
Several factors cause immorality in the Church.
Religious institutions ensure peace and harmony.
The influence of various church doctrines on the development of education.
The effectiveness of faith in the Christian life and how it affects people.
What are the significant contributors to the division in the church?
A biblical examination of why there are divisions in the Church.
The Christian model of living and how it affects society.
Religious conflicts in different parts of the world.
How persistent violence affects religious institutions.
Principles of funding religious institutions.
Religious essay topic
These are topics you can use for your religious essays. They are simple to understand and will help you to get a better understanding of Dharma. However, they are also based on the beliefs of society.
Factors responsible for the division of people into religious institutions.
Young adolescents and premarital sex: moral implications.
Evaluate the impact of the sectarian crisis in the church.
How does parenting affect spiritual development in children?
The impact of church separation in different ages for spiritual development.
The Truth behind Speaking in Tongues and Its Impact on Spiritual Development.
Assess the impact of new technology on spiritual development.
The influence of the layman and clergy relationship in the church building.
Society's impact on corporate social responsibility.
Various Christian ethics and influence on the development of the Church.
World Religions Research Paper Topics
According to independent researchers, it is believed that there are more than 43000 religions in the world. This means that there are thousands of theology essay topics that can be explored to develop a significant research project:
Describe the impact of science on world religions.
Explain the impact of Islam on international affairs.
Relationships between science and religion are described and discussed.
Discuss and analyse the role of women in Islam.
Analyze the religious systems of animalism and totemism.
Explain how Zoroastrianism influenced Greek philosophy.
Religion plays an essential role in international relations, explain.
Describe how different religions view the afterlife.
Discuss how different religions affect people's lives.
Compare and contrast the perspectives of world religions on terrorism.
Bible Thesis Topics for College Students
To impress an audience with an excellent paper, students must choose current research topics in theology that push the envelope in each area of ​​study. The following ideas are great for a Bible research project:
Compare and contrast literal versus metaphor in the Bible.
Explore and discuss how the Bible interprets the universe.
Explain how the Bible views war and slavery in the New Testament.
In both the Old and New Testaments, miracles play a significant role.
Explore the role of marriage in the Old Testament.
Compare and contrast how different denominations interpret the Bible.
Describe how Protestants interpret the Bible.
Explain the significance of Jesus' resurrection.
How does the Bible differ from the Quran?
Analyze how the Bible is used in Literature.
Need professional research paper writing help?
From the various sets of theology research topics and ideas suggested above, you can choose any topic you are passionate about and write an excellent research paper. However, contact us immediately if you are unsure which topic of choosing or how to write a research paper on the best theology topic. We have a team of professional assignment writers who are experts in theology to write an excellent academic research paper.
Among the students, we have earned a good name for our affordable and fast online research paper writing service. If you want to take advantage of our assignment writing service, quickly fill in your requirements in the order form and submit it. Then, based on your specifications, we will create and deliver a high-quality, plagiarism-free research paper that exceeds your expectations.
Want an A+ grade to get a research paper? Use our reliable research paper writing help and enjoy the necessary academic benefits.