Why America hates abortion
Abortion in USA is an intertwined debate of beliefs, religion, politics, and a string of hurried laws- a debate that somehow eliminates women's decisions about their own bodies.
Recently, FDA approved abortion pill- Mifepristone- has been under wrath in the Supreme Court. Wyoming's first law banning abortion pills has been signed, and a nationwide ban is pending in the Supreme Court.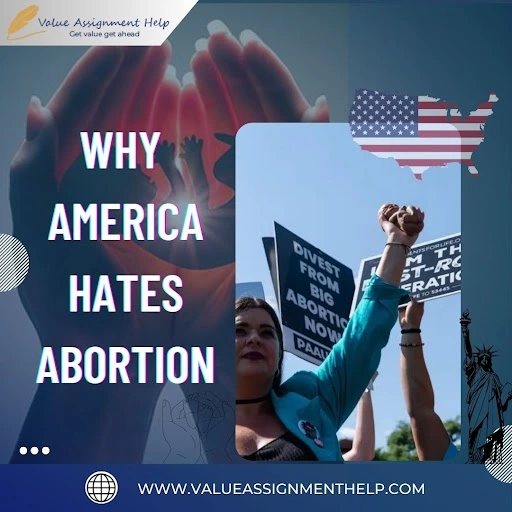 If brought to life, more than 50% of abortions in America will be impacted, as per the research findings of the Guttmacher Institute, an abortion rights research organization.
Today, thirteen American states impose ban on abortion at any stage, and Georgia prohibits it after six weeks.
The abortion ban has taken quite a swing in just a year, becoming almost impossible to remember that abortions were legal for most of American history.
In this article, we will look at the history of abortion in the USA to understand the underlying reasons for the dispute on Abortion.
History of Abortion in USA:
In much of American History, Abortions have been legal and easily accessible. Until quickening (a period where a mother can feel fetus moving inside uterus), plentiful historical documents and articles outlined procedures to undertake abortion. Abortion did not encircle taboo of any sort in the European nations.
However, at that time, the circumstances were different than today.
Unlike today, males do not dominate the gynaecology arena. Most abortions were carried by women, especially women, small communities, tribal women, and black enslaved women, "Planned Parenthood Action Fund"- an advocacy and political arm of Planned Parenthood Federation of America stated.
Contrary to today, early abortions were acceptable in Christianity, historian Leslie Reagan says in one of the most notable works on American abortion history- "When abortion was a crime".
And at that time, the abortion issue was safety rather than political and religious debacle.
The initial laws encircling around abortion were put into practice to guard women's health in the 1860s, which were susceptible to drug poisoning.
Hence, a string of bans from the 1860s to 1910 criminalized abortion in America majorly.
Point to note: During that time, American constitution did not have any law about abortion, neither in favor not against it.
Abortion: Banned but not vanished:
With the abortion ban, the underlying dark reality of American society came into the limelight. America banned abortion, but the need to terminate pregnancy did not vanish overnight. Women still needed to abort pregnancies due to personal or medical complications. But as the right to abortion was scrapped, so was the right to guided medical assistance for pregnant women.
But criminalizing abortion did not stop women from getting one. The rate of illegal abortion and death due to similar complications spiked in the early and mid-20th centuries. With little to no access to healthy and safe options to terminate pregnancy in medical care, fearful women desiring to terminate pregnancy opted for illegal means. Illegal clinics and the smuggling of illegal abortion pills also spiked.
Around the same time, the feminist movement and women's rights activists debated for the legalization of Abortion.
Historic turn of events:
And women, after fighting for over a century to legalize abortion, in 1973, the Supreme Court of America, in "Roe v. Wade" and "Doe v. Bolton" cases, legalized abortion. The right to Abortion was included under the "Right to Privacy" in the American constitution with a dominant majority of 7-2 during the ruling.
The landmark ruling was the major "national political realignment" around abortion. The law unarmed many state laws that prevented abortion during the first trimester of pregnancy.
In the historic decision of Supreme Court, abortion became legal. However, the decision caused widespread agony and discontent among religious groups and the opposition party. That is when it became a hot topic encircling political drama and religious debacle.
The political debacle came into the picture because Democratic Party ruled the parliament simultaneously. Hence, Republican Party came in full throttle to oppose the abortion laws.
Although the religious dispute about abortion has been seen since the dawn of 20th century, religious opinions took to the streets after the Supreme Court ruling. Soon, the protests became less of "women's rights on her body" and took the shape of "killing innocent life", as debated by religious organizations like "Anglicans for Life" and "The United States Conference of Catholic Bishops".
Today, as per the statistical records of Statista, the political party-wise abortion law support is given in graph below:
More twists and turns along the way:
Like magma inside a volcano, the debacle continued to grow every year. In rigid catholic beliefs, abortion is seen as sin and should be punishable like one. Abortion became a mainstream topic of debate, including political parties and celebrities expressing their opinions on the debate.
But another path-breaking Supreme Court ruling occurred in American History in 1992. Planned Parenthood v. Casey case further firmed the base of abortion laws in the country.
History repeats itself:
Fast forward to 2022, history was about to repeat itself. The abortion law was about to be scrapped. It was 24th June 2022. A historic event was marked in Dobbs v. Jackson Women's Health Organization case.
As outlined in the article above, the historic law outlined that the right to abortion was not part of American constitution before Rue V. Jade case ruling in 1973, questioning the viability of the law.
Hence, nationwide law was discontinued giving each state the supreme authority to navigate abortion laws. Federal Judge Matthew Kacsmaryk, the appointee of former President Donald Trump, passed the ruling.
The ruling shook the country, calling out nationwide protests. Following the ruling, numerous states withdrew legal boundaries to seek an abortion, some banning abortion after a few weeks, while others scrapped the legal option of abortion altogether.
Since then, American women are continuously battling against the feds to seek the right to choose for their bodies themselves.
The concluding words:
Abortion history in America encompasses more than just court rulings and laws, as the positive and negative aspects are deeply ingrained in American culture. It goes beyond political debates and religious controversies.
Abortion is a delicate issue for women regardless of age, religion or political belief. Despite it being portrayed as "killing an innocent life," the choice should rest with the mother, who has the right to decide for herself and her own life. However, any illegal and coerced abortions should be prohibited at all stages.
"If you need a cheap case study writing service online, then reach out to us immediately. "