Women Are the New Glory of Indian Sports
The sports culture has been imbibed in Indian DNA since the mythological times of Ramayana and Mahabharata. Chariot racing, archery, wrestling and mace warfare were everyday sports in ancient India.
And the craze for physical play was not just limited to males; princesses and queens like "Queen of Jhansi- Lakshmi Bai" shared the same passion. The queen is known as the most courageous warrior in Indian history.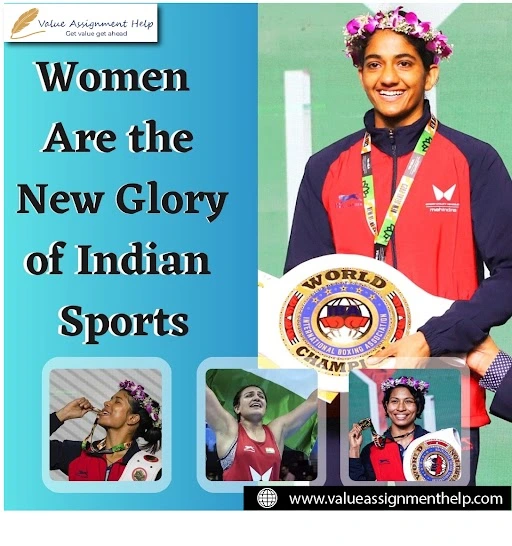 The same blood runs in Indian women still, which somehow lost its dominance in Indian genes a few decades back.
But today, our chest swells with courage as we witness the slow revival of dead Sports spirit in Indian Women. Today women stand shoulder to shoulder with global rivals, proving their mettle in every arena.
(Avail our case study writers for your assignments, essays and research dissertation term papers that are 100% plagiarism-free)
And its recent example was shown in the world boxing championship, held from 15th to 26th March in the Capital city of New Delhi, where all four Indian boxers bagged gold medals in the championship.
This is for the first time in Indian History that India bagged 4 gold medals after the 2006 boxing championship.
Boxers Nikhat Zareen, Lovlina Borgohain, Nitu Ghanghas, and Saweety Boora are the names that will go down in Indian History as global Boxing Champions.
Two times World Champion: Nikhat Zareen:
With the golden victory in the championship, Nikhat Zareen becomes the second Indian woman, after 6-time world champion Mary Kom, to be world champion multiple times.
For the first time, Nikhat was announced as world champion in 2022 after winning the gold medal in World Championship in Istanbul, holding to the title this year too.
Nikhat maintained her world champion status by beating Vietnam's "Nguyen Thi" in the 48-50 kg category. This year, Thi is the first Vietnamese woman to reach IBA women's World Boxing Championship.
But not just this, Nikhat won the gold medal at the 2011 AIBA Women's Youth & Junior World Boxing Championships also.
Lovlina Borgohain:
Lovlina's dream of securing gold finally came true with her first gold medal in the Women's World Boxing championship. 25-year-old Lovlina competed in 70-75kg category and defeated Australia's, Caitlin Anne Parker.
The young lady displayed courage and determination and bagged golden glory for the country.
Nitu Ghanghas:
Already a commonwealth Games Gold Winner, Nitu Ghanghas won her first Gold in IBA this year. Competing in 45- 48kg segment, Nitu defeated Mongolia's Lutsaikhan Altantsetseg, a two-time Asian Championship Bronze medalist.
Saweety Boora:
Saweety Boora secured Gold medal in 75-81 Kg against China's Wang Lina, restricting china to three gold medals at the championship.
The four women proved that sports are about courage, fair play, fierce determination, and companionship, bringing home four gold medals for the first time since 2006 championship.
Besides this, India ranked at the top of the leaderboard, with only one country bagging four gold medals. The second rank was secured by China, which bagged three gold, one silver and three bronze medals.
But the Women's Boxing championship is just one instance of women's glory in Sports. The other example of emerging sports glory in India is the Women's Premier League, held for the first time in Indian history.
Women Premier League:
Women's premier league (WPL) is a T-20 cricket championship for women. The championship is the female version of the Indian premier league (IPL), which amass great admiration yearly.
The first WPL was held this year, beginning the new journey for Indian Cricket for Women. Mumbai Indians became the first team to bag the title of WPL season one.
WPL is owned and operated by the Board of Control for Cricket in India (BCCI), which featured a playful rivalry between 5 teams: Mumbai Indians (MI), Royal Challengers Bangalore (RCB), Delhi Capitals (DC), UP Warriorz (UPW) and Gujarat Giants (GG).
Women's rise to fame:
And not just in sports, 2023 is also an optimistic year for women in cinema. Kartiki Gonsalves- director, and Guneet Monga- the producer of The Elephant Whisperer, bagged an Oscar at the 95th academy awards this year.
In the first quarter of the year, Indian women shine globally, bringing international glory for themselves and India.
But apart from international fame and glory, the pivotal legacy behind these amazing women is the trail of inspiration for young girls aspiring to follow the footprints of these legendary women.
(Contact our 24/7 customer service agent and let us help you complete an excellent case study assignment