Visa guide for students
A Visa Guide for Students by Value assignment help
Traveling to other countries for post-high school and post-undergraduate degree is on the bucket list of most of the students now. Students tend to be more interested in completing their higher education from other countries than their homeland to gain exposure to the world and experiences from the journey that contributes as an integral part of their personality.

Moving abroad is a preferred choice made by a lot of students worldwide. Studying overseas is evolving due to the increased number of students immigrating every year to different countries. But traveling overseas for educational purposes requires students to fulfill the essential requirement of having a student visa for the chosen country and have a GPA as demanded by their college's eligibility criteria. The primary decision is a life-changing step towards a more fantastic future and development opportunities for students. It requires the need for a student visa to be fulfilled by students.
Global ratios depict that students prefer New Zealand assignment, Australia, Canada, the United States of America, the United Kingdom, and Germany as their preferred countries to migrate to for higher education.
Even though all countries demand a student visa from immigrant students but the requirements for students visa along with other basic demanded needs vary from country to country and college to college.
Visa Requirements of Top 6 Preferred Countries
Applying for a visa for distinct countries has some basic and similar requirements that are to be met by the student. These requirements include:
A passport that is valid for a minimum of 6 months posts your complete stay in the respective country.
Fee Payment Receipt
Offer letter from the college/ university
Health checkup and health insurance report
Passport-sized photographs.
The above mention includes the standard documents required for the student visa. The top 6 preferred countries also have some distinct requirements to enroll in with a student visa along with these basic requirements.
I) New Zealand: A student studying in New Zealand for more than a period of three months will require a student visa to continue regular studies. Visa conditions such as allowed study program, name of educational provider, location provider, etc. Are to be met to receive a student visa for New Zealand.
Minimum cost requirements to get a student visa for New Zealand involve a total minimum amount of 133 NZD.
Student visas for New Zealand can be applied offline as well as online means and a student visa in New Zealand enables a student to work as a part-time worker for up to 20 hours per week.
II) Australia: After the change in the basic concept of Australian student visa to a Simplifies Student Visa Framework from 1 st July 2016, all students are required to apply for an Australian Student Visa under subclass 500. An Australian Student Visa cost ranges from 800- 1000 AUD. Along with the previously mentioned basic requirements, students need to fulfill some specific requirements to get an Australian Student Visa.
These include:
Character Certificate showing that the student has no intentions to cause any harm.
Only full-time course students are allowed to apply for Student Visa in Australia under subclass 500
Students must have a document for Genuine Temporary Entrant that ensures their immigration is temporary and just for their educational purposes in the country.
III)Canada: The second largest country in the world is also among the list of most preferred countries by students for higher studies in the world. Student Visa/ Permit for Canada is mandatory to study in the country. Studying at Canadian premises has some eligibility criteria that are to be met. These criteria include:
Proof of acceptance from a designated learning institute in Canada.
proof that you have enough resources to pay your tuition fees and undertake daily expenditures.
A police certificate proving that the student does not belong to the criminal background and has no criminal records
Medical Certificate ensuring your good health status.
The United States of America: The globally dominant hegemony of The USA is popular among students as well when it comes to shifting abroad for higher studies.
A student visa for the USA is of 3 different types namely;
F1 Student Visa is applicable for courses that require more than 18 hours of study in a week.
J1 Exchange Visitor Visa- For students who want to enroll in an exchange program
M1 Vocational/Non-Academic Student Visa- For students studying or planning to study in technical and vocational schools in America. The cost of a Student Visa for the USA is of two types.
SEVIS Fee which equals 350 USD approx.
Visa Application Fee, which equals 160 USD approx as of now.
United Kingdom: Enrolling in a degree course in the UK with a student visa gives a chance for students to work part-time along with their studies for up to 20 hours per week.
Tier 4 General Visa as Student's Visa for the United Kingdom for post- high school education is approximately 350 Euros.
VI) Germany: Getting a student visa for Germany requires a student to submit the visa officers with proof of finances for a minimum of one year, and then a residence permit, i.e. a student visa is issued for the student for a maximum period of two years for education.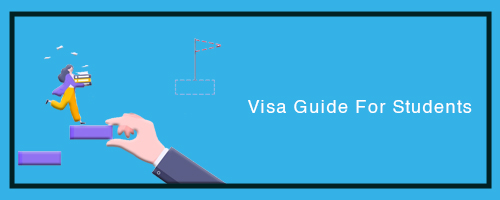 A student visa and a residence permit in Germany cost the students an average of 200 Euros altogether for both the permits. In accordance with rules and regulations of the government of Germany, a student is allowed to work a maximum of 90 days in a year or 180 half days during an academic year.
Every country requires a visa to migrate to their country for various purposes like traveling, tourism, and especially education. Different countries follow different patterns and criteria for visas.
For further guidance on a visa application in the respective countries, aspirants can contact us through our online platform. Value assignment help will offer free guidance for your student visa and also help you in enrolling for reputed colleges, which are ranked, high in academic courses, and also help you with placement coordination.
Value assignment will integrate your learning process with our online assignment help program to assist you in your online assignments and homework that are crucial for good grades and qualifications.