Harvard Referencing Generator
Academic writing is critical because it involves accuracy in content and technical terms according to an academic standard. Are you having trouble finding the correct quote according to the given topic? You must know the significance of taking assistance from a reliable source during academic writing. The Harvard Style Citation Generator is a tool or system used by researchers, writers, and students to assimilate others' research, discoveries, quotes and ideas. Work on making their writing effective or validating their findings. The Harvard Referencing Generator, also known as the Parenthetical Referencing System, consists of two elements:
1. In-text citation: It contains the author or the author's surname and the year of publication. The publication year is displayed under parentheses.
2. Bibliography: This shows all the sources or references you have cited in your work.
What is Harvard Referencing?
The Harvard style or Harvard reference is an author-year system widely used in education. The use of a Harvard reference means putting the source citation immediately after the citation, thus referencing the bibliography directly.
This is also called a parenthetical reference, and only abbreviations are used because the citation is entrenched in the actual text (author year: page number). Harvard Reference is entirely devoid of footnotes and is widely used because it is straightforward, economical, and straightforward.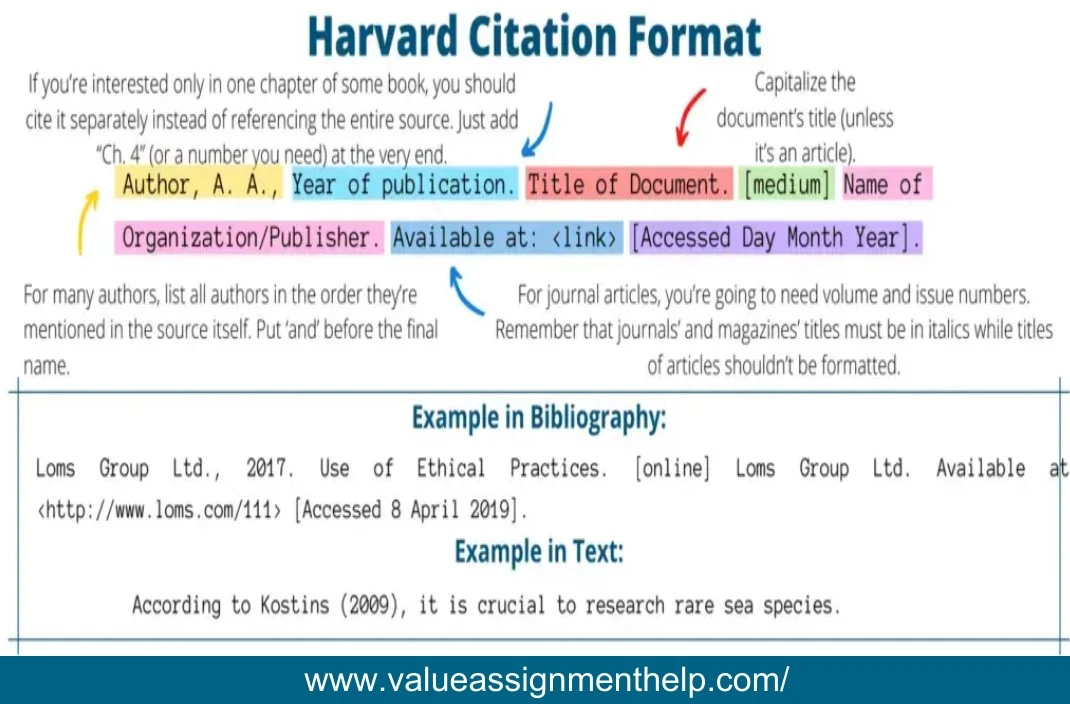 Referencing or citation styles
Referencing or citation styles are the various standard methods used to cite the source of work. Refer to the below checklist to know some widely used citation styles:
Vancouver
Harvard
Chicago/ Turabian
American Chemical Society (ACS)
Modern Language Association (MLA)
American Psychological Association (APA)
Australian Guide to Legal Citation (AGLC)
Council of Science Editors/Council of Biology Editors (CSE/ CBE)
Institute of Electrical and Electronics Engineers (IEEE)
American Medical Association (AMA)
The last five reference styles are rarely used but are still needed in some places. These styles depend on formatting, punctuation, and order of information. You will find the difference between the two levels of citations (citations in the text and the bibliography). The use of citations deliberates the discipline for writing your document. Also, you need to follow the reference style of your educational institutions or publishers.
Many reference styles follow two systems: the documentary-note and the subordinate systems.
Documentary-note system: In this system, chronological numbers are used as in-text markers in either footnotes or endnotes. A numeric number is usually placed after a complete stop. The use of numeric numbers in the reference list is unnecessary as it depends entirely on the specific reference style.
Parenthetical system: In this system, author and date abbreviations (or page numbers in MLA format) are used in in-text citations enclosed by parentheses (round brackets). You will find the detailed reference list at the end of the papers.
Why is it important to have references in writing?
Recognize the work of original authors
Much investigation and hard work have gone into writing a book, article, or magazine. When we take information from others, it is our moral responsibility to give them due credit as a mark of respect. It is essential to know that we cannot work on an essay without taking information from books or Internetrnet. The main rule is to respect that an author provides the necessary information for our assignment or essay.
The reader gets a chance to cross-check the information
When an author references, it lets the reader estimate how much knowledge the author has gathered on that particular topic or topic. In addition, the reader gets a chance to cross-check the context. For example, a teacher can predict whether the student has understood the topic simply by looking at the context. It also allows the reader to improve the given topic's knowledge further.
Avoid Plagiarism
Plagiarism is a severe crime in universities and colleges. Colleges use state-of-the-art anti-plagiarism software to detect plagiarism in a second. We have to be attentive when we use the data of others. We must cite references so that this can be avoided.
Purpose and Benefits of Harvard Referencing Generator.
The Harvard reference can be confusing if you're new to the concept. However, understanding the need for context will help you achieve your academic goals rather than damage your image among scholars. In addition, the citation will help you integrate the process naturally into your writing and research routine.
Harvard Reference Generator helps students to refer to their essays appropriately. However, referencing can be difficult and time-consuming. The Harvard Reference Tool makes this task easier by using the year of publication and the author's name in the text to indicate the place where you inserted the source.
Harvard Reference Generator creates references in your bibliography and text within seconds. This citation machine retrieves information from every corner of Internetrnet and organizes the relevant information into a proper reference list that presents your work sources.
One advantage of the Harvard Reference Generator is that it can auto-generate over a thousand citations within seconds. How cool is that? You no longer need to waste time rummaging through many books to find proper references in a library. Instead, the Harvard generator tool will provide sources in Harvard citation style in split seconds.
Types and differences of Harvard reference generator.
Book reference tool
This tool refers to a composition or written work in print or e-book. All you have to do is enter the author's surname and initials, book title, year and place of publication, publisher and edition. Then finally, click on the Generate Book Reference button and wait for the result.
Chapter Reference Tool
It refers to a chapter in a composition or written work in print or an e-book. The information you need is the book title, chapter title, author's surname and initials, book editor, year and place of publication, publisher name, edition, and page. Next, click on Generate Chapter Reference and wait for the result.
Journal Article Reference Tool
This tool references academic work journals and articles containing specific research material. The information you need to use this tool is the author's surname and initials, article title, magazine title, volume and year of publication, part, and page. Then, click on Generate Journal Reference and wait for the results.
Website reference tool
It compiles web pages containing data related to a specific topic. You'll need the author's name, article title, website name, year of publication, full URL, and specific submission date. Click on the website generate button for the result.
Email reference tool
It compiles written communications within electronic mail based on the subject at hand. For this citation, you need the author's name, subject line, date of submission, and email address. Click on Generate Email Reference to get the reference result.
The difference in the Harvard Reference Tool is the information needed for the proper reference. Not all sources are referenced equally. This can be confusing for a student or writer. That's why the Harvard Referencing Generator comes in handy.
Why should you use our Harvard Referencing Generator Service?
There are many reasons why students across America use our Harvard Referencing Generator service when asked to cite a document. Our developers have specially developed this tool for the convenience of the students. We are highlighting some of the advantages of using our Harvard reference service:
Simple quotes
Who wouldn't want to skip the step of gathering information from all sources? Just provide the information like source title, author name, etc. The rest will be done by our tool. It is effortless and painless, which the students need in their busy academic schedules.
Save huge time
You will save plenty of time by using the referencing tool. Our Harvard Style Referencing Generator service can be a lifesaver when you're in a hurry to meet a deadline. Stop wasting your time looking at the information for each resource and use the time to try and improve the quality of your paper.
Avoid Plagiarism
When you add someone else's work to your material, the professor/teacher usually assumes that you copied their work directly without giving them credit. Therefore, you can easily avoid the risk of a plagiarism checker by using our tool.
Fast results
You will not have to wait long for the result to be generated. Our advanced algorithm ensures a lag-free experience every time. Our Harvard site generator is considered to be the most reliable tool. Use it in times of need without stressing it too much.