How to explain informative speech topics?
Writing an informative speech is not as scary as choosing informative speech topics for college. However, with the prevalence of informative speech topics, students' process becomes more enriching once they understand the basics.
Finding an inspirational theme may be challenging, but you will be in the driving seat if you find the best way to articulate your content.
Speech writing is not exclusively left to high school, college and university students. Instead, people in the professional platform too require skills to outline informative speech.
Sometimes, people freeze up when invited to deliver a speech during parties or functions. The nervousness can be accredited to the non-exposure of students to group discussion or lack of command over the language.
In our experience, the art of speech writing takes time to perfect. Yet, with expert guidance and regular practice, students can perfect the skill to combine thoughts into words and create the respective impact melodiously.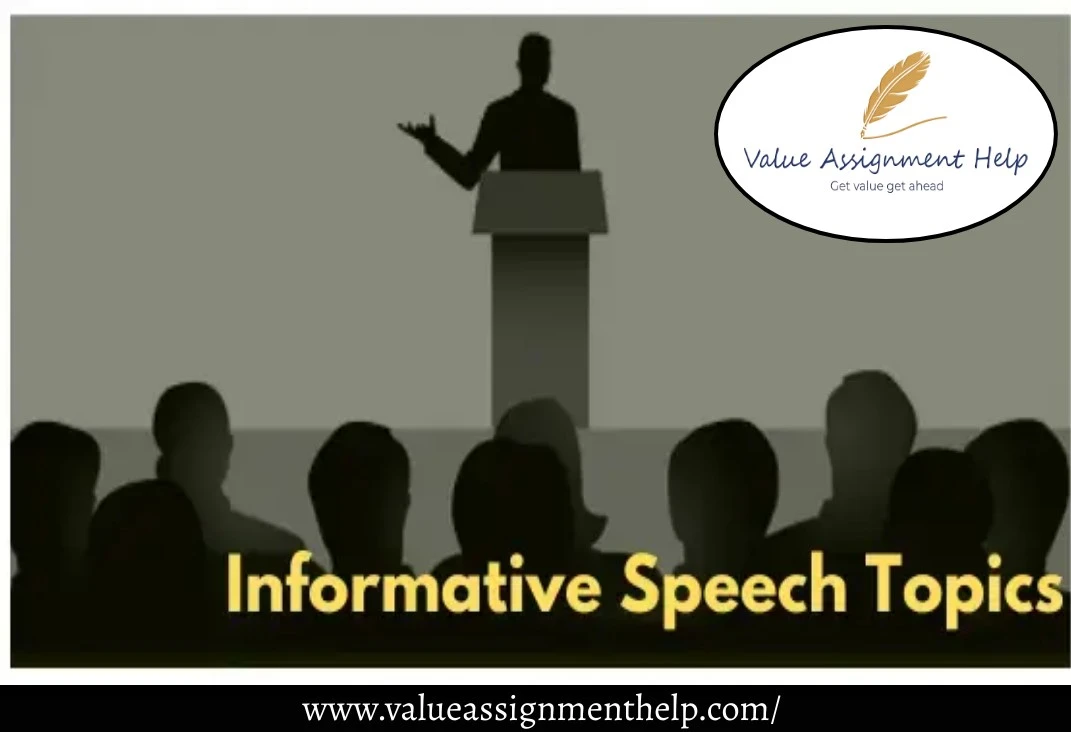 What is an informative speech?
An informative speech provides information and is intended to educate an audience. It helps the audience to learn, understand and remember the information you are presenting.
According to the informative speech definition:
"It is a type of speech whose purpose is to educate the audience about a particular subject. It presents information through visual aids to explain a topic, idea or concept."
The primary objective of an informative speech is to provide information about a specific topic about which the audience knows nothing. Therefore, these speeches require facts and figures that support the idea of ​​the speech. Furthermore, these facts and figures are collected from reliable sources to enhance the subject's credibility.
Types of informational speeches
There are many methods to inform the audience about a particular topic. An informative speech is just one of those many ways. This speech can be about an object, event, concept or process.
There are four different types of informative speech:
First, descriptive speech: It creates a vivid picture in the audience's mind about a person, place, event, or something else.
The exploratory speech explains the "how" and "why" aspects.
Definition of speech: It explains what a concept or word means.
Demonstrative Speech: This is a kind of step by step guide that explains how to do something.
Informative speeches are not like persuasive speeches, where the sole objective is to persuade the audience. Instead, these speeches aim to educate and inform the audience members about the speech topic.
How to Write a Winning Informative Speech?
An informative speech is a great way to engage an audience and share your knowledge. Your speech could be a turning point in someone's life! So you should present your views appropriately.
We will share a detailed method to ensure that your informative speech turns out to be highly effective.
Choose a topic
Go for a general theme and then dive into its specifics. This approach serves the purpose.
Narrowing down the description helps you get to the root of the topic. As a result, the audience gets a clearer image of what you are trying to deliver.
Read informative speech topics easily to select a topic.
Write a bold thesis statement.
This is a no-brainer! A thesis statement is highly useful in sending a clear message. Thus, focus on drafting a compelling thesis that shares a quick gist of your topic.
It helps to make sure you are moving in a specific direction. It's an exciting way to engage the audience. You can look at some informative speech examples to get a clear picture of its implementation.
Measure audience preferences
When choosing a topic, keep in mind what the audience is expecting from your article, as it will help you choose a suitable topic that the audience can connect with ease.
Design the content so that it simplifies the flow of information. You can achieve this by replacing technical terms with simpler words. Also, keep your content as informative as possible.
Consider your audience as beginners. Ensure that your informative speech is clear and relevant. Likewise, a thesis will add quality and clarity to the crowd.
Write a complete outline.
Since you have gathered all the necessary elements for your speech, it is time to assimilate everything and put it in a meaningful way.
Following an outline ensures that you highlight essential details in the speech. In addition, the placement of evidence such as facts and figures plays a significant role. Knowing when and where to include numbers or examples can improve the effectiveness of your entire speech.
Ideas for choosing the right informative topic
When giving an informative speech or writing an informational essay, the most crucial part is choosing the right topic. Choosing a good topic can entertain your audience, keep your readers interested, and improve your learning experience. Avoid picking an issue just because it seems sensationalist or controversial. The most important thing is that you need to be knowledgeable before giving any speech. Remember that information containing errors can destroy your credibility. Here are some tips to assist you in choosing a topic:
Know and understand your audience: To connect with your audience, you need to understand why your topic is important to them. An informative speech or essay should cover a topic that is not already known to your audience but is relevant. You can provide new, exciting, unknown facts and figures on topics they already know. It is also essential to know the level of knowledge they have about your informative speech or essay so that you can present the information in the right tone to keep people interested and engaged.
Show your passion: Choosing a topic for an informative speech or essay, you should focus on your speech or essay to be better received. In addition, your passion and area of ​​expertise will keep students engaged and eager to learn more.
Consider Your Time and Length: Always consider the time allotted for your informative speech. You should be able to cover all your essential points within the timeline. When writing an informative essay, the length of the essay should be able to cover the topic thoroughly. Consider another topic if you feel you don't have enough knowledge or personal interest to talk about a specific issue for a certain amount of time.