How To Write A Narrative Essay - General Guidelines
When a writer states the facts related to their experiences in real life, a narrative essay is born. Personal Narrative essays trace events from the author's own life by creating a non-fiction piece that resonates as the story is told. As a result, a professional essayist can uncover more profound thoughts connected to such incidents that he narrates and pen them down for a larger audience.
So, what is a narrative essay? This essay distinguishes fact from fiction while writing for college applications or literary journals. We'll take a step-by-step approach to learn how to write a narrative essay.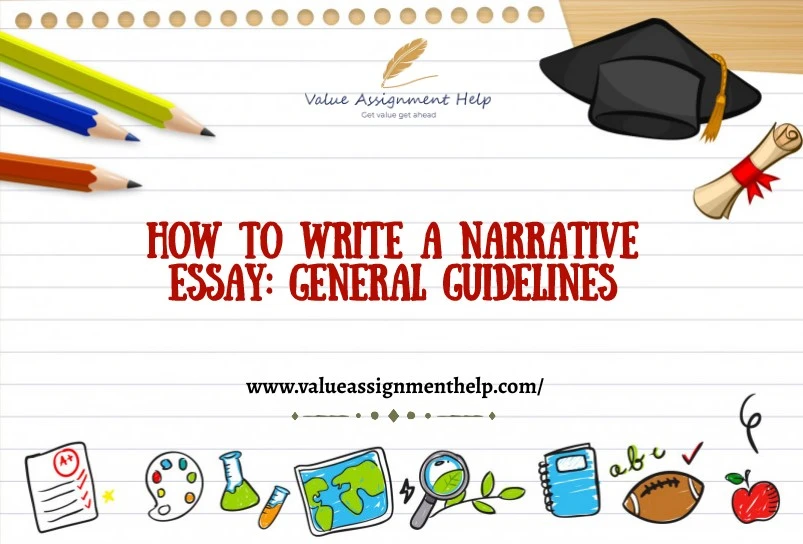 Learn to tell your story in your way. So let's look into teh segment to understand the subject better!
What is a narrative essay for?
When assigned a narrative essay, you may wonder why your teacher wants to hear this story? The topics of narrative essays can range from critical to trivial. Usually, it is not about the story but how you tell it.
A narrative essay is a way to test your ability to tell a story clearly and interestingly. You are expected to think about where your story begins and ends and how to convey it with engaging language and a satisfying pace.
These skills are quite different from the skills required for formal academic writing. For example, a narrative essay encourages the use of the first person ("I"), as does the use of figurative language, dialogue, and suspense.
Narrative essay format
A typical 5 paragraph narrative essay consists of an introduction, three paragraphs in the body and a conclusion paragraph. If necessary, you can change the number of body paragraphs by topic.
It usually consists of these five elements: plot, characters, setting, conflict, and theme.
Plot
The plot is the event you want to share in the story. It is about the sequence of events that happened in your story.
Setting
The setting is the place where the event took place. This could be your home, your school, or any other place you were at at the event.
Characters
Eligible are the people involved in the event. You have to mention everyone involved, whether the main character or the side character.
Confrontation
Confrontation is a problem faced by the characters during the event. For example, the moment of tension in the plot is considered a conflict that needs to be resolved.
Theme
The topic of the essay elaborates on how a story gets picked and supports with reasons for the author's choice of topic.
Tips for Writing a Narrative Essay
While you already have everything you need to write a personal story, the writing process for a narrative essay can be intimidating. However, it can help divide the process into three significant steps: choosing a topic, writing and revising.
To reflect on a topic, you'll want to think about the medium and your own life. Here are some tips to help:
Spend time reading narrative essay examples. They will not only introduce you to the format, but they may also contain ideas you would like to respond to or develop in your direction.
Spend time on the thought of narrating a coming-of-age story. Whatever your actual age, you are looking for life experiences where this type of personal growth or revelation occurs.
Be narrow instead of wide. A narrative essay about what you did last summer will quickly become unmanageable. Instead, focus on one particular surfing accident or family feud, and you'll have an even more challenging piece of work.
Narrative Essay Topics
Choosing a topic for your essay can be the hardest part. You are looking for a specific event that you can narrate in a well-developed and arranged essay or speech. We have some ideas to help you brainstorm topics. They are pretty extensive, but something will spark an idea.
a shameful experience
a memorable wedding or funeral
a disastrous date
an exciting minute or two at a football game (or any other sporting event)
a memorable moment of failure or success
your first or last day at a job or new school
A meeting that changed your life or taught you a lesson
an experience that gave birth to a new belief
a strange or unexpected encounter
Experience how technology is more trouble than it's worth
Other types of essay
Narrative essays are one of the major essay types. Others include:
Argumentative: In argumentative essays, the author uses research and analysis to persuade readers of a specific point of view on a topic.
Descriptive: This type of writing relies on description to describe or define a person, place, thing or experience. Writing can be either objective or subjective.
Explanatory: Explanatory writing requires analysis and research to explain a topic like argumentative essays. Unlike argumentative essays, the purpose is not to change the readers' opinion but to inform the readers.
We Solve Your Narrative Essay Challenges!
It is not easy to write a superb narrative essay. We've all experienced writer's block or felt unable to put our thoughts into a specific word count. Luckily, you have our team of experts ready to assist you and help you overcome all your narrative essay challenges by getting things done economical and on time. Most importantly, we give original content to assist you in avoiding plagiarism while retaining excellent style, punctuation, and structure! So don't hesitate to order your descriptive essay now, and we'll help with anything from outlining a narrative essay to choosing the best ideas based on your grading rubric sample!