Report on new Indian labour laws to be implemented from July 2022
India will soon see a change in Labour policy from July 2022 as the central government is set to roll out the new labour laws from July 1, 2022. The laws have already received parliamentary approval for implementation in both houses. If the new labour laws are implemented, there will be a drastic change in the employee's EPF contribution, office working hours and take-home salary. The central government is working on designing four new labour codes, under which there will be significant changes in terms of wages of an employee, his PF contribution and working hours. The government wants to implement these laws as soon as possible, and media reports suggest they will come into force next month, although there is no official notification yet.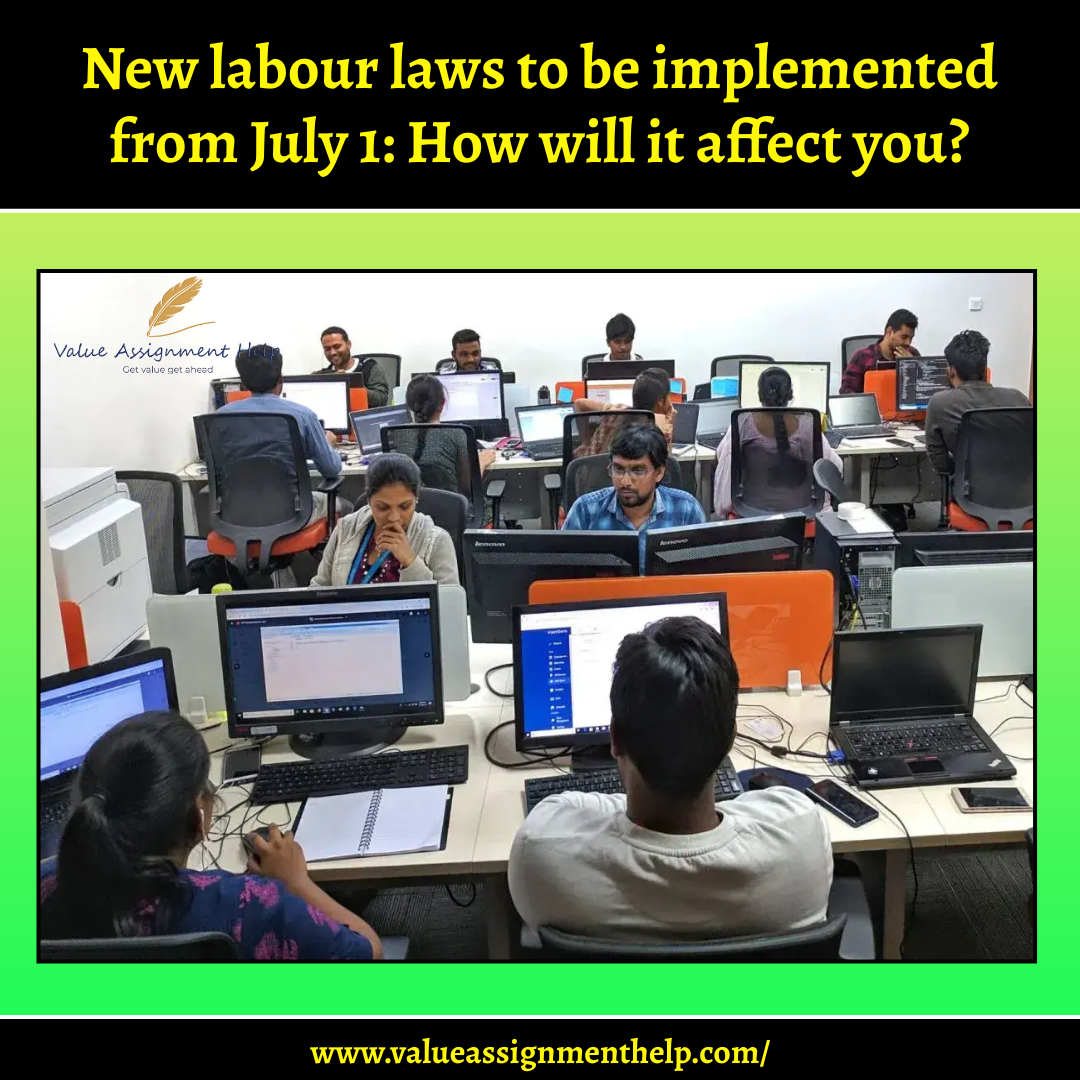 The new labour code will set out a series of reforms related to wages, social security (pension, gratuity), labour welfare, health, safety and working conditions (including for women).
Before discussing the fine- print of the new Indian labour laws in July 2022, let us brief ourselves on the history of the origin of the 8hrs daily job criteria.
History of 8-hour workdays
The British introduced a system of indentured labour in 1819 through Bengal Regulation VII, which made workers liable to criminal penalties for breach of contract and abandonment. This set of Acts continued until 1865 when special police were used to prevent workers from leaving.
After more than 150 years, during a pandemic and an economic crisis that has left many unemployed, state governments such as Gujarat, UP, Madhya Pradesh and others brought in 'labour reforms'; in some cases, almost all existing Labor laws have been suspended. The historical background of some of these laws provides a helpful context.
For example, the 'eight-hour working day' – an idea often attributed to Robert Owen, a mill owner-cum-Fabian socialist in Lancashire who is said to have come up with it in 1817 – Is closely linked to ideas about labour rights in India. Although this may seem strange now, good pressure on the British government in India was at the insistence of British cotton manufacturers, who did not want Indian textiles to last for very long working days. Also, they often dominated them for 16 hours, working with women and children too!
The expected changes post the implementation of labour laws in Jul 2022
Change in working hours
With the new labour rules, employees can apply for the weekly 4:3 ratio ( 4 days working and three days leave) after the new law comes into force. However, the report said that the weekly working hours would not be reduced, meaning employees will have to work for 48 hrs a week with a daily increase in the shift timings from 8 to 12 hours each day for four days if they want to take the remaining three days off. Further, for a quarter, the maximum overtime hours will be increased from 50 hours (under the Factories Act) to 125 hours (in all industries).
It is to be noted that under the new labour codes, the government is willing to provide benefits only to employees classified as workers. However, the working hours and leave of managerial, administrative and supervisory staff will still be governed by the respective Shop and Establishment Act of the State Government.
Salary structure
Under the new code, an employee's basic pay should be at least 50 per cent of the employee's gross pay. As a result, the employees will be making an immense contribution to their EPF accounts, and the gratuity deduction will also increase, reducing the take-home pay of most employees. However, the benefits they get will increase after retirement.
Leaves
The new laws have reduced the eligibility for taking leave for work from 240 days to 180 days a year. As per the existing laws, the employee must have previously worked for at least 240 days in an organization to be eligible for leave. These minimum working days have been decreased from 240 to 180.
Despite this, the employees' earned leave will remain unaffected. Like in the current scenario, you will earn one day off for every 20 days worked. The limit for forwarding of leave also remains unchanged at 30 days.
Encashment of leave on behalf of the employer has also become mandatory under the new labour laws. If you have more than 30 days of carrying forward leave in your balance, the employer will have to pay you compensation or leave encashment for more than 30 additional days.
Work from home
The COVID-19 pandemic brought a silver lining to the work-from-home culture. WFH has become a prevailing market practice in many industries, not just a temporary adjustment with no hiccups. Moreover, with the new labour laws, WFH has been recognized in a draft model standing order that applies to the entire service industry.
To ensure work-life balance for employees, companies will also need new guidelines for WFH regarding working hours and overtime.
Salary in hand, PF, Gratuity, etc.:
The biggest challenge for employees will come with in-hand or take-home salary. In-hand pay for employees will come down as the new laws may keep basic pay at 50 per cent of gross pay, leading to an increase in PF contribution for both employer and employee.
However, this will also increase the amount received as gratuity.
A long-due reform in the labour laws will see a slue of changes, and only time will tell how the workforce adopts it and whether it can tackle the modern-day hassle and work pressure.