Courses in Demand in Canada
Most of the students who are wishing to study in Canada have questions like "What are the most sought-after courses in Canada?" or "What are the top courses in Canada?" Therefore, today we're going to discuss these topics and others related to them.
Studying in Canada is the dream of almost every student aspiring to study abroad. As a result, thousands of international students apply each year to various universities and colleges in Canada.
Coming back to the topic, let's start with what are the most in-demand courses in Canada.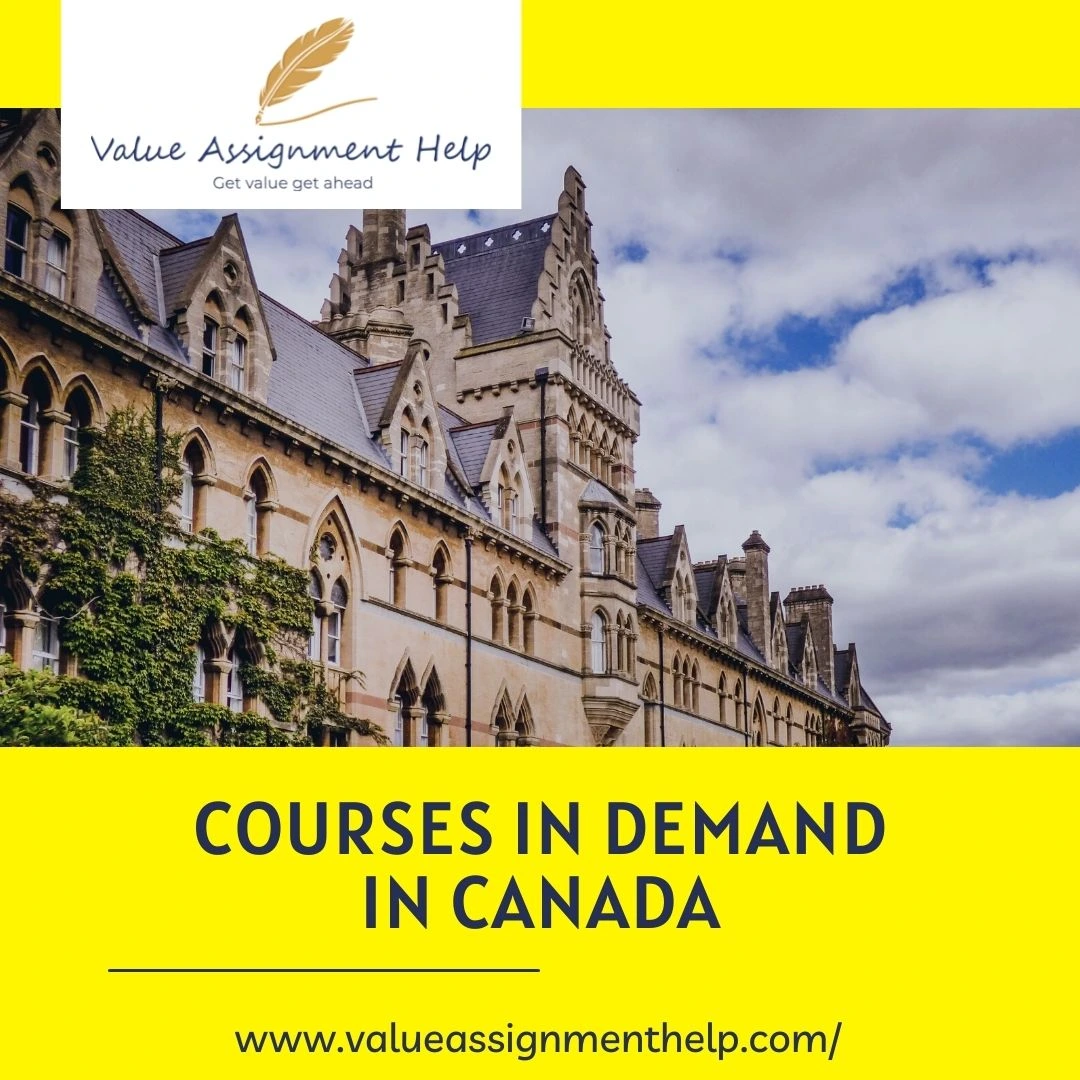 What are the top most Demanded Courses in Canada?
1. Hospitality
Canada offers a lot of opportunities for those interested in hospitality management. For example, tourism degrees teach students how to develop business strategies. In addition, hospitality students learn various skills – such as controlling the quality of food, arranging accommodations, entertaining guests and organising activities – all of which contribute to keeping customers satisfied.
Many students are choosing to enrol in courses in this field. Canada offers cutting-edge food technology and highly professional programs to provide its students with the necessary skill sets to succeed in the workplace.
Canada's tourism and hospitality industry are in dire need of qualified individuals to fill mid-level management and entry-level positions in hotels, restaurants and resorts across the country. These positions are in high demand, as Canada is a popular tourist destination with a young, mobile population.
2. Engineering
Engineering and Management are two of Canada's most PR-friendly programs. As a well-equipped professional engineer, the degree is so valuable that it usually provides international students with opportunities to reside in Canada after completing their studies. A degree from any university in Canada not only improves your professional prospects but also improves your chances of permanent residency. Engineers are also paid very well in Canada.
Canada has a severe shortage of skilled workers, and many areas of the country, such as Toronto, attract jobs to these sectors due to their large manufacturing sector. Other Canadian cities, such as Montreal, Calgary and Edmonton, are considered the most profitable markets to such a degree. As a result, civil, mechanical, electrical-electronics, chemical and engineering management professionals can easily find work.
3. Information Technology (IT) and Computer Science
Students from all over the world are attracted to information technology, engineering and computer science. Artificial Intelligence, Machine Learning, Data Science, Big Data and other exciting courses are available in Information Technology.
Students who complete these public relations (PR) courses in Canada are qualified for software developer, engineer, cloud architect, data scientist and technical writer jobs. In addition, if you graduate with a degree in IT, expect a higher salary.
4. Business&Finance
Finance always plays an essential role in the economy of a nation. With a degree in finance, you will have an excellent understanding of the functions and applications of financial markets. Economics is another subject which has good career prospects. You will learn about the economy's forecast (GDP) and contribute to monetary policies. Finance and economics allow you to develop a wide range of transferable skills and skills in the core domain.
5. Media and Journalism:
The Canada 2019-2021 Employment Outlook Report says that Canada expects more jobs in media and journalism in the future in provinces such as Ontario, Manitoba and Saskatchewan. Students find journalism an effective tool for boosting job prospects and upgrading their salaries. Students with journalism degrees work as reporters, associate producers, associate media directors, media operations managers etc., in large organizations like Deloitte, CBC, Deep Body etc.
Media professionals have a wide scope to work in areas like history and current affairs by effectively using mass media. Media is an amalgamation of fields such as sociology, psychology, philosophy, anthropology, and politics that apply best practices to ease communication to a large audience. Media students can find their footing in fast-growing jobs like Social Media Manager, Public Relations Officer, Statistical Analyst, Media Planner etc.
6. Nursing
Medical colleges in Canada offer top-notch programs to study nursing abroad and exposure to other cultures – this gives students the knowledge and competencies needed to engage in the core of the international medical field. In addition, you can choose from various nursing courses in Canada, whether you are seeking a nursing diploma or a comprehensive degree program.
In Canada, nursing programs emphasize giving students practical training in various areas, including disease prevention, disease treatment, and more.
Canadian medical universities and nursing schools collaborate internationally with other health organizations to provide students with the best performance. These institutes are also known for their research and development.
7. Human Resources and Public Relations
Public relations, one of the most sought-after careers right now, is one of the many industries where students can find employment. Additionally, human resources in demand top the list for many provinces.
Human resource (HR) management is the approach to managing people within a company or organization. It is the responsibility of human resources managers to ensure that the organization runs smoothly, effectively, and efficiently. The goal is to maximize job performance and satisfaction among employers and employees to meet company goals.
Organizational development and human resource management are critical to the success of contemporary businesses due to the growing need for talent among enterprises. Therefore, organizations need HR professionals with the necessary training and experience to find, nurture, and inspire great employees.
8. Agriculture and Forestry
Agricultural science and forestry is a highly sought-after course in Canada. The main objective of the essential scientific discipline of agriculture and forestry is the study of plants, animals and the environment in which they thrive.
You will learn how to preserve the beauty of nature around us, manage natural resources, produce food, and restore forests. Crop rotation and maintaining soil mineral properties are other topics covered by agriculture and forestry.
The Bachelor of Agricultural Sciences and Forestry guarantees that the goods comply with industry requirements and make it to the market. This is important for large-scale food production, the demand for which will increase with the population.
Why study in Canada?
International students choose to study in Canada because of the exciting opportunities of world-class and best courses, experienced faculty, affordability and high standard of living in Canada.
In addition, the country offers incredible Canadian job opportunities in almost every sector with high salaries, easy access to work permits, and an overall healthy environment.
However, international students often choose Canada because it is easier to obtain a Canadian student visa – students can also enjoy the availability of guaranteed Canadian jobs in a variety of sectors.