Most In-Demand and Highest Paying Jobs in Canada
Canada is home to some highly reputed universities, with the country attracting thousands of international students every year. Many of the international student population wish to work and immigrate to Canada. According to a Canadian Bureau of International Education (CBIE) survey, about 60% of international students want to move back to Canada after graduation.
One of the most important factors when choosing to live in Canada is the availability of the Most In-Demand and Highest Paying Jobs in Canada. This ensures that aspiring professionals can easily make a career in these fields.
There are a variety of highest-paying jobs in Canada available to skilled workers such as general labourers, truck drivers and welders. There are also various roles in the professional field, such as human resource manager, project manager and administrative assistant. Apart from these, there are job opportunities in various sectors across Canada. This means that people can choose various career paths and skills.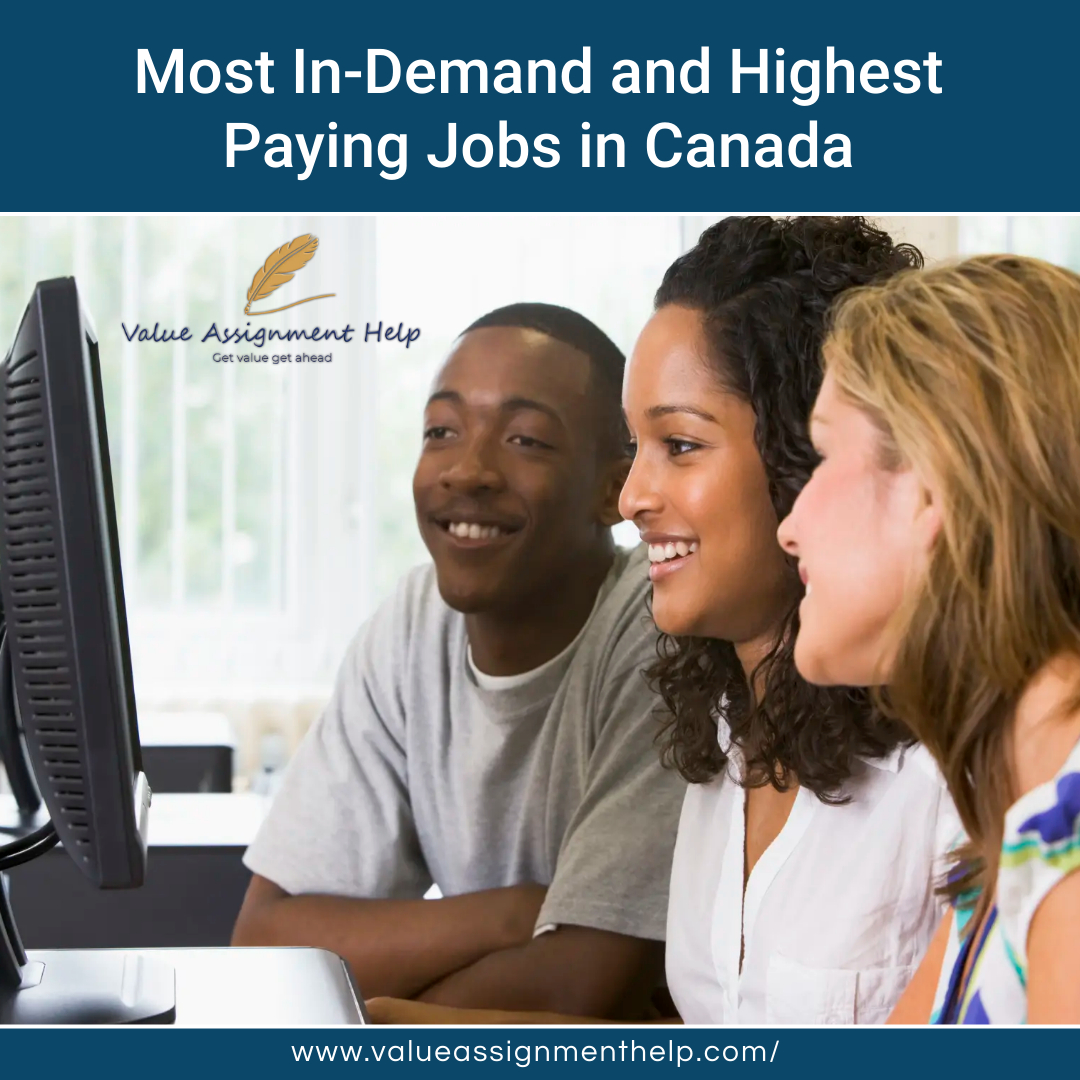 The Most in Demand Jobs in Canada
Software engineer
Software engineering is one of those jobs which is witnessed rapid growth in the last few years. Coding jobs have been Canada's most sought-after positions for the past two years. First, it probably doesn't make this list! When thinking of software engineers, you might assume that this requires working for a tech company, but this is not the case. It is a position that can be found in many places, as all kinds of companies implement computer, mobile and web programs. Coding and app design are essential skills for software engineers.
Aerospace engineer
Aerospace engineers work with aerospace vehicles, such as rockets and aerospace systems. Their duties include designing, researching, testing, developing, and maintaining these vehicles and systems. This is a highly sought-after job in Canada, but it also requires much more education than some other jobs on this list. Because of this, aerospace engineering is also one of the highest-paying jobs on the list.
Human resource manager
Human resource (or human resource) managers are responsible for recruiting and managing people. They ensure that hired candidates are properly screened and are of the potential that the employer is looking for, and they typically attend interviews and the ensuing recruitment process. Once hired, they also assist with onboarding and some basic training and are a resource in case of workplace issues or concerns. Many people refer to this work as "management of people".
Electrical engineer
Electrical Engineer posts require the candidate to design, analyze and specify electrical systems. These systems are also built and tested by electrical engineers. Those in this role must maintain these systems and components to ensure they operate safely. This position usually requires a higher level of education.
Web Developer
A web developer is a job that may not even exist earlier in the lives of some job seekers. Yet, it is a new job that is one of the most sought after; this need is evident when you consider how vast the internet has become! Those who specialize in developing applications or programs are these developers. In this role, you can find jobs ranging from small or large businesses to corporations – even the federal government!
Becoming such a developer requires specific skills, such as knowledge of program languages ​​such as JavaScript and a strong knowledge of coding. In addition, people who work with search engine optimization (SEO) and digital marketing also have similar roles and demands.
Pharmacist
Pharmacists collaborate with programs and services designed to promote well-being and health. In addition, a pharmacist can build a career path by working in a hospital or a drugstore or starting a pharmacy.
Pharmacists are provincially regulated. To become a certified pharmacist in Canada, you must have a degree in pharmacy, pass the Pharmacy Examining Board of Canada exam, and register in your province or territory.
Sales manager
The sales manager is responsible for carrying out strategies and effective techniques such as budgeting to increase the output of sales goals for an organization. The sales manager leads a team of skilled and experienced sales members in an organization and prepares a pre-planned schedule of how the plans will be executed. They must be consistent with their team to meet customer needs and business requirements. In addition, a sales manager analyzes past performance and applies the latest techniques to enhance the performance of sales operations in an organization.
Marketing Manager
A marketing manager plays a vital role in enhancing an organization's or product's brand value. He manages the promotional aspects of the campaigns or models the organization works on. These professionals also ensure that the target audience is well attracted to the company's product, which encourages brand awareness—marketing strategies and techniques implemented by the marketing manager help analyse the cause's progress. Keeping track of the marketing budget and making corrections per financial allowances is also an essential role of a marketing manager.
Work environment in Canada
The work environment in Canada is generally pleasing and cheerful. Productive communication and collaboration between team members are common in an organization.
In general, the work culture in Canada is much more relaxed than in many other countries. For example, Americans may be more likely to focus on individual achievements, while Canadians are more likely to emphasize team efforts. This cultural difference can lead to different perspectives in the workplace. For example, Americans may be more likely to view their coworkers as competitors, while Canadians are more likely to see them as allies. While this difference can create tension in the workplace, it also generally results in a more positive and productive work environment.