How to Write a Special Occasion Speech
Special occasion speeches are exciting and entertaining, but writing a speech can still be overwhelming. While writing a speech for any special occasion, you need to know the exact purpose of the event as they revolve around the function of the event.
This complete guide will help you understand all the different types of special occasion speeches and how to write them correctly.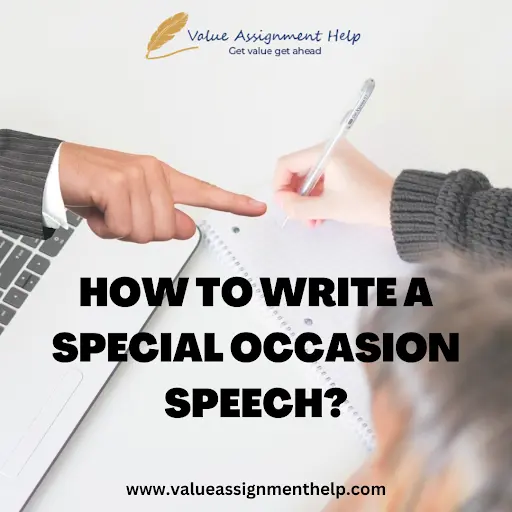 What is a special occasion speech?
A special occasion speech is a type of speech that highlights the value of a specific event. For example, the event could be a farewell, birthday party, award ceremony, wedding speech, graduation ceremony, funeral, etc.
Generally, a special occasion speech should be brief and focus only on a special occasion. However, a speech can also be instructive or motivational, depending on the context of the event.
A special occasion speech is usually classified into different types. The purpose of the speech generally varies according to the event. For example, a eulogy is given at a funeral, and a toast is given at a wedding. When delivering a speech on a special occasion, you can also use compassion to attract the audience's emotions and persuade them.
Types of Special Occasion Speeches
It may seem obvious when writing a toast for a birthday or a retiring special teacher. But there are many other special occasions which need special attention. From informative speech ideas that relate to a specific topic and help your audience understand facts and ideas to acceptance speeches, some rules must be followed to make a professional impression. Our writing guide will review the five most complex types with a brief definition for each.
Commemorative speech and tribute - is a formal speech intended to pay tribute and praise to a person, an organization, an institution, a special occasion, a great idea, or a group of people who have done something special. Try using one of our unique memorial speech ideas. Talk about values ​​and how much work or effort has gone into them.
Commencement speech - is for graduating college or university students. Degrees and diplomas are being awarded to students during such an occasion so that it may include special definitions or talk of achievements. It is usually related to perceptions of the past, present or future.
Acceptance speech - given when someone is accepting praise, being honoured or receiving an award. Therefore, it is advisable to talk about those who made it possible and give words of thanks with a special tribute. Free your feelings!
A farewell speech - sometimes called retirement, refers to a person leaving a position or place. It is often addressed to public figures or teachers. Career achievements should be mentioned and may even be why a person left. Ensure that no sensitive or privacy issues are violated.
Toast Speech - The best example would be the best man's talk at the wedding ceremony. When someone raises a glass in someone's honor, this talk should always be on point, engaging, and not too long to interest and entertain the audience. This is a perfect place to tell a short story about why a person or people in question are special. Remember to keep it brief!
Special occasion speech outline
When preparing a speech for a special occasion, you must structure the material around a proper outline for maximum impact. This outline for a special occasion speech may also differ slightly depending on the type of special occasion speech. However, the basic structure remains largely unchanged. Special occasion speech outline includes the following elements:
Introduction
Depending on the occasion, you need to shape the introduction of the speech to introduce the audience to the topic. For example, the introduction to the wedding toast will certainly differ from the toast on the farewell day. However, all speeches should have a hook at the beginning of the introduction. Some background details about the topic (i.e., the occasion) and the main thesis, which is the purpose behind the speech.
Body Paragraphs
The body paragraphs of the speech should discuss various points that support the main thesis of the speech. Your speech's length and nature will determine how many paragraphs you need to add. Your speech's length and nature will determine how many paragraphs you need to add. Three paragraphs are ideal for the body of the speech. Also, it is important to include new points in each paragraph rather than overlapping points in different paragraphs.
Conclusion
The essay's conclusion should be as impactful as the introduction and reflect on how the points shared in the body segment justify the thesis outlined in the introduction. It is recommended to refrain from including any new points in the concluding paragraph of the speech. It should only summarize the gist of all the points shared in the body segment and end on a high note by addressing the audience or the most important person.
An extra bit of speech writing help
Now you know everything and more about special occasion speech writing. But what to do if you do not have time or have lost motivation? Don't despair, and stop preparing yourself for the worst. Look to us so we can elaborate on creating a fabulous special occasion speech of any type and complexity. You just need to provide all the information about the upcoming event to the writing experts.
If your deadline is tight, don't worry - our specialists have a lot of experience working under stressful conditions, and the quality of creative work doesn't suffer.