Igniting India's semiconductor revolution
India is on the cusp of a historic achievement that will reshape its technological landscape and pave the way for self-reliance. After a gap of over three decades, the nation is set to establish its inaugural semiconductor manufacturing facility in Gujarat.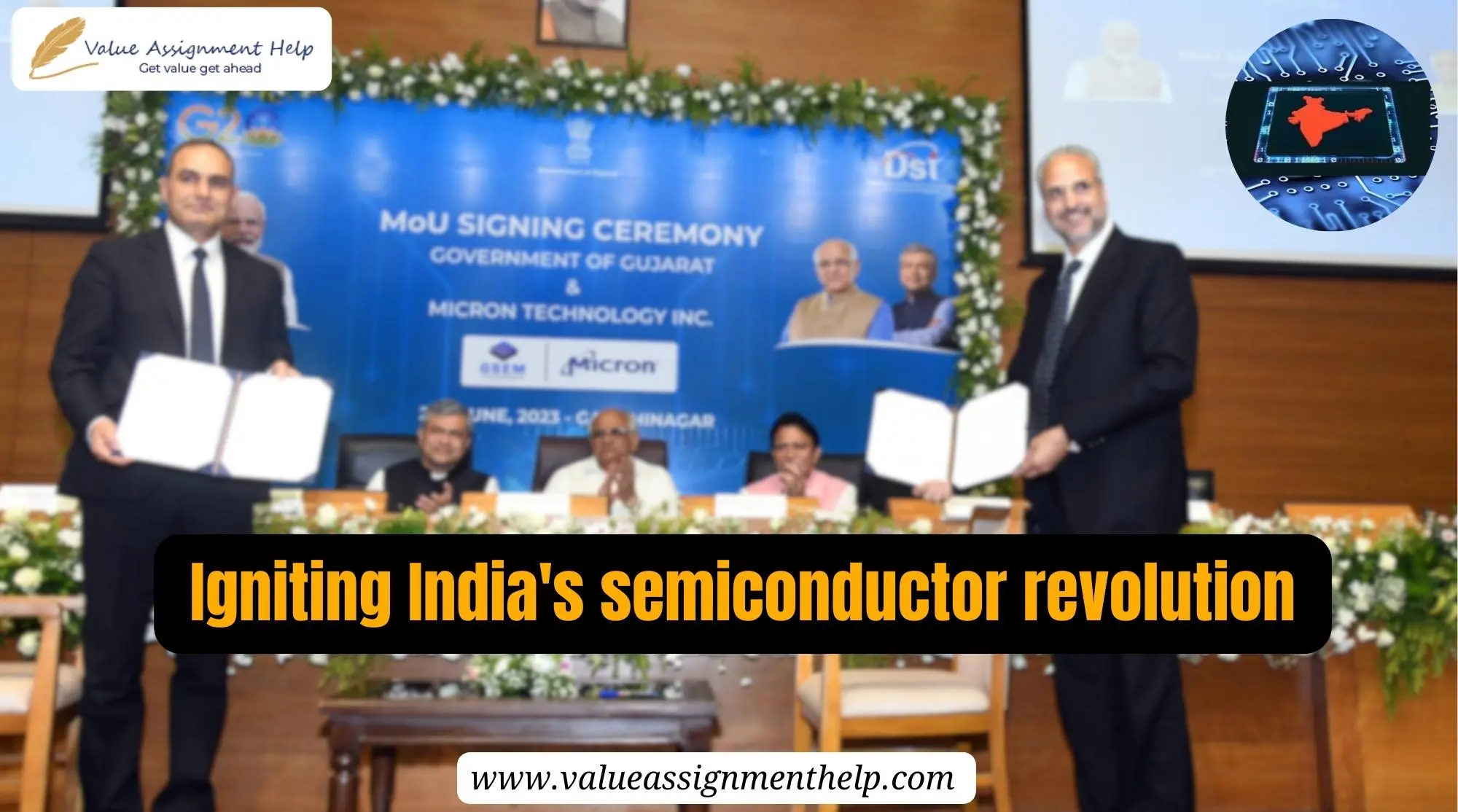 With a projected domestic semiconductor market value surpassing US$110 billion, the urgent need to fortify India's semiconductor industry has been intensified by the global shortage of semiconductors, affecting critical sectors like automotive, consumer electronics, and telecommunications.
The Indian government has committed a substantial ₹76,000 crore under the Production-Linked Incentive (PLI) scheme, reinforcing its dedication to indigenous semiconductor manufacturing. Capitalizing on a thriving electronics system design manufacturing (ESDM) industry and a pool of skilled professionals, India is poised to seize this transformative opportunity and position itself as a global player in the semiconductor landscape.
"Get the best value for your money with our affordable and high-quality assignment help!"
Benefits of the Semiconductor Plant:
The semiconductor plant in India brings forth many benefits for the nation, setting the stage for accelerated growth and technological prowess. One notable advantage is the reduction of India's dependence on imports, as establishing domestic manufacturing capabilities empowers the nation to meet its semiconductor demands.
India imports 100% of its semiconductors from US, China, and Japan. And in the process, India has become the second-largest semiconductor importer in the entire world. The move will make India self-sufficient.
The government's strong emphasis on the semiconductor sector through initiatives like the Production Linked Incentive (PLI) scheme for electronics manufacturing further enhances the attractiveness of the Indian market for semiconductor companies.
The Path to Technological Independence:
Key developments reinforce India's strategic moves towards establishing a semiconductor manufacturing ecosystem. Foreign investment, exemplified by the involvement of industry giant Micron and India's prowess in chip design, demonstrates the nation's commitment to becoming a formidable competitor in the global semiconductor industry. The recently inked Memorandum of Understanding (MoU) between Micron and the Gujarat government marks a pivotal milestone with establishing an assembly, test, marking, and packaging (ATMP) facility in Sanand, Ahmedabad.
With a substantial investment of US$2.75 billion, this ambitious project is planned to commence operations in phases, with the initial phase expected to be operational by late 2024. In addition to propelling technological advancements, the groundbreaking Micron plant will create over 5000 high-skilled jobs, fostering local talent and bolstering the economy of Gujarat.
India's Ascent in the Semiconductor Market:
The government's unwavering support and forward-looking vision have positioned India as a significant player in the semiconductor manufacturing industry. The recently announced US$10 billion program for semiconductor and display manufacturing aims to attract investments in manufacturing and design, positioning India as a prominent semiconductor hub. With fiscal support, covering 50% of project costs through a pari-pasu arrangement, India offers a significantly de-risked model for semiconductor companies.
Capitalizing on this solid foundation, the Indian semiconductor market is predicted to reach $55 billion by 2026, growing at an impressive CAGR of 20% between 2022 and 2026. Moreover, as global demand for semiconductors continues to surge due to technological advancements, India's robust manufacturing and design capabilities will enable it to cater to the domestic market and compete globally on a level playing field.
"Get top-notch case study assignment help and score better grades!"
Micron and Beyond:
Diverse Investments in the Indian Semiconductor Industry While the involvement of Micron and the government of Gujarat in the semiconductor project is an instrumental milestone, they are not the sole players demonstrating interest in India's semiconductor industry. Taiwan Semiconductor Manufacturing Company (TSMC) and United Microelectronics Corporation (UMC), two major semiconductor manufacturers, have expressed their intentions to embark on their projects in India, signalling a promising future for the country's semiconductor ecosystem. These developments emphasize India's global recognition as an emerging semiconductor manufacturing hub.
Indian conglomerate Vedanta, under the leadership of Anil Aggarwal, has also displayed a strong commitment to investing in the Indian semiconductor industry. With a willingness to invest up to US$800 million, Vedanta aims to establish a sophisticated chip and glass manufacturing ecosystem.
International Collaborations:
Vedanta-FoxConn Partnership, The semiconductor industry in India, has also captured the attention of international players. In collaboration with Taiwanese manufacturer Foxconn, Vedanta has committed $19.5 billion to construct semiconductor and display production plants in Gujarat. This joint investment by the International Semiconductor Consortium and Vedanta-FoxConn partnership reflects the growing interest from international and domestic entities in India's semiconductor industry. The construction of these plants, anticipated to commence within the next two and a half years, signifies a pivotal moment in India's semiconductor journey, as it brings together global expertise and local resources to bolster the nation's semiconductor capabilities.
Conclusion:
India's first semiconductor plant in Gujarat represents a transformative leap towards technological independence and economic growth. With substantial government support, strategic collaborations with global players, and a thriving semiconductor market, India is poised to become a global leader in semiconductor manufacturing. This groundbreaking achievement will stimulate innovation and job creation, reduce dependence on imports, and secure India's position as a self-sufficient player in the high-tech realm. As the nation takes its maiden stride into semiconductor manufacturing, a new era of possibilities and progress awaits, solidifying India's position as a semiconductor trailblazer.
"Enjoy hassle-free academic life with our reliable Assignment Help Services in Australia!"