Structuring a Hypothesis in a Criminal Justice Essay
Most students often confuse estimates with predictions. The two words differ in meaning. A hypothesis is a statement that initiates a research question and recommends predicted results, and predictions are your specific assumptions about a scientific idea. Discussing hypotheses is a fundamental part of the scientific method that forms the basis of scientific experiments. As a result, you need to be very careful while making your hypothesis. A minor flaw in the structure of your hypothesis can damage your hypothesis.
Hypotheses in a criminal justice essay include an introductory statement that forms the basic foundation of the research. With a strong hypothesis, you can inclusively present your arguments. Papermaking is not a child's play. However, here we will discuss how to make an effective hypothesis criminal essay to score well academically.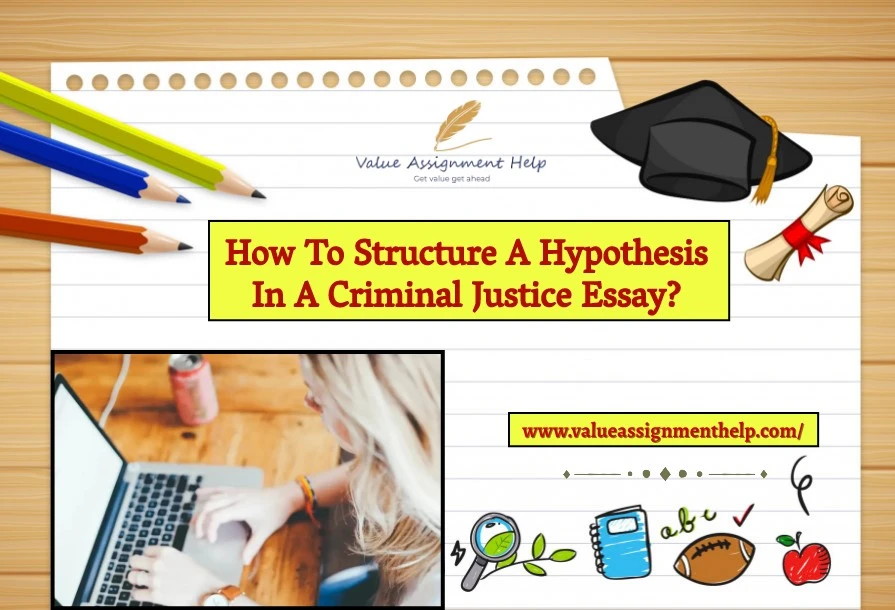 What Is a Hypothesis Statement?
A hypothesis statement tells the world what you predict will happen in the research. One of the essential elements of a hypothesis is that it must be able to be tested. Sure, you can guess that unicorn horns are made of white gold. But, if you cannot test the independent and dependent variables, your hypothesis will have to remain in your dreams.
If you speculate that rose quartz and other crystals have healing powers, you may be able to do some testing and advance your hypothesis. You will have some evidence that either helps or does not support your hypothesis.
Types of Hypothesis
Simple hypothesis
It shows the relationship between a dependent variable and an independent variable. For example, eating more vegetables will help you lose weight faster. Eating more vegetables is the independent variable, while weight loss is the dependent variable.
Complex hypothesis
It refers to the relationship between two or more dependent variables and two or more independent variables. For example, eating more vegetables and fruits leads to weight loss, glowing skin and a lower risk of heart disease.
Directional hypothesis
It shows how intellectual a researcher is and is committed to a particular result. Relationships between variables can also predict their nature. For example- children who eat appropriately over five years in the age of four have a higher IQ level than children who do not eat properly. Finally, it shows the effect and direction of impact.
Non-directional hypothesis
It is used when no theory is involved. For example, it is a statement that a relationship exists between two variables without predicting the relationship's exact nature (direction).
Where does the hypothesis fit?
A hypothesis comes at the beginning of your essay. You can include this in introductory paragraphs or even in abstracts. Also, refer to the statement given in the body of the paper.
The reader should clearly understand ​​what you are defending or trying to refute. In this case, you might state a fact or theory as your hypothesis in a criminal justice essay. It is an attempt to find out the primary causes of the crime.
With a hypothesis, you can understand the purpose of the crime. It helps the reader to make a connection between the facts and their deductions. This process also identifies the data that you already have about the case.
Characteristics of Hypothesis
A hypothesis is generally considered to be the principal instrument in research. Its primary function is to suggest new experiments and observations. Many experiments are conducted with the intended purpose of testing hypotheses. Decision-makers often face situations where they are interested in testing a hypothesis based on available information and then decide based on such a test. A researcher's hypothesis is a legal question that he wants to solve. Some of the features of the hypothesis are as follows:
The hypothesis should be clear and precise. If the hypothesis is not clear and accurate, then the inferences drawn on its basis cannot be considered reliable.
Must be able to test a hypothesis. Many times research programs are stuck in the quagmire of unhelpful hypotheses. The researchers may do some prior studies to make the hypothesis testable. A hypothesis is "testable if other determinations can be made from it, which, in turn, can be confirmed or disproved by observation."
The hypothesis must state the relationship between the variables if it is a relational hypothesis.
The scope of the hypothesis should be limited and should be specific. A researcher must recognise that narrower hypotheses are generally more testable and should create such hypotheses.
The hypothesis should be expressed in as simple terms as possible so that it can be easily understood by all concerned. But it must be remembered that the simplicity of the hypothesis has nothing to do with its significance.
How to Create a Hypothesis in a Criminal Justice Essay?
1. Understand the reason
The two primary components of a criminal justice essay are facts and variables. Facts are based on evidence, while variables are based on assumptions. So, before you start writing, you need to understand that the primary reason for forming a hypothesis is to understand why and how the crime occurred.
2. Ask a Question
Using a hypothesis, you must state a question, and through your research, you will find the answer by providing relevant reasoning and evidence. Frame your question in a specific, focused and researchable way within the boundaries of your project.
3. Do research
To write a hypothesis, you need to know its implications, consequences, legal actions, and enforcement that apply to the case. So the answer you will prepare should be based on what is already known about the topic.
4. Build your hypothesis
Formulate a hypothesis after research. If you feel apprehensive about the procedure, you can get help from a specialist. Write an engaging introduction. In the body, include several paragraphs discussing essential points and arguments. Provide relevant evidence to prove them and end with an accurate conclusion. Keep it fair and cover every aspect possible to grab the reader's attention. Finally, edit and proofread before submitting.