plagiarism free assignment
Why should be assignments plagiarism-free?
Students do not give attention to assignments; they just only used copy-pasted content for their assignments and only the mode to finish assignment work. And during plagiarism checking, their assignments were detected with high quantity plagiarism. Most universities are very strict with plagiarism and see it as an illegal and unethical offense. It has happened to several students when they are sternly penalized for using copy-pasted content in their assignment work.

We at Value Assignment Help (VAH) provide plagiarism-free assignments to our students.
There are several benefits of using plagiarism-free assignments, which are discussed below:
Better grades
Reflection your ideas
Authentic references
Better grades: the value of original content always holds high value.
Anyone can use copy-paste content, but creating original content is a rare skill. But in universities or colleges, professors give assignments to students to prepare plagiarism-free assignments and enhance their writing skills.
Reflection on your ideas: an original work reflects the person's original ideas. It would prove that individuals studied the subject or particular topic and they drafted their own concept.
Authentic references: if an individual does his assignment on his own then he goes through various information resources such as books, Magazines, Journal papers, etc. But copy-pasted content doesn't have any authentic references.
How to Avoid Plagiarism in Assignments?
Now follow these simple steps to avoid plagiarism in assignments:
Conduct your own research
Make your notes
Citing
Use Plagiarism checker
Practice expressing sourced information in your own words
Things to take care of during writing an assignment:
Follow these guidelines to draft a good assignment:
Draft an outline( Title, Introduction, thesis statement, body, Conclusion)
Check again and again for errors
Accurate Research
Good editing
Follow referencing format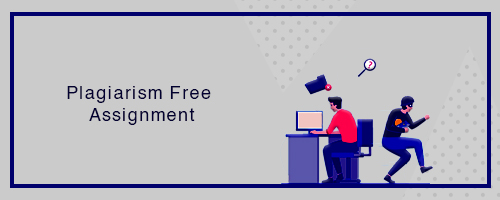 Countries in which we provide plagiarism-free assignment services:
Subject in which we provide plagiarism-free assignment services: