How To Choose The Best University In Canada
There are several aspects to consider before finding the right tertiary institution in any country abroad. Leaving your home and entering an unfamiliar environment can be quite challenging. Choosing a university should be accompanied by a lot of research and recommendations so that this article will be your gateway. It will include essential steps to finding the right university in Canada.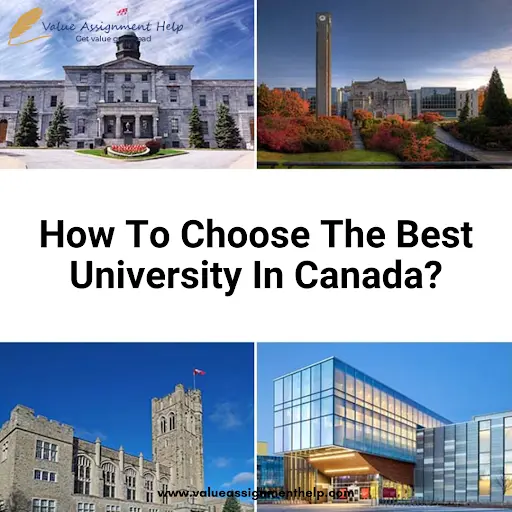 The good news is that Canada boasts a range of undergraduate and graduate programs, and you can easily choose your major. If you already know your favourite major, it won't be a problem to start looking for the right university for you.
Tips for choosing the best university in Canada
1. University Ranking
Universities around the world are ranked in two different ways. Firstly, institutions are assessed on their overall performance – research results, research excellence, facilities available etc. Furthermore, institutions are ranked according to their subject specializations. For example, some colleges are known for their talent in STEM education, while some may be globally acclaimed for their work in philosophy. It depends on which ranking you are considering. You can check the world ranking system to find the best universities in Canada for your master's degree.
2. What type of higher education institutions are there in Canada?
You'll find universities, community colleges, and technical, applied arts or science schools primarily in Canada. These institutions can be public, private or related to the liberal arts.
Liberal arts college
Liberal Arts Colleges mainly emphasise undergraduate education in the liberal arts. These courses are usually interdisciplinary, offering disciplines such as the humanities, social, natural and formal sciences. These institutions can be public or private.
Public institutions
Public institutions receive funding from the provincial, regional or federal government. They charge students for tuition and also accept private funding. Their admission requirements may be either province-dependent, or they may have their campus prerequisites. These institutions are managed by the office of the elected/appointed members in collaboration with the public authority. They have large departments with degrees ranging from the associate to doctoral programs. Faculty research grants are essential to these institutions and provide many applied research opportunities to incoming students. These institutions are generally less expensive than private institutions.
Private institutions
Private institutions do not receive funding, So their tuition fees are a bit more expensive than the public ones. They also receive private funding through donations from wealthy alumni and faculty research grants.
3. Admission Intakes and Course
Canadian universities offer not two but three admissions in a year.
The fall semester is the most opted by Indian students, which starts in September. If you missed college admission in September, you could apply for the next one, which is the winter semester starting in January. While fall and winter semesters are the main intakes in Canada, there is a third intake called the summer intake. Only a few colleges and universities offer it, and institutes start their courses in April and May.
The fall semester application deadline is between December and March, while applications must be submitted for the winter semester by September (or November at some institutions). Students for summer intake are required to submit applications latest by February.
4. Curriculum Syllabus
This is indeed an essential requirement before you decide to apply for a master's program at any university in Canada. Study the syllabus of the course you are planning to pursue. Examine other things such as the faculty's research area, distribution of credits, specializations offered, alignment with your bachelor's degree and apprenticeship and master's thesis/thesis, among other things, to obtain your Masters's degree. Make sure the course program curriculum aligns with your professional interests. Cross all the courses that need to catch your eye.
5. Other Influencing Factors
A smart thing to do is to contact alumni from universities you are interested in or those currently studying in Canada. In addition, inquire about social media groups. Finally, keep these factors in mind.
Where will you stay
Your average monthly expense
Your city's climate
Research Specialization at the University
Student Employment
Accommodation facilities
Common mistakes to avoid when choosing a college in Canada:
Once the university/college is selected, start the application process. Always apply to a few universities rather than just one. So that you have a backup option even if a university rejects the application. Once the university invitation for the application form is received, you can apply for a Canada student visa.
Common mistakes to avoid when choosing a college in Canada:
Errors in applications like wrong degree in college or wrong academic details
Incorrect budget estimate for studying in Canada
Not Checking Post-Study Work Permit Options for College
Applying to only one university/college
Not considering other expenses along with tuition fees.
Conclusion
Choosing a college in Canada that best suits your needs and objectives is very important. With the steps we've shared, you can choose the one that suits you best, and at the same time, you'll avoid the most common mistakes.
Remember that the best way to achieve results in Canada is to stop and think about what you want and how you will do it.
This is not a path you have to go alone, as many people will be willing to help and give you advice. Don't hesitate to ask other international students about their experience, and be guided by an excellent educational advisor in Canada.