Nursing Study in Australia
Nursing Study in Australia
Australia promotes creativity, innovation and independent thinking in all its educational institutions. It has always taken pride in providing high-quality education. International students who complete their degree in Australia can enable themselves to be competitive in the current international job market. Nursing studies in Australia have been thoroughly developed to provide theoretical knowledge and sharpen the practical skills required to deliver excellent healthcare.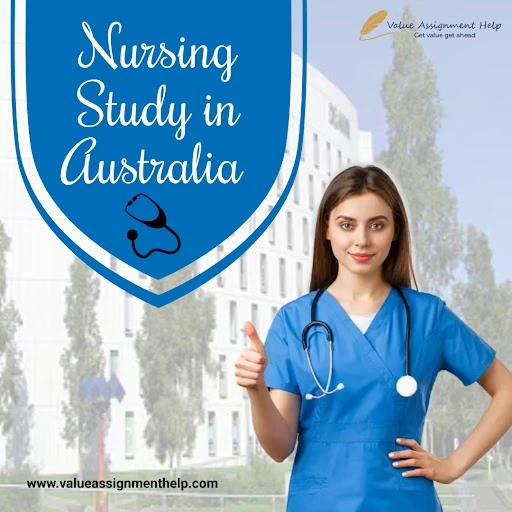 Nursing is a profession dedicated to caring for individuals and society with scientific knowledge, training and skills developed through adequate education and careers. Nurses are focused on promoting health and preventing disease and injury, facilitating treatment and optimizing health and life. Nursing degree holders work in various settings, including hospitals, general practices, community settings, prisons, homes, and residential settings.
Nursing Degrees in Australia
Understanding the different types of nursing degrees available at Australian universities is critical to make an informed decision about the professional careers you want to pursue later in life.
Below is a list of nursing degrees offered in Australia:
Bachelor of Nursing
A Bachelor of Nursing is the minimum degree required to practice your profession as a nurse. After completing this study programme, you become a general registered nurse, meaning you have been certified to provide your healthcare in any hospital.
A typical undergraduate study program of Nursing in Australia takes 3 years of full-time study to complete and longer than if you attend a part-time program. Study modules vary depending on the university of your choice. Still, overall you will be taught a range of essential topics, including anatomy, chemistry, biology, health assessment methods, research principles, and more.
Since the purpose of a Bachelor of Nursing is to prepare you to work as a registered nurse later, your curriculum will also include some practical sessions. During these sessions, you will be taught to deal with the daily problems that nurses usually face and often, you will be doing this in a real hospital environment.
Entry Requirements
Universities in Australia set their admission criteria. Therefore, admission requirements for bachelor's degrees vary according to the university and the course you wish to apply for.
Most universities will require your application file to include the following:
An application form filled out properly
An accredited high school qualification
Language proficiency
Personal details
Note that if you obtained your high school diploma abroad, it must meet specified standards from the Australian Qualifications Framework (AQF). Universities in Australia accept some international qualifications, and if they do not, there is still an opportunity for you to sit for some exams before starting regular studies.
As per the language requirement, you must prove your proficiency through a standardized test, as Nursing courses are taught in English. Typically, universities in Australia ask for IELTS, but other relevant scores, such as TOEFL, are also acceptable.
Master of Nursing
The Master of Nursing program in Australia is a study program designed to provide you with advanced education in theory and practice. You should focus on a particular area and gain top-level expertise during your studies. For example, you may decide to become a pediatric nurse, and your curriculum will mainly consist of paediatrics-related topics.
Study modules are unique to the university and course you want to take. The Master of Nursing degree is intended to provide a fundamental understanding of clinical practices and the social context of your future job.
A Master of Nursing program in Australia typically takes two years to complete. Since most of those participating in the postgraduate study are employed, universities in Australia offer a variety of part-time study programs designed to match their daily schedule. As you would expect, it takes more than two years to complete a part-time course. Universities also offer various part-time study programs, which are an excellent option for working students who take longer to complete.
Requirements for admission
Admission requirements for Master of Nursing courses vary from university to university. However, you must ensure that you have included the following documents in your application.
A recognized Bachelor's degree in Nursing or equivalent
Language proficiency
Advantages of Studying Nursing in Australia
Nursing education with advanced technology
The Australian nursing learning system is evolving as the healthcare sector implements new technology daily, which is the need of the now intelligent era. Learning in a creative and independent environment will allow nursing education in Australia, enabling it to lead the world to advanced principles and skills. In addition, it helps to create innovative care models and dynamic change in nursing practice. As a medically competent and professional nursing graduate with the skills to develop, implement and advance new and inventive approaches within the established legislative and professional boundaries of advanced nursing practice, you will be able to make a mark on the healthcare profession.
Part-time job as a Nursing student in Australia
You can do part-time jobs in Australia for international students as others do. However, remember that part-work should be, at most, the 20-hour limit as a condition of a student visa in Australia. As a nursing student, there are great jobs in aged care, disability support and assistant in nursing where you can join a team and work under the supervision of registered nurses. Experience in relevant fields will help you easily find a nursing job in Australia after graduation. This is an excellent opportunity for international students in Australia to earn some money which will keep them motivated. Also, there is no denying the fact that nursing studies require regular classroom attendance for training and clinical.
Nursing is a highly respected profession
The public considers nurses to be trustworthy and caring. Nurses provide medical care respecting the privacy rights of patients. They assist patients every day, making them indispensable in the healthcare system. Because of its role in healthcare, nursing is a respected profession. Nurses play an essential role between doctor and patient. They execute the health care plan supervised and administered by the doctors. In addition, nurses are the best at advising others about patient safety and needs.
Australian college of nursing
In Australia, there are numerous nursing colleges for international students. The variety of study programs taught by leading practitioners, practice-based curriculum, innovative approaches to teaching and research facilities, and so on are indicators of high-quality education. Nursing schools in Australia live up to these standards, and some are currently ranked among the best in the world by the QS World University Rankings. Australia has some of the best nursing schools worldwide, with excellent nursing education. The following are the top 10 Nursing Universities in Australia:
University of Technology Sydney
University of Sydney
University of Queensland
Monash University
Deakin University
University of Melbourne
University of Adelaide
Queensland University of Technology
Australian Catholic University
Griffith University
Scholarships to study nursing in Australia
Nursing courses in Australia are a bit expensive. If you are considering studying Nursing but are concerned about the financial burden, we have listed some scholarships for Nursing study in Australia below:
New Zealand Nurses Association (available to NZNO members only)
Australian College of Nursing (ACN)
University of South Australia Scholarship
University of Sydney, Sydney School of Nursing
Anne Murray Mental Health Scholarship
TQEH Research Foundation Scholarship: Honors
Roger Nursing Scholarship Fund
Prince Henry Affiliates Nursing Scholarship
Betty Jeffrey Award
Hart Foundation Postdoc Fellowship in Australia
Australian College of Nursing Grants
Mary Potter Foundation Palliative Care Grant
If you have decided to pursue your study of Nursing in Australia, you have made the right decision. So start collecting all your documents, apply for the best university for nursing in Australia, and pursue your dream career.