Why should international students know all about financial aid offices
Without financial support, it can be difficult for many people and their families to afford the cost of international education. Are there any opportunities for international students from outside the United States? International financial aid is available but may be offered to international students in different ways than domestic students.
Here are some essential aspects of financial aid that international students studying abroad should know before applying – fees, how to apply and more!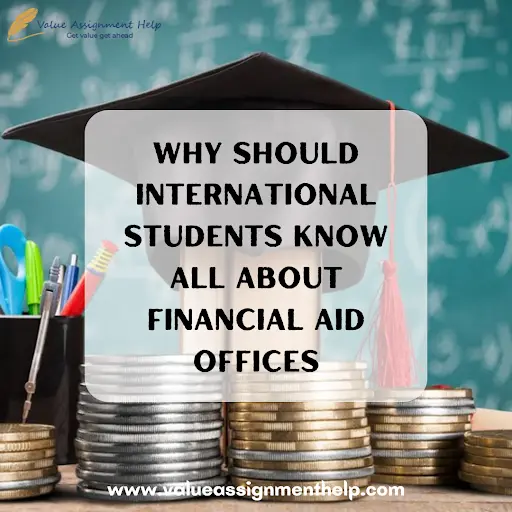 What exactly does financial aid mean?
College financial aid means the amount of money a college gives its students to cover higher education expenses such as books, boarding, tuition fees, transportation, etc. It can be given through scholarships, grants, or federal or private loans.
This financial assistance is given by the government, private institutions, and sometimes individuals. And they all follow different schemes and procedures to determine the aid recipients.
These are generally of two types: need-based financial aid and merit-based scholarships. Some universities offer full while some of them offer partial scholarships. In addition, some government grants can be transferred directly to the college. In return, the college provides students with various allowances covering academic and other needs such as food, accommodation, transportation facilities, etc.
There are various forms of financial aid, such as:
Loan: An amount given by an institution or organization that you must pay back within a given time frame. These payments may have an interest that you must make before verifying the institution.
Grants: These are provided by private institutions or the state to students who perform exceptionally well and are financially weak. Usually, this amount is optional to be repaid. However, any person who needs financial assistance and performs well on a platform to be noticed by the state is eligible for the grant. Unlike a loan, there is no interest or tenure to pay back after completing your education.
Work-Study: With this option, you are provided with a part-time job, which helps you guarantee a minimum wage for yourself. Your financial needs will be met this way. Wages vary according to the position and workload you choose to work in.
How do financial aid offices work?
Financial aid offices provide resources to international students to overcome budget constraints. To ensure seamless student experiences, these offices coordinate between students and universities. Unfortunately, when studying abroad, most students take a step back as finances hinder the way.
Government offices for financial aid are located in most states, and there are tie-ups with many universities where you wish to experience your education. Each university has its own office and website for quick reference. Students are usually assigned a counsellor who accompanies them as a guide until they finally receive that acceptance letter from the university of their choice. Not all universities accept the study abroad offer. Make sure you are aware of the specifics ahead of time.
How to Apply for Financial Aid as an International Student
Applying for financial aid as an international student depends on several factors, the most important of which is the funding source.
You must complete the appropriate application paperwork through your school's financial aid office. For international students, this is the most common method of application.
However, if you are applying directly through a federal or state agency, it may be necessary to visit their specific offices in person – sometimes even abroad!
And if you are applying through a private or independent scholarship provider, you may need to apply directly through their website – there is no standard application.
This is why it is so important that international students start planning to finance early!
Before applying for financial aid, here's what you need to know
Before applying, make sure you know the following:
- If your school offers scholarships specifically for international students. If not, ask if they partner with external scholarship providers that do this!
- The total cost of your attendance. This includes tuition, fees, and more; It's important to remember that even though tuition is cheaper, it still needs to be cheaper for international students when you consider all the other costs associated with attending that school.
- Any terms or conditions associated with funding, such as maintaining a certain GPA, enrollment status or, if applicable, repayment terms.
Any funding restrictions, such as specific majors or fields of study, or even countries.
While applying for financial aid can be a lot of work, and the logistics can seem frustrating, it is essential to remember that it is all part of the application process. The more you know about how much money you need, your options for obtaining it, and the requirements associated with funding sources and financial aid before committing to a program, the easier everything else will be.